2019 IAAF World Championships
Hassan Gets Gold No. 2, U.S. Resets AR In Men's 4x1 | Day 9 Recap
Hassan Gets Gold No. 2, U.S. Resets AR In Men's 4x1 | Day 9 Recap
Catch up on everything that happened on day nine at the IAAF World Championships!
Oct 5, 2019
by Johanna Gretschel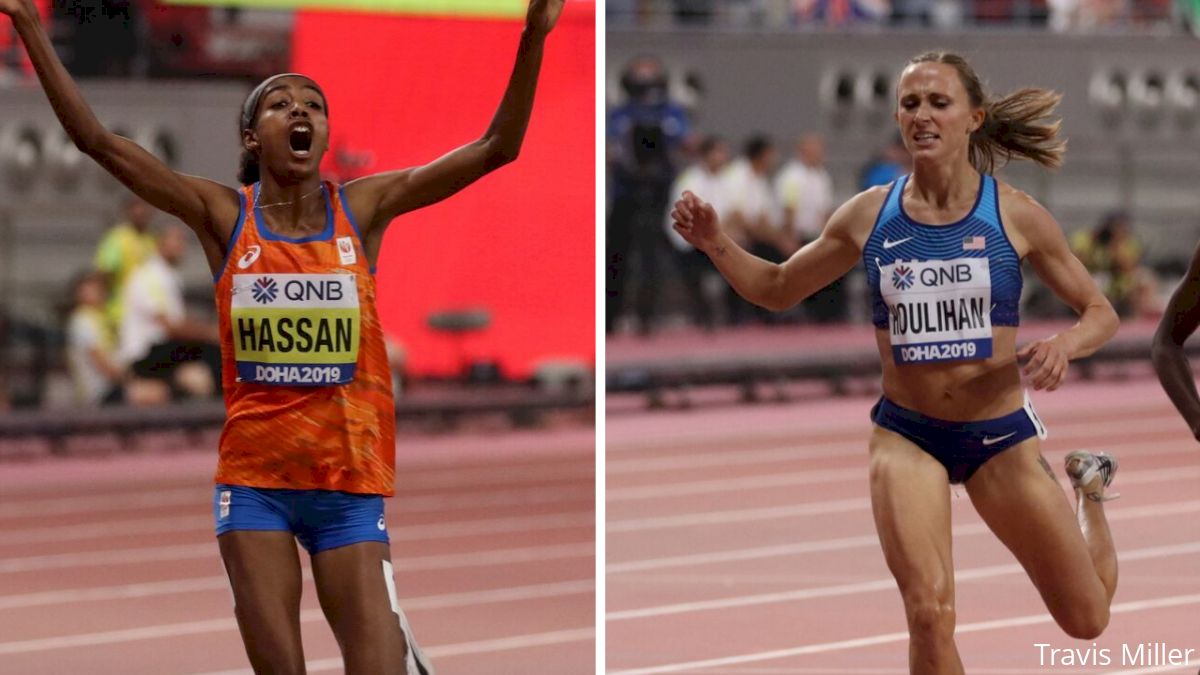 Unlock this article, live events, and more with a subscription!
Get Started
Already a subscriber? Log In
The ninth day of the 2019 IAAF World Outdoor Track & Field Championships is going down today in Doha, Qatar, where we'll see a conclusion to the men's shot put, women's triple jump, women's 1500m, women's 5k, women's 4x100m relay, men's 4x100m relay and men's marathon—follow along with our live updates below by refreshing this page frequently!
All times below are Central.
9:15 a.m. | Women's 100m hurdles heats
FIRST 4 IN EACH HEAT (Q) AND THE NEXT 4 FASTEST (Q)
The United States is loaded in plenty of track and field events, but perhaps none more so than the 100m hurdles. Nia Ali sets a strong precendent in heat 1 with a dominant 12.59 win over Megan Tapper of Jamaica (12.78), Cindy Ofili of GB (12.97).
Huge upset in heat 2 as reigning Olympic champion Brianna McNeal is disqualified for a false start. It's her third false start in a major race this season and she looks absolutely gutted.
Her absence is a major opportunity for the other women in this race to make the podium—Luminosa Bogliolo of Italy rises up to win heat 2 in 12.80 over Yanique Thompson of Jamaica.
In heat 3, Danielle Williams of Jamaica—whom we saw react in shock in the green room to McNeal's DQ—gets out extremely well and wins in 12.51, the fastest time of the day. Andrea Carolina Vargas runs 12.68 for second, a new national record for Costa Rica.
Heat 4 is headlined by world record holder Keni Harrison, who controls the race as expected in 12.56.
Janeek Brown of Jamaica gets out well in Heat 5, but is overtaken by Tobi Amusan of Nigeria, 12.48 (fastest of the day) to 12.61.
11:55 a.m. | Women's 4x400m relay heats
FIRST 3 IN EACH HEAT (Q) AND THE NEXT 2 FASTEST (Q)
HEAT 1: Jamaica and Poland give us a nice battle through the first three legs, before Jamrock's third leg Stephenie Ann McPherson blasts it wide open on the anchor for a world-leading time of 3:23.64. Poland and Canada auto qualify.
HEAT 2: Lea Sprunger puts Switzerland into the lead on the first exchange. For the USA, Jessica Beard hands off to Allyson Felix, who takes over the lead on leg 2. Kendall Ellis enjoys a healthy lead and hands off to Courtney Okolo, who finishes with a new world lead of 3:22.96 for the Americans. Great Britain and the Ukraine are the other auto qualifiers.
12:05 p.m. | Men's shot put final
One of the greatest shot put finals in history saw two Americans, Joe Kovacs and Ryan Crouser, duke it out with Tomas Walsh with all-time great throws. Kovacs ultimately won by just one centimeter over his foes with a heave of 20.91m, which ties for the fourth-best mark in world history.
12:25 p.m. | Men's 4x400m relay heats
FIRST 3 IN EACH HEAT (Q) AND THE NEXT 2 FASTEST (Q)
HEAT 1: Terrible hand-off on second exchange between Vernon Norwood and Wil London puts USA in a bind, but the Baylor Bear sprints his way out of traffic and hands off in first to Nathan Strother. Defintiely curious to hear how fast that split was. Strother keeps things safe and the Americans win in a blazing time of 2:59.89. Close call with the baton blunder.
HEAT 2: France continues to show their impressove sprint chops this championship by pushing Jamaica every step of the way. On the anchor leg, Javon Francis manages to hold off Kevin Borlee of Belgium, who had a massive leg, and T&T's Deon Lendore, who also ran impressively. Jamaica finishes just over 3 minutes in 3:00.76.
12:35 p.m. | Women's triple jump final
Yulimar Rojas of Venezuela clinched the gold medal on just her second jump with a mark of 15.37m to secure her second consecutive world title in the event.
USA's Keturah Orji placed seventh and Tori Franklin was ninth.
12:55 p.m. | Women's 1500m final
The race we've all been waiting for! If Sifan Hassan wins this race, she'd be the first athlete in history to win both the 10k and 1500m at a world championships. What range!
Hassan appeared to hesitate at the gun and run straight to the back, as she is wont to do—but then her tactics change. She quickly takes the lead and runs the field through 400m in 63.5 and 800m in 2:05.95. She's 3:07.41 at the bell with Laura Muir right behind her. Faith Kipyegon, the Olympic champ, is trying to move up but Hassan is on another level. She pours it on in the final 200m and, wow, this is going to be fast—3:51.95!
That's a championship record and the sixth-fastest time ever, leading an onslaught of national records and personal bests in the field.
Faith Kipyegon of Kenya sets a national record of 3:54.22 for silver and Ethiopia's Gudaf Tsegay runs 3:54.38 for bronze. Shelby Houlihan smashed the American record in 3:54.99 and is out of the medals—mind-blowing.
Jenny Simpson takes eighth in 3:58.42 and Nikki Hiltz places 12th in 4:06.68.
1:25 p.m. | Women's 5K final
Reigning world champion Hellen Obiri ran wire-to-wire for a supreme championship record of 14:2672, outlasting countrywoman Margaret Kipkemboi of Kenya and Konstanze Klosterhalfen, whose bronze marked the first-ever medal in this event for Germany.
Americans Karissa Schweizer and Elinor Purrier ended their rookie pro seasons on a triumphant note as Schweizer's 14:45.18 is the fifth-fastest all-time mark for American women and Purrier's 14:58.17 is her first effort under 15 minutes.
2:05 p.m. | Women's 4x100m relay final
Shelly-Ann Fraser Pryce puts Jamaica ahead on the second leg and by the time we hit the homestretch, no one's even close. Shericka Jackson anchors for a world-leading, gold medal performance in 41.44, sweet revenge for Jamrock after settling for bronze behind the Americans two years ago in London.
Dina Asher-Smith leads GB to the silver, while USA settles for bronze in 42.10.
| | | | | | | |
| --- | --- | --- | --- | --- | --- | --- |
| POS | BIB | ATHLETE | RELAY COMPETITORS | MARK | DETAIL | REACTION TIME |
| 1 | JAM | JamaicaJAM | 1.NatalliahWHYTE2.Shelly-AnnFRASER-PRYCE3.JonielleSMITH4.SherickaJACKSON | 41.44 | WL | 0.147 |
| 2 | GBR | Great Britain & NIGBR | 1.AshaPHILIP2.DinaASHER-SMITH3.AshleighNELSON4.DaryllNEITA | 41.85 | SB | 0.127 |
| 3 | USA | United StatesUSA | 1.DezereaBRYANT2.TeahnaDANIELS3.MorolakeAKINOSUN4.KiaraPARKER | 42.1 | SB | 0.161 |
| 4 | SUI | SwitzerlandSUI | 1.AjlaDEL PONTE2.SarahATCHO3.MujingaKAMBUNDJI4.SaloméKORA | 42.18 | NR | 0.141 |
| 5 | GER | GermanyGER | 1.Lisa MarieKWAYIE2.YasminKWADWO3.Jessica-BiancaWESSOLLY4.GinaLÜCKENKEMPER | 42.48 | | 0.171 |
| 6 | TTO | Trinidad and TobagoTTO | 1.SemoyHACKETT2.Kelly-AnnBAPTISTE3.MauriciaPRIETO4.KamariaDURANT | 42.71 | SB | 0.173 |
| 7 | ITA | ItalyITA | 1.JohanelisHERRERA ABREU2.GloriaHOOPER3.AnnaBONGIORNI4.IreneSIRAGUSA | 42.98 | | 0.154 |
| 8 | CHN | PR of ChinaCHN | 1.XiaojingLIANG2.YongliWEI3.LingweiKONG4.ManqiGE | 1:05.97 | | 0.169 |
2:15 p.m. | Men's 4x100m relay final
The U.S. men were just ninth-fastest in the qualifying round yesterday but they add 200m world champ Noah Lyles to the lineup today. Mike Rodgers hands off to Lyles with a slight lead and the young star does what he does best—dust the field. The quartet throws down a time of 37.10 to set a new championship and national record by a huge margin—the old national record was 37.38 from 2012. Only Jamaica has ever run faster, in 2012 and 2011 with Usain Bolt on the anchor.
Great Britain takes second in a new European record and Japan earns bronze with a new Asian record. Extremely fast all around!
| | | | | | | |
| --- | --- | --- | --- | --- | --- | --- |
| POS | BIB | ATHLETE | RELAY COMPETITORS | MARK | DETAIL | REACTION TIME |
| 1 | USA | United StatesUSA | 1.ChristianCOLEMAN2.JustinGATLIN3.MichaelRODGERS4.NoahLYLES | 37.1 | WL | 0.149 |
| 2 | GBR | Great Britain & NIGBR | 1.AdamGEMILI2.ZharnelHUGHES3.RichardKILTY4.NethaneelMITCHELL-BLAKE | 37.36 | AR | 0.156 |
| 3 | JPN | JapanJPN | 1.ShuheiTADA2.KiraraSHIRAISHI3.YoshihideKIRYU4.Abdul HakimSANI BROWN | 37.43 | AR | 0.132 |
| 4 | BRA | BrazilBRA | 1.RodrigoDO NASCIMENTO2.Vitor HugoDOS SANTOS3.DerickSILVA4.Paulo AndréCAMILO DE OLIVEIRA | 37.72 | AR | 0.157 |
| 5 | RSA | South AfricaRSA | 1.ThandoDLODLO2.SimonMAGAKWE3.ClarenceMUNYAI4.AkaniSIMBINE | 37.73 | | 0.151 |
| 6 | CHN | PR of ChinaCHN | 1.BingtianSU2.ZhouzhengXU3.ZhiqiangWU4.GeBIE | 38.07 | | 0.142 |
| | NED | NetherlandsNED | 1.JorisVAN GOOL2.TaymirBURNET3.HensleyPAULINA4.ChurandyMARTINA | DQ | | 0.14 |
| | FRA | FranceFRA | 1.AmauryGOLITIN2.JimmyVICAUT3.Méba-MickaëlZEZE4.ChristopheLEMAITRE | DNF | | 0.146 |
3:59 p.m. | Men's marathon final