Unlock this article, live events, and more with a subscription!
Get Started
Already a subscriber? Log In
Most everything on day nine of the IAAF World Championships was superb, which means lots of high marks. I promise, I'm not usually such an easy grader.
Women's 1500m: A
This race was bonkers. Sifan Hassan was trying to pull off the historical 1500m/10,000m double that was necessitated by the inconvenient schedule, but also perfectly suited to her skill set. She'd had plenty on her mind since the 10,000m victory earlier in the meet when her coach Alberto Salazar received a four-year suspension by USADA and was booted from the meet.
That didn't appear to affect her on Saturday. She moved to the lead 300m in the race and then set out at close to world record pace. The rest of the field latched on behind her, happy to hitch a ride with Hassan.
🇳🇱@SifanHassan completes unprecedented 1500m / 10,000m #WorldAthleticsChamps double and obliterates championship record in 3:51.95 in a middle-distance final for the ages.

📰: https://t.co/Got12CIHbC pic.twitter.com/Uw31zyoXGZ

— IAAF (@iaaforg) October 5, 2019
After splits of 63.53 and 2:05.95, the field began to thin out. At some point in the third lap, I realized that she had an outside shot at Genzebe Dibaba's world record of 3:50.07. Four years ago, Hassan was in that race in Monaco and stuck with Dibaba through three laps before fading badly.
On Saturday, it was Hassan who tightened the screws. She passed through 1200m in 3:07.41 and it was clear there was nobody who could touch her. She ran her last 800m in 2:01.80 on her way to a 3:51.95, the sixth-fastest time in history. Behind her, Faith Kipyegon ran 3:54.22 for second and Guduf Tsegay was third in 3:54.38. Shelby Houlihan smashed the American record with a 3:54.99 and was disappointed because she only took fourth.
All total, the top four now make up the sixth, 12th, 14th and 16th fastest times in history. Five other women broke four minutes including Jenny Simpson in ninth.
If this meet was a few days longer, Hassan probably could have pulled off the triple. She's that much better than everyone else right now.
Men's Shot Put: A+
Crouser said it was not just the best shot put competition, but perhaps the best field event competition in history. The numbers bear it out. Three men threw 22.90m or farther. Tomas Walsh of New Zealand kicked things off with an opening-round throw of 22.90m.
That stood as the lead until Joe Kovacs threw 22.91m in the final round to squeak past. Crouser had one throw remaining and almost came up with a counter, but also felt a centimeter short at 22.90m. "The best way you could write up not to win," Crouser said.
It was a lifetime best for all three men and it put them fourth, sixth and sixth on the all-time list. A world record that was out of reach now looks attainable. Walsh said after that he's gunning for it. Kovacs' coach, his wife Ashley, thinks Kovacs can get the mark as well.
Marathon Weather: C+
If I was grading this on a Doha scale, it would be an A+. The weather for the men's race was dramatically cooler than for the women last week. The times didn't reflect it, but it was runnable--a far cry from the sauna the women were subjected to. Fourth-placer Callum Hawkins said he was prepared for much worse.
One of the pre-race favorites, Lelisa Desisa emerged from a pack of four and kicked hard to win in 2:10:40. Mosinet Geremew and Amos Kipruto took the other medals, ahead of a disappointed Hawkins. There were still 18 DNFs. 55 of the 73 starters finished. That's a completion rate of 75%, up from 59% of the women's race. The moral of the story? If they host the World Championships in Qatar again, start them even later. Maybe mid-November.
Attendance Figures: Incomplete
The local organizing committee finally released some attendance numbers.
| | |
| --- | --- |
| Date | Attendance |
| Fri 27th Sept | 11,800 |
| Sat 28th Sept | 11,342 |
| Sun 29th Sept | 7,266 |
| Mon 30th Sept | 16,589 |
| Tues 1st Oct | 19,683 |
| Weds 2nd Oct | 18,506 |
| Thurs 3rd Oct | 31,704 |
| Fri 4th Oct | 42,180 |
They might need to resubmit after going back and checking their your work.
U.S. 4x100m Relays: B
This is a combined grade for both the men's and women's 4x1 teams. The women were third, which was a solid finish considering the make-up of the team. The top two, Jamaica and Great Britain, had superstars Shelly-Ann Fraser-Pryce and Dina Asher-Smith on them. The United States didn't have anyone of that caliber in their quartet. They also were dealing with injuries to Tori Bowie and English Gardner. Anything better than third would have been an overperformance.
The men, however, delivered. The baton passes have been a conflagration for a good portion of the last 20 years, but on Saturday they got it right. Only a day earlier, it looked dire when Mike Rodgers had difficulty passing to Cravon Gillespie in the final exchange. They narrowly avoided a DQ, but it was far from confidence-inspiring. Lyles replaced Gillespie for the final adding more speed. Speed has never been a problem. It's always been the baton. As expected, Coleman obliterated everyone in the opening leg. He had a clean pass to Gatlin who ran the second leg for probably the 200th time in his career. Gatlin's pass was clean to Rodgers and the U.S. maintained their lead.
On the final pass, Rodgers got it to Lyles with no incident. A lead for Lyles in a 4x1 is essentially a done deal. "It was over when I handed off to Noah. I told him it was over. I told Great Britain it was over," Rodgers said.
Lyles crossed the line in an American record of 37.10. It was the first US title since 2007. After their gold, Rodgers, Coleman and Lyles broke down the race.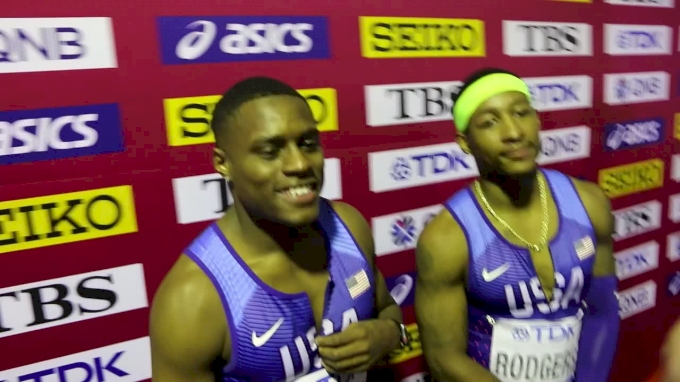 Women's 5000m: B
This one felt like a bit of a letdown after the women's 1500m, but it was still a solid race. Hellen Obiri's uppercuts were back in the final 400m, as she pumped her arms hard over the last lap. It was a huge turnaround from the 10,000m on the second day of the meet when she was singed by Hassan's kick in the last 400m and fell back to fifth. She ran to gold on Saturday catching and putting away Konstanze Klosterhalfen--with a championship record of 14:26.72.
Klosterhalfen slid to bronze after Margaret Kipkemboi passed her down the stretch. Obiri was one of only four women who didn't run a lifetime best. Karissa Schweizer was the top American in ninth, in 14:45.18. That improves her personal best that she set in the heats by 7 seconds. Heading into this event, Schweizer's best was 15:01. She dropped 16 seconds in one meet.
Hellen Obiri 🇰🇪 secures back-to-back 5000m #WorldAthleticsChamps titles with run of utter determination and a championship record 14:26.72.

📰: https://t.co/SoXvWSGB0y pic.twitter.com/TkwInzVEn5

— IAAF (@iaaforg) October 5, 2019
Chinese Women's 4x100m: WYD
I don't know what this is.
Me: Dropping the baton is the worst thing that can happen in a 4x1.

China:pic.twitter.com/h18WJGtJas

— Travis Miller (@TravisMillerFlo) October 5, 2019