2019 IAAF World Championships
U.S. 4x4 Domination, 100m Hurdles Gold & Silver Highlight Final Day In Doha
U.S. 4x4 Domination, 100m Hurdles Gold & Silver Highlight Final Day In Doha
Team USA cleaned up on the last day of the 2019 IAAF World Championships with gold and silver in the 100m hurdles and gold in the men's and women's 4x4s.
Oct 6, 2019
by Jennifer Zahn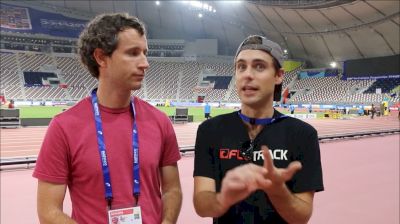 Unlock this article, live events, and more with a subscription!
Get Started
Already a subscriber? Log In
The tenth and final day of the 2019 IAAF World Outdoor Track & Field Championships is going down today in Doha, Qatar, where we'll see conclusions to the women's long jump, men's 1500m, men's javelin, men's 10,000m, women's 100m hurdles, and the men's and women's 4x400m relays—follow along with our live updates below by refreshing this page frequently!
All times below are Central.
11:05 a.m. | Women's 100m Hurdles Semifinals
FIRST 2 IN EACH HEAT (Q) AND THE NEXT 2 FASTEST (Q)
With Brianna McNeal (nee Rollins) out of medal contention after a false start yesterday unfortunately disqualified her from competition, the United States still has two rounds in the chamber in these semifinals: world record-holder Keni Harrison and 2016 Olympic silver medalist Nia Ali.
2015 world champion Danielle Williams, who ran a scintillating 12.32 PR this season and reset the Jamaican national record in this event, took heat one in 12.41 with by far the best reaction time in the field, .122. Ali, who's putting together another remarkable season after giving birth to her second child last year, finished runner-up in a 12.44 PR—the way she's been running lately, I wouldn't be surprised to see another lifetime best from Ali in the final. The Netherlands' Nadine Visser was third in 12.62, setting the first bar for time qualification.
Harrison went to work in heat two, and crossed the line first in 12.58 after fending off a challenge from Jamaica's Megan Tapper, who delivered a 12.61 PR. Her countrywoman, Yanique Thompson, ran a season's best, but 12.80 likely won't get her into the final.
African champion Tobi Amusan (NGR) looked superb in heat three, taking it in a 12.48 PR over 2019 NCAA champion Janeek Brown (JAM), who ran 12.62. Andrea Carolina Vargas (CRC) ran a national record (12.65) to qualify for the final on time.
The finalists:
11:40 a.m. | Men's 1500m Final
All eyes are on Timothy Cheruiyot for gold, but the race for silver and bronze will be a dog fight, and the Americans have two strong finalists here today: U.S. champion Craig Engels, and 2016 Olympic champion Matt Centrowitz.
This race is off to a HOT start: 1:51.60—world-record pace!—through 800m! At the bell, the chasm between Cheryuiot and the rest of the world-class pack was insurmountable, and it became absolutely clear his intent today was to challenge Hicham El Guerrouj's historical 3:26.00. Around the final turn, it was Cheryuiot vs. himself, and he got so close, turning in a 54.88 final 400m for an overall finishing time of 3:29.26—SOLO—for the world title.
Total. Domination.
The battle for second and third amounted to a kick—a scenario that played right into Marcin Lewandowski's favor. The Pole ran a 12.77 final 100m in the semifinal, and that closing speed helped him get bronze today in a national-record setting 3:31.46. After not seeing competition in nearly two years, 2012 Olympic champion Taoufik Makhloufi capped his comeback with silver in 3:31.38. The precocious Jakob Ingebrigtsen will go home without a medal this time—he finished fourth in 3:31.70 after missing out on hardware in the 5,000m, as well.
The Americans simply couldn't hang with the grueling pace—Centro finished eighth in a season's-best 3:32.81, and Engels was tenth in 3:34.24.
Noon | Men's 10,000m Final
Mimicking the 1500m so far, Uganda's Joshua Cheptegei got this final off to a hot start, as well, taking the field through the first lap in 1:04.10. Going through lap two in 2:10.45, it was still Kipruto with fellow Ugandan Abdallah Kibet Mande in tow. They made a leader change with 21 laps to go as Mande took over.
Given Cheptegei's runner-up finish in this event two years ago, his world cross country title in March, and a victory in the 5,000m Diamond League final on Sep. 6, he's the pre-race favorite. He leads with 19 laps to go as they click off a 1:05 split for 400m.
Lopez Lomong, the U.S. champion who's enjoying a career-best season, continues to hang mid-pack as he waits to see how the race unfolds. If it comes down to a kick, his odds of medaling increase significantly.
With 17 laps to go, Lomong moved into the top five (!), which is still led by Cheptegei. As they finish that lap, the pace has slowed slightly as they return to 66-second territory.
Here come the Kenyans! Rhonex Kipruto and Rodgers Kwemoi have overtaken the lead on lap 16, and they throw down a 64.
Mo Ahmed, who took bronze in the 5k earlier at this world championships, is tucked behind Lomong and running comfortably despite some slight physical contact a couple of laps ago.
Halfway through, the leaders click off a 62-second lap for 13:33—27:06 pace. At this point, the lead has dwindled to 11 runners, and that doesn't include American Leonard Korir, who has fully fallen out of contention. Shadrack Kipchirchir is up there, though, along with Lomong.
Around the backstretch with 11 laps remaining, Cheptegei resumed the lead over the Kenyan duo. Behind them, the trio of Ethiopians—Yomif Kejelcha, Hagos Gebrhiwet, and Andamlak Belihu—lay in wait.
Eight laps to go, and the Kenyans are back in front, followed by the Ethiopians and Ahmed, Lomong and Kipchirchir, in that order.
Just as I wrote that, Lomong made a move around the Ethiopians to hold in fourth/fifth place behind Kipruto, Ahmed, Cheptegei and Kwemoi. They went through 400m there in 65.
Five laps to go, and Lomong is right behind Ahmed and hanging toward the back of the single-file pack in eighth.
Lomong is still in contact at the back of the pack through 8800m as they turn in a 64-second lap.
Again, I wrote too soon... Lomong faded heading into the final turn off that lap, and is no longer within the lead pack. Meanwhile, Cheptegei is turning on the jets, followed by Kipruto and Kejelcha—they've broken away from the rest of the field at the bell, and indoor mile world record-holder Kejelcha is running on the outside of Cheptegei down the backstretch as they sprint for home!
They're neck and neck down the homestretch, but Kejelcha begins to falter with 60 meters to go, and it's Cheptegei's gold in 26:48—just two seconds off the championships record! Kejelcha gets silver, and Kipruto earns bronze.
Ahmed made history as he became the first Canadian to go sub-27:00 with his fifth-place, 26:59.35 PR.
Lomong moved up to No. 3 on the U.S. all-time list behind Galen Rupp and Chris Solinsky as he finished seventh in 27:04.72—a huge, 26-second PR.
Kipchirchir's 27:24.74 for 10th was a season's best, and Korir took 13th in 28:05.73.
12:50 p.m. | Women's 100m Hurdles Final
There's a lot riding on Keni Harrison here—can the world record-holder deliver her first-ever world medal, and possibly grab a title?
BUT NO! IT WASN'T DANIELLE WILLIAMS, IT WASN'T HARRISON, BUT NIA ALI!!!!
In a MASSIVE PR of 12.34, Ali gets the gold and becomes the ninth-fastest hurdler of all time!!! Harrison earns silver, her first world medal, in 12.46.
Things we love to see? THIS. @ItsPooda and @Ken_AYE_ go 1-2 in the 100m hurdles ?@usatf x #WorldAthleticsChamps pic.twitter.com/1k6tduIr7h

— Team USA (@TeamUSA) October 6, 2019
1:15 p.m. | Women's 4x400m Relay Final
The United States is bringing the FIRE to this final—here's the official lineup, which contains two world champions, a world record holder, a Diamond League champion, and the fastest collegian of all time.
Lead Leg: Phyllis Francis | SPLIT: 50.6
Second Leg: Sydney McLaughlin | SPLIT: 48.7
Third Leg: Dalilah Muhammad | SPLIT: 49.5
Anchor Leg: Wadeline Jonathas | SPLIT: 50.2
No surprise, this crew DOMINATED, turning in a world-leading time of 3:18.92—also the fastest time in seven years. The two 400m hurdlers, occupying the middle legs, ran the fastest splits.
? ? GOLD ? ?@usatf are world champions in the women's 4x400m relay! #WorldAthleticsChamps pic.twitter.com/6GQH9ui7RT

— #TokyoOlympics (@NBCOlympics) October 6, 2019
1:30 p.m. | Men's 4x400m Relay Final
Without Michael Norman, who didn't make it out of the semifinals after he backed off the pace when he felt his body giving him a "warning sign," and with 400m hurdles silver medalist Rai Benjamin still nursing a bone bruise on his heel, here's the American men's squad for the final:
Lead Leg: Fred Kerley | SPLIT: 44.6
Second Leg: Michael Cherry | SPLIT: 43.5
Third Leg: Wil London | SPLIT: 44.5
Anchor Leg: Rai Benjamin | SPLIT: 44.1
Team USA, all the way! Another gold medal and world-leading mark: 2:56.69.
Women's Long Jump
Without the United States' self-proclaimed "long jump beast" Brittney Reese, who has dominated her global competition by winning the past four world championships spanning back to 2009 but shockingly didn't make it out of qualifying, this final initially felt a little flat. But Germany's Malaika Mihambo turned it around with an incredible third attempt recorded at 7.30m—the only jump that exceeded seven meters, and the 12-furthest of all time.
Notably, Tori Bowie, who has struggled with injury since winning the 100m world title in 2017 and pulled out of the women's 100m heats this year, made a dramatic comeback in the long jump in fourth to nearly make the podium. She landed a 6.81m season's best.
| | | | | | | | | | | | |
| --- | --- | --- | --- | --- | --- | --- | --- | --- | --- | --- | --- |
| POS | ATHLETE | COUNTRY | MARK | WIND | DETAIL | ATTEMPT 1 | ATTEMPT 2 | ATTEMPT 3 | ATTEMPT 4 | ATTEMPT 5 | ATTEMPT 6 |
| 1 | MalaikaMIHAMBO | GER | 7.3 | -0.8 | WL | 6.52+0.3 | X-0.2 | 7.30-0.8 | - | 7.09-0.1 | 7.16+0.5 |
| 2 | MarynaBEKH-ROMANCHUK | UKR | 6.92 | 0.3 | SB | 6.81-0.4 | X+0.1 | 6.77+0.5 | X+0.2 | 6.92+0.3 | 6.72+0.4 |
| 3 | EseBRUME | NGR | 6.91 | 0.2 | | 6.83+0.2 | 6.91+0.2 | 6.90+0.4 | 6.87+0.2 | 6.84+0.1 | 6.45+0.2 |
| 4 | ToriBOWIE | USA | 6.81 | -0.4 | SB | 6.61-0.1 | 6.49+0.1 | X-0.1 | 6.81-0.4 | 6.65+0.1 | 6.57+0.4 |
| 5 | NastassiaMIRONCHYK-IVANOVA | BLR | 6.76 | 0.5 | | 6.53+0.4 | X-0.7 | 6.76+0.5 | 6.70+0.3 | 6.550.0 | 6.71+0.3 |
| 6 | AlinaROTARU | ROU | 6.71 | -0.4 | | 6.59-0.2 | 6.66+0.2 | 6.67-0.7 | X-0.1 | 6.71-0.4 | X+0.6 |
| 7 | AbigailIROZURU | GBR | 6.64 | 0.1 | | 6.64+0.1 | X+0.3 | 6.59+0.1 | 6.59+0.4 | 6.60+0.3 | X+0.2 |
| 8 | ChanicePORTER | JAM | 6.56 | 0 | | 6.30+0.3 | 6.44+0.1 | 6.560.0 | 6.44+0.2 | 6.24+0.1 | 6.470.0 |
| 9 | Sha'keelaSAUNDERS | USA | 6.54 | 0.2 | | X+0.1 | 6.28-0.3 | 6.54+0.2 | | | |
| 10 | BrookeSTRATTON | AUS | 6.46 | 0.1 | | 6.46+0.1 | X-0.2 | 6.42-0.4 | | | |
| 11 | SharaPROCTOR | GBR | 6.43 | -0.1 | | X+0.1 | 6.340.0 | 6.43-0.1 | | | |
| 12 | AnasztáziaNGUYEN | HUN | 6.26 | -0.1 | | X-0.3 | 6.26-0.1 | X0.0 | | | |
Men's Javelin
Anderson Peters of Grenada upset world-leader Magnus Kirt of Estonia, who entered the competition with a 90.61 PR from this season, with a 86.89m effort on his fourth throw. Germany's 2017 world champion, Johannes Vetter, struggled with scratches, but managed to land on the podium with a 85.37m throw.
| | | | | | | | | | | |
| --- | --- | --- | --- | --- | --- | --- | --- | --- | --- | --- |
| POS | ATHLETE | COUNTRY | MARK | ATTEMPT 1 | ATTEMPT 2 | ATTEMPT 3 | | ATTEMPT 4 | ATTEMPT 5 | ATTEMPT 6 |
| 1 | AndersonPETERS | GRN | 86.89 | 86.69 | 81.26 | 79.82 | | 86.89 | 84.59 | 83.63 |
| 2 | MagnusKIRT | EST | 86.21 | 83.95 | 86.21 | 85.17 | | 85.9 | X | R |
| 3 | JohannesVETTER | GER | 85.37 | X | 85.37 | 82.51 | | X | 82.29 | X |
| 4 | LassiETELÄTALO | FIN | 82.49 | 72 | 77.92 | 82.49 | | 74.62 | X | 74.63 |
| 5 | JakubVADLEJCH | CZE | 82.19 | 77.32 | 81.98 | 82.19 | | 77.36 | X | X |
| 6 | JulianWEBER | GER | 81.26 | 81.2 | 81.26 | 80.8 | | 79.43 | 79.46 | 73.58 |
| 7 | MarcinKRUKOWSKI | POL | 80.56 | 80.56 | 79.91 | X | | X | X | X |
| 8 | KimAMB | SWE | 80.42 | 78.93 | 80.42 | 78.51 | | 75.71 | X | X |
| 9 | NorbertRIVASZ-TÓTH | HUN | 79.73 | 79.73 | 77.89 | 76.55 | | | | |
| 10 | Chao-TsunCHENG | TPE | 77.99 | 74.74 | 77.51 | 77.99 | | | | |
| 11 | KeshornWALCOTT | TTO | 77.47 | 75.3 | 77.47 | X | | | | |
| | JuliusYEGO | KEN | NM | X | X | X | | | | |