2019 IAAF World Championships
Day 10 Grades: Cheruiyot Pummels 1500m, Upset Win For Ali
Day 10 Grades: Cheruiyot Pummels 1500m, Upset Win For Ali
Tim Cheruiyot dominated the 1500, Nia Ali upset Keni Harrison and Danielle Williams in the 100mH hurdles and a former D3 runner anchored the U.S. to gold.
Oct 6, 2019
by Lincoln Shryack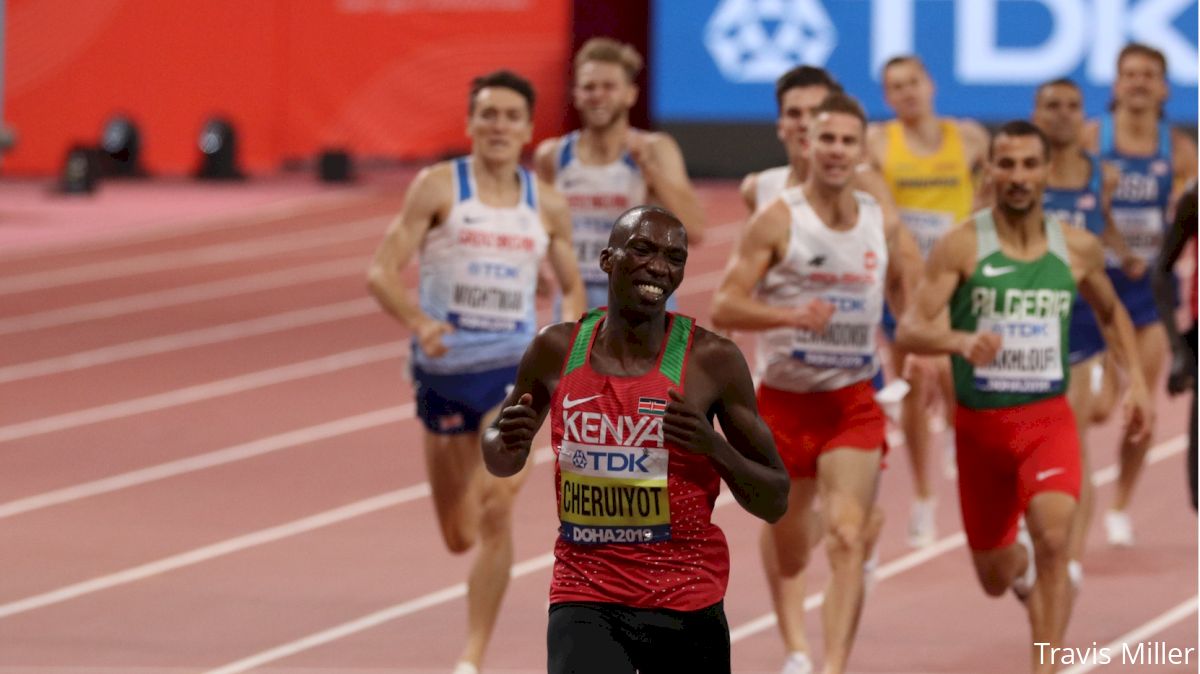 Unlock this article, live events, and more with a subscription!
Get Started
Already a subscriber? Log In
Timothy Cheruiyot won his first world title by leading wire-to-wire in the 1500m, Nia Ali upset Keni Harrison and Danielle Williams in the high hurdles and a former DIII runner anchored Team USA to gold.
Here are the grades for the final day in Doha:
U.S. Men's 1500m: C-
Eighth and 10th for Matthew Centrowitz and Craig Engels, respectively, in the men's 1500m certainly qualifies as underwhelming for the two Americans. A fast pace from the gun from eventual world champion Timothy Cheruiyot left the entire field scrambling— the Kenyan hit 800m in 1:51.74— and neither Centro or Engels was in podium contention in the last lap.
For Centrowitz, Cheruiyot's aggressive tactics were predictable, and yet that did not make the race any easier. Caught between bridging the gap between he and the Kenyan and conserving energy, he instead opted to fight for silver and bronze with the rest of the field. But doing so put him in a box that he couldn't escape before the podium was out of reach.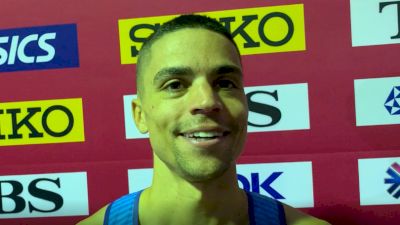 "I tried to make somewhat of an effort to get out of the box and see if I could close the gap," said Centrowitz. "I found myself out there for, I don't know how many meters, but definitely not closing in without having to make a hard surge to get on it."
"I'm just really disappointed that I knew exactly how the race was going to go and I didn't execute my plan."
Bowerman Track Club: B
A day after Shelby Houlihan smashed the 1500m American record (3:54.99) but missed out on the medals, more solid running from Bowerman athletes with no hardware to show for it continued on Sunday.
In the men's 10,000m Moh Ahmed— who won BTC's lone medal in Doha in the 5,000m— was sixth in a Canadian national record of 26:59.35, while teammate Lopez Lomong finished a place behind in 27:04.72, over a 25-second personal best to become the third-fastest American ever. Still, neither was close to a podium finish.
"I felt flat, honestly. Just couldn't find rhythm," said Ahmed.
Centrowitz didn't come away with a PB, but his 3:32.81 was a season's best.
Nia Ali: A+
Two personal bests and a gold medal—Sunday couldn't have gone better for Nia Ali. She'd won indoor titles before and been runner-up in the Olympics, but she'd never won a global outdoor title. She admits she'd gotten "fed up with coming here and falling short."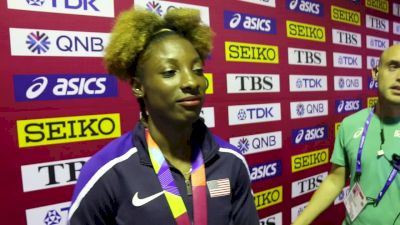 In the semifinals, she gave a clear indication that she would be right there with pre-race favorites Keni Harrison and Danielle Williams. Ali looked smooth and crisp, running 12.44 to finish just behind Williams and advance to the final. The time was an improvement from her personal best of 12.48.
"I had been inconsistent and I really worked on my first three hurdles and just driving through," Ali said.
In the final, Williams, Harrison and Ali asserted themselves from the gun. However it was Ali who moved ahead at the sixth hurdle. Williams looked a bit out of sync and Harrison didn't have enough to catch her. Ali crossed the line in 12.34, while Harrison just edged Williams for the bronze, 12.46 to 12.47.
"It takes for you to keep falling short several times for you to say what more do I need to change," Ali said.
Jakob Ingebrigtsen: B
A 19-year-old finishing top five in both the 5,000m and 1500m would usually be a cause for celebration, but Norway's Jakob Ingebrigtsen is no ordinary 19-year-old. After going for it in the last lap of the 5,000m on Monday and ultimately fading to fifth, Ingebrigtsen missed the medals again with his fourth place 1500m finish on Sunday. Third with 300m to go, the teen was passed by Poland's Marcin Lewandowski in the final straightaway and couldn't rally.
2019 showed that many medals are likely in the Norwegian's future, but he left Doha empty-handed after a season in which he ran 3:30 and 13:02.
"I feel really disappointed," said Ingebrigtsen.
"After championship, I would have to say I'm happy with beating a lot of good runners and coming fourth and fifth. But for me, I have to look at what I've done and look at how good I want to become and how fast I want to run and with those things considered, I'm really disappointed with this championship."
Yomif Kejecha: B
Despite owning 3:47/12:46/26:49 personal bests, 22-year-old Ethiopian Yomif Kejelcha had never medalled at an outdoor global championship before Sunday. That changed in Doha as Kejelcha took silver in the 10,000m in 26:49.34. He hung with Uganda's Joshua Cheptegei through 300m of the final 400m, but was relegated to second once Cheptegei-- the 2017 10,000m world silver medalist-- moved down to his final gear.
In a brutal race of attrition, @joshuacheptege1 ??caps glorious 2019 by securing #WorldAthleticsChamps 10,000m title to add to the world cross-country ? he secured in March. pic.twitter.com/rqBzEBXemi

— IAAF (@iaaforg) October 6, 2019
A season that started so incredibly hot for the Nike Oregon Project phenom-- he broke the indoor mile world record in March and won two Diamond League 5k races in the early summer-- ended with a much different tone. Kejelcha wasn't even selected for the Ethiopian 5k team for Worlds (that worked out fine for them as Ethiopia went 1-2), and by the time he ran the biggest race of the season, his coach, Alberto Salazar had been banned for anti-doping violations.
A medal certainly puts a ribbon on a long year for Kejelcha, but for a guy who not too long ago was running like the best distance runner on the planet, he ends 2019 without a coach and no obvious path to gold in the 5,000m or 10,000m.
Wadeline Jonathas: A
The 21-year-old and 2019 NCAA 400m champion quietly had a very strong meet in Doha. Jonathas finished fourth in the 400m final on Thursday in 49.61, an out-of-season collegiate record, and she then anchored Team USA's 4x400m to gold on Sunday.
Living up to their favourite's billing, the ??dominates women's 4x400m relay, blitzing the field with a 3:18.92 world-leading performance.

?: https://t.co/ni98ZUkU87#WorldAthleticsChamps pic.twitter.com/QhOqCtt9kq

— IAAF (@iaaforg) October 6, 2019
Not bad for a woman who was competing in Division III track and field less than a year and a half ago.