2019 New York City Marathon
Anthony Rotich & Shannon Rowbury Win 2019 USATF 5K Championships
Anthony Rotich & Shannon Rowbury Win 2019 USATF 5K Championships
Rotich outsprinted a pack of four to finish first and three seconds short of the course record, while Rowbury captured the title ahead of Tonn in 15:43.
Nov 2, 2019
by Rich Sands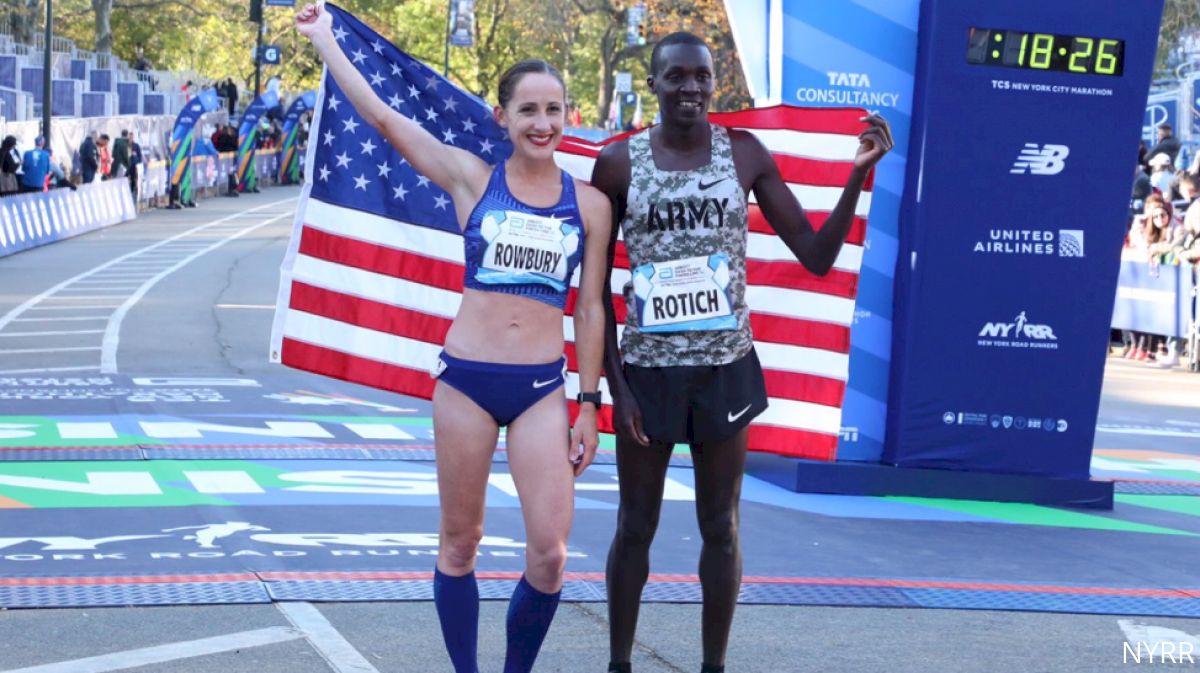 NEW YORK (02-Nov) -- Anthony Rotich and Shannon Rowbury withstood late challenges to sprint to national titles at the USATF 5-K Championships here this morning. The race, which began in front of the United Nations and worked its way through midtown Manhattan and into Central Park, was held in conjunction with the Abbott Dash to the Finish Line 5-K, which finishes over the same stretch as Sunday's TCS New York City Marathon.
The men's race went off first, with Colorado Springs-based training partners Rotich, Shadrack Kipchirchir and Stanley Kebenei setting a hard early pace on a cool (46F/8C), dry and sunny morning. Eric Jenkins was about 10 meters behind, but connected with the leading trio by the first mile marker.

"We just wanted to make it an honest race," said Rotich, who runs for the U.S. Army World Class Athlete Program. "When I was running with my teammates it felt just like a normal practice."

Rotich lead the foursome into Central Park approaching the 2-mile mark and it appeared that the podium would come from this group. But with just over 800 meters to go, unheralded Aaron Templeton of the Tinman Elite group in Boulder, Colorado, broke free from the chase pack and was stalking the leaders. The recent Furman University graduate, in his first professional race, bolted to the front with 200 meters to go and seemed poised to steal the race.

Climbing the final uphill stretch to the finish line, however, Rotich made a final surge to pass Templeton and win the race by just three-tenths of a second, with both men clocking 13:48. Jenkins (13:50) took third while Kipchirchir (13:54) held off steeplechaser Jordan Mann (13:54) for fourth.

The Kenyan-born Rotich --a three-time NCAA champion in the 3000-meter steeplechase for the University of Texas–El Paso (2013, '14 and '15) who became a U.S. citizen earlier this year-- said he wasn't concerned when Templeton swept past him. "I thought there's no way someone can make such a move and go all the way to the finish line," he said. "So I just followed and was going to see what happened."

Templeton, who joined the Tinman Elite group in mid-September and whose previous career highlight was a fifth-place finish at the 2018 NCAA Cross Country Championships, had no regrets about the timing of his final strike. "You learn lessons in every race, so I can't complain," he said after an exuberant celebration at the finish. He was particularly pleased with his ability to catch the leaders after being so far behind. With a little more than a mile remaining, "I realized that if I don't make this move now and give myself a chance to be in this race then I'm going be mad at myself and left with more in the tank than I would have liked at the end."

In the women's race, which started about four and a half minutes after the men, Rowbury only relinquished the lead once --and very briefly-- about four kilometers into the race. At that point Jessica Tonn pushed to the front on a hilly segment of the course.

"It was a great jolt of energy into the race and into me knowing that I had all of these women right behind me," said the San Francisco-based Rowbury, who quickly and decisively covered the move, stringing out the pack. Emily Infeld, in only her third race back following hip surgery 10 months ago, slid into second, just ahead of Tonn.

A three-time Olympian and the former American record holder for the 1500 and 5000 meters on the track, Rowbury used a strong kick on the final climb to break the tape in 15:43. Tonn, made one last surge and was closing fast on Rowbury, but had to settle for second in 15:44. Infeld (15:47) held on for third, ahead of steeplechaser Shalaya Kipp (15:50) and miler Ayla Granados (15:53). Impressively, nine women broke 16 minutes in the challenging, net-uphill course.

"They made me work for it," said Rowbury, who was eyeing Molly Huddle's 15:24 course record, set in 2017. "I was trying to go out in the first mile in a pace that would give me a shot at the course record. I wasn't anywhere close to it today." She added, "It was a good target for me to go out with and a good challenge for myself."

The 35-year-old Rowbury had a difficult year coming back from the birth of her daughter, Sienna, in June 2018, but has found her groove in the last few months. Though she has slowly transitioned from the 1500 to the 5000, she has yet to decide which event might be her focus in the Olympic year. "I've been challenging myself in the 5-K, and we're starting to become friends, me and the 5-K," she said with a smile. "The 5-K has always been an event that's easier to make the U.S. team, but harder to place in a world or Olympic level. I don't know 2020 will look like, but of course I want to make the team in an event where I can medal."

Tonn, who finished 11th in this race in 2018 and is currently unsponsored, said she was aiming for a top five finish. Last June, she set a personal best of 32:56 here at the NYRR New York Mini 10-K, placing eighth in what was also a national championships race. "Last year I ended up going out with the leaders and I think I got to the park and was just toast," she recalled. "So this year I wanted to get out, even if I felt super good, a little conservative, while keeping my eyes on the main pack."

The Stanford grad is currently living in Scottsdale, Arizona, and is a volunteer assistant coach at Arizona State University. She moved to the area a year ago from Seattle after a string of injuries and is hoping to make the U.S. Olympic team for the 10,000 meters in 2020. (She placed eighth in the event at the USATF Outdoor Championships this past summer.) "It's just been fun again, and I wasn't having fun for a while," she admitted. "And I'm honestly just having a blast now. I don't have a crystal clear answer of what I'm doing, because it's a lot of different things, but it seems to be working."

Rotich and Rowbury each took home $12,000 for the national titles, part of a $60,000 overall prize purse, the largest of any 5-K in the world.
(c) 2019 Race Results Weekly, all rights reserved, used with permission