Unlock this article, live events, and more with a subscription!
Get Started
Already a subscriber? Log In
The Division I conference cross country slate is in the books. Here were the 10 best things I saw over the weekend:
Stanford Women Go 1-2-3 To Win First PAC-12 Title Since 2010
Strong finishes from Cardinal juniors Ella Donaghu and Jessica Lawson-- the pair ran the two fastest final 1500m splits in the race-- behind teammate and race winner Fiona O'Keeffe carried Stanford to their first conference title in nine seasons.
Fiona O'Keeffe, Ella Donaghu, and Jessica Lawson go 1-2-3 to lead Stanford to #Pac12XC title! pic.twitter.com/6nNruwzZuy

— StanfordXCTF (@StanfordXCTF) November 1, 2019
Their 27-55 defeat of third-ranked Washington proves that Stanford has a shot at the national title if they run this well in Terre Haute.
Colorado Men Use 22-Second Spread To Win PAC-12
As impressive as the Stanford women were at Oregon State, the Colorado men were perhaps even better as they swept the individual, team and top freshman titles on Friday. Led by Joe Klecker's 23:02 win, the Buffaloes had just a 22-second spread with Kashon Harrison (seventh) and John Dressel (eighth) also notching top 10 finishes. They outpaced runner-up Oregon 41-57.
7️⃣ 👑 in 9️⃣ seasons. 👏@CUBuffsTrack took home the #Pac12XC Men's team title. pic.twitter.com/KOqJwxjckl

— Pac-12 Network (@Pac12Network) November 1, 2019
Harrison, a freshman from New Mexico, continued his impressive rookie campaign that has established him as the best first-year runner in the nation.
After dropping a close battle to BYU at Pre-Nationals in mid-October, Colorado had a clear weakness at the fifth runner as Alec Hornecker crossed nearly 30 seconds after their fourth. At PAC-12s, however, that wasn't a problem as Hornecker (12th) and Eduardo Herrera (13th) were separated by less than three seconds. If that trend continues, this team is potent.
Whittni Orton, Erica Birk Battle To The WCC Line
What a duo BYU has developed in Whittni Orton and Erica Birk, who went 1-2 on Friday at the West Coast Conference in a race that came down to the line. (If you don't think there's a inter-squad rivalry between the two, check Orton's late zig-zag in front of Birk to block her):
Whittni Orton and Erica Birk-Jarvis go 1-2 for @BYUTFXC at the 2019 Women's Cross Country #WCCchamps! pic.twitter.com/v3CDE98Gjj

— West Coast Conference (@WCCsports) November 1, 2019
Birk, who won Pre-Nationals and finished seventh at nationals last year, is much-more accomplished in cross country than her teammate, but Orton has given her all she can handle this season in beating her on three occasions. Each time it's been by five seconds or less.
Katie Izzo Upsets Taylor Werner At SECs
No woman has been more improved this season than Cal Poly transfer Katie Izzo of Arkansas, who on Friday won SECs over teammate Taylor Werner 19:38 to 19:42.
1k left to go! pic.twitter.com/lOP276kzan

— Arkansas Track & Field (@RazorbackTF) November 1, 2019
Werner established herself as one of the best runners in the country last track season when she finished second in the NCAA indoor 3k and outdoor 5k, and Izzo's defeat of her is a testament to the transfer's dramatic ascent since arriving in Fayetteville. A year ago at the Big West XC Championships, Izzo was third in a much less competitive conference. Now she is a contender to win an individual title in Terre Haute later this month.
Weini Kelati Wins Mountain West By 49 Seconds
You could have established a different area code in the space between Weini Kelati and runner-up Ednah Kurgat when Kelati crossed the 6k line in 19:11 on Friday in Logan, Utah. Kurgat didn't finish for another 49 seconds as Kelati cruised to a second straight Mountain West title.
Unofficial winner for the Women's Cross Country Championship with another 🆕 Mountain West record is Weini Kelati of @UNMLoboXCTF!

🔙to 🔙 Champ 🏆#GoLobos pic.twitter.com/63tbxLfMRC

— Mountain West (@MW_OlySports) November 1, 2019
NAU True Freshman Drew Bosley Wins Big Sky Title
A snow-covered course in Greeley, Colorado, proved treacherous and slow for the three-time reigning NCAA champion Northern Arizona men, but they still easily won the Big Sky for the fourth straight season despite resting All-American Luis Grijalva. A 26:50 8k winning time for true freshman Drew Bosley reflected just how tough conditions were as Geordie Beamish (second, 26:55) and Brodey Hasty (third, 26:56) gave NAU a sweep of the top three places.
Another freshman takes the top spot! @NAUTrackFieldXC's Drew Bosley crosses the line first at the #BigSkyXC Championships 🥇 pic.twitter.com/Ww5q8PLNVC

— Big Sky Conference (@BigSkyConf) November 2, 2019
Kurgat vs. Rodriguez Is A Big 12 Treat
This race was great from start to finish, just as it was in 2018. Edwin Kurgat won his second straight Big 12 title-- maintaining his spot as the NCAA favorite while doing so-- while Oklahoma State's Isai Rodriguez showed he may just be the Kenyan's biggest threat come nationals. The pair finished just a second apart at nationals last year in third (Kurgat) and fourth (Rodriguez).
🔁 REPEAT CHAMPION 🔁@CycloneTrackXC's @eedwinkurgat is the 2019 #Big12XC Men's Individual Champion. pic.twitter.com/V6OspMZkaY

— Big 12 Conference (@Big12Conference) November 2, 2019
Hoare, Monson Take Care Of Business At Big Ten
For the fourth consecutive season, a Wisconsin man won the Big Ten cross country title as Ollie Hoare won his second career Big Ten XC title on Sunday in Columbus, Ohio. Hoare joined former running mate and 2018 NCAA XC champion Morgan McDonald as a two-time Big Ten cross country champion.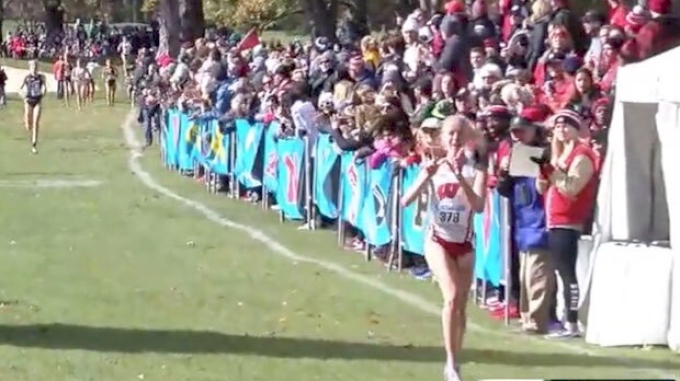 Unlock this video, live events, and more with a subscription!
Get Started
Already a subscriber? Log In
On the women's side, No.1-ranked Alicia Monson waited until the final kilometer to easily separate herself from the field to win her second straight Big Ten crown. She'll enter Terre Haute in three weeks as the favorite after dominating her last two races.
Perfect Score Fun From South Dakota State
It's hard not to smile while watching this video of South Dakota State perfect-scoring the Summit League XC Championships:
WHAT A FINISH. Jacks with a perfect score of 15! Joseph Minor-Williams leads the Jacks to take the individual title! #GoJacks pic.twitter.com/PdSOhFJPjE

— SDSU Track/XC (@GoJacksTFXC) November 2, 2019
Syracuse Men Win ACCs Despite First Runner Not Crossing Until 9th
The Orange looked dead in the water after finishing a lowly 24th at Nuttycombe, third among ACC teams and 157 points behind Notre Dame. But a 55-second spread at Nuttycombe shrunk to 14 seconds on Friday in Blacksburg, Virginia, as Syracuse improbably won their sixth conference title over the last seven seasons.
Full highlights from today's ACC Championship. pic.twitter.com/4L33txrFQG

— Syracuse XC/Track (@CuseXCTF) November 1, 2019
'Cuse managed to beat No. 20 Notre Dame despite the Irish putting two men in the top five while they themselves didn't cross their first runner until ninth. The Orange's top five finished in the top 18, while Notre Dame didn't get their fifth until 29th.