Unlock this article, live events, and more with a subscription!
Get Started
Already a subscriber? Log In
The NCAA fields are set and for the most part we have a good idea of who will be contending for the team and individual titles in Terre Haute. But several crucial questions still remain.
Watch the 2019 DI NCAA XC Championships Live on FloTrack this Saturday
Here are seven lingering questions just five days out from the 2019 DI NCAA XC Championships:
Will Arkansas have a reliable fifth?
As far as tune-ups go for NCAAs, the No. 1-ranked Arkansas women had a perfect one in Fayetteville as they swept the first five places in the South Central regional. The Razorbacks' 1-4 crossed virtually simultaneously in 20:30, composed of a pack that features two individual title contenders (Taylor Werner and Katie Izzo) and two more who could finish top 20 in Terre Haute (Carina Viljoen and Devin Clark). No other team can match Arkansas through four runners. (Their fifth on Friday was 17 seconds back in 20:47.)
???????!

Arkansas' women finish 1-2-3-4-5 to capture a ninth-straight South Central Regional title!
└ ????? ??????? ????? ?? ? ???????? ?? ??????? ???????!

? » https://t.co/OnlBpKmVOo

#WPS? × #ncaaXC? pic.twitter.com/Tzz4MWAVm2

— Arkansas Track & Field (@RazorbackTF) November 15, 2019
With so much talent up front, the Razorbacks' fifth scorer may ultimately be a formality at NCAAs. Their No. 5 at Nuttycombe-- Lauren Gregory in 38th-- was 28 seconds behind their fourth and they still won that meet by 36 points. And yet, Gregory did not run at regionals and her replacement, Maddy Reed, was only 142nd at Nuttycombe. Reed was fifth on Friday but in a weak region that's not exactly revelatory.
There's no reason to believe Gregory sat regionals for anything other than rest, but her absence served as a reminder of Arkansas' lack of depth. They have five reliable runners and they'll all likely need to run well at NCAAs to win their first ever cross country title.
Who will be NAU's odd man out?
The three-time defending champions will be heavily favored in Terre Haute no matter who they trot out on Saturday, but that doesn't mean Mike Smith's decision on which seven men to run will be any easier.
Four guys are locks: Geordie Beamish, Luis Grijalva, Abdihamid Nur and Brodey Hasty have each finished in the top ten at every race they've run this year.
Make that four straight @ncaa Mountain Regional titles for the Boys in Blue! #NAUStrong⚒?? pic.twitter.com/MU2BziyqOp

— NAU Track & Field/XC (@NAUTrackFieldXC) November 15, 2019
The final three spots will be determined from a group of four men, with one deserving runner guaranteed of being the odd man out.
True freshman Drew Bosley seems likely to make the team after winning the conference meet, although NCAAs would be his 10k debut. Ryan Raff was only 151st at nationals last year, but he ran well on Friday to place ninth. Both men have earned a spot.
If Smith follows that logic, then the decision is between Quax and Ferro. Quax, a redshirt freshman, struggled mightily at the Big Sky conference but otherwise has been in NAU's top five all year. Ferro was an All-American last year, but he was 70th at Nuttycombe and just sixth on the team at regionals. It's a luxury to choose between two guys with such credentials, but I wouldn't want to be the guy breaking the news to the runner who will be on the sidelines as his team, in all likelihood, wins a fourth straight national title.
How many women's teams have a shot at the title?
From what I've seen, I think three women's teams have a legitimate shot to win in Terre Haute: Arkansas, BYU and Stanford. That fact is pretty remarkable considering not one of those teams was on the podium a year ago in Madison.
Arkansas will have to exorcise the demons of plummeting to 14th in 2018, but this team is undoubtedly better relative to last season. The addition of Cal Poly transfer Katie Izzo, the SEC champion, and the improvement of Devin Clark has helped the Razorbacks put at least four runners in the top ten in every race they've run this season. They've certainly missed last year's No. 1, Katrina Robinson, but with Lauren Gregory in the lineup they still have the best five in the country.
BYU won the competitive Mountain region by 13 points over No. 5 New Mexico despite resting arguably their best runner and another member of their top five. The Cougars have been super cautious with junior Whittni Orton this year-- she skipped Pre-Nationals and regionals-- but she's undefeated across three races. That includes three defeats of teammate Erica Birk, who was seventh at NCAAs last fall. Like Arkansas, BYU is loaded through four with Orton, Birk, Courtney Wayment and Olivia Hoj, the latter three all placing top ten at regionals.
Then there's Stanford, who, like BYU, won their regional without their No. 1., Fiona O'Keeffe. The Cardinal swept the top three places at PAC-12 and had just a 30-second spread 1-5. Although they were beaten soundly by Arkansas at Nuttycombe, Stanford's fourth and fifth runners have been greatly improved in their last two races. Without O'Keeffe, they beat a Washington team (No. 4 FloXC) who had five runners in the top 15 by 10 points.
Stanford goes 1 AND 2 in the West!

pic.twitter.com/foVRZPTbgQ

— FloTrack (@FloTrack) November 15, 2019
What will Weini Kelati's race strategy be at nationals?
Based on what we've seen in her last two races, Weini Kelati is likely to go hard from the gun at Terre Haute. Friday in Salt Lake City, the New Mexico junior zoomed away almost instantly from the Mountain region race en route to an unheard of 18:58 clocking for 6k. She won by nearly a minute over teammate Ednah Kurgat, an improvement from the 49 seconds she put on Kurgat at the conference meet.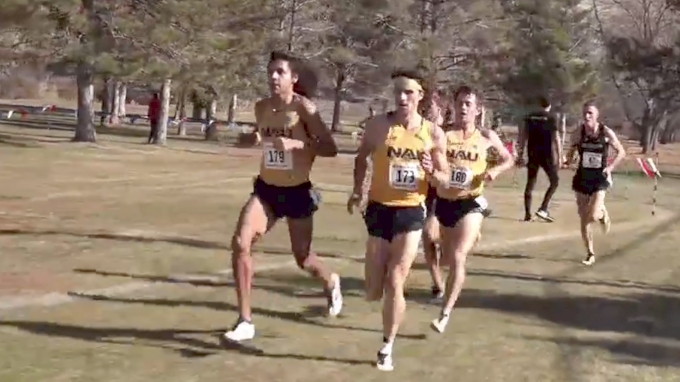 Unlock this video, live events, and more with a subscription!
Get Started
Already a subscriber? Log In
Kelati is a natural frontrunner who seems to be embracing her tendency more than ever in 2019. It's unclear if she'll be able to run away from Wisconsin's Alicia Monson on Saturday, but that's her best bet for an NCAA title against a woman who has a stronger kick. Kelati didn't make her move until less than 2k to go at nationals last year, a mistake she isn't likely to repeat again.
How does Edwin Kurgat compare to Alabama duo of Kigen and Kiprop?
Three seniors who hail from Kenya are the biggest individual favorites in the men's race: Iowa State's Edwin Kurgat and Alabama's Gilbert Kigen and Vincent Kiprop. All three are hunting their first Division I NCAA title (Kiprop previously won five titles in Division II) and all three have reason to believe they can win at Lavern Gibson. Here are their cases:
Kurgat is undefeated this season having won the two most competitive invitational races-- John McNichols and Nuttycombe-- in convincing fashion. He's also the top returner from last year.
EDWIN KURGAT! The All-American cruises to his second straight NCAA Midwest Regional title!#CycloneSZN | #Run4ISU pic.twitter.com/5GPvL6yK9J

— Iowa State Track & XC (@CycloneTrackXC) November 15, 2019
Kiprop won both Joe Piane and SECs over Kigen before barely losing to his teammate by less than half a second at regionals. His career record against Kigen in cross country is 5-4. The pair have been in virtual lockstep all season.
Kigen beat Kiprop at NCAAs by over 15 seconds two years ago, and he has the edge in finishing speed. That speed was on display in the spring when Kigen finished runner-up in the NCAA 10k and fourth in the 5k. In the latter race, he beat Kurgat by a place.
Wire-to-wire.

UA with the ?-? finish!

Gilbert Kigen (1st, 29:49.5)
Vincent Kiprop (2nd, 29:49.9)#RollTide pic.twitter.com/LMXLAPt3OP

— Alabama Track & Field (@AlabamaTrack) November 15, 2019
Since the Alabama duo both redshirted last fall, they have yet to race this current version of Kurgat in cross country. It's hard to compare results from one meet to another, but on paper these three seem awfully close given their similar track PRs and comparable margins over common opponents. I'll give the slight edge to Kurgat based on where he placed last year coupled with his dominance at Nuttycombe, but it's razor-thin. This should be a fascinating race.
How will the top freshmen men fare in their first NCAAs?
Between the three to four freshmen that NAU will deploy and Colorado's Kashon Harrison, NCAA newbies will factor prominently in the men's team title.
Each of Northern Arizona's Drew Bosley, Brodey Hasty, Abdihamid Nur, Theo Quax, along with Harrison, have shown the ability to be All-Americans in Terre Haute. But fitness isn't the only precursor to success at NCAAs, and none of these men have ever raced against a field as deep as the one they'll see on Saturday. One tactical misstep can mean the difference between a good race and a bad one.
For NAU, they have the depth to overcome one or two of their freshmen succumbing to a rough day, but between their frosh contingent and sophomore Ryan Raff, their four-peat hinges on several men who never finished top 40 at NCAAs. Colorado has no margin of error with Harrison, who was their No. 2 man at regionals on Friday. The true freshman has been in the top 20 in every race he's run this season, a feat he'll likely need to replicate this upcoming weekend for the Buffaloes to have any shot of upsetting NAU.
What will the weather be like in Terre Haute?
Cold and wet. Wet and cold. With a high of 43° and the potential for a "freezing drizzle" early in the day, the conditions will play a critical role in the outcome this weekend. So, pretty much typical for midwest cross country in late November.