2019 DI NCAA XC Championships
Behind Edwin Kurgat's Meteoric Rise From Non-Runner To NCAA Favorite
Behind Edwin Kurgat's Meteoric Rise From Non-Runner To NCAA Favorite
Edwin Kurgat didn't start running until 2016. Three years later he's the favorite for the 2019 DI NCAA XC Championships.
Nov 22, 2019
by Lincoln Shryack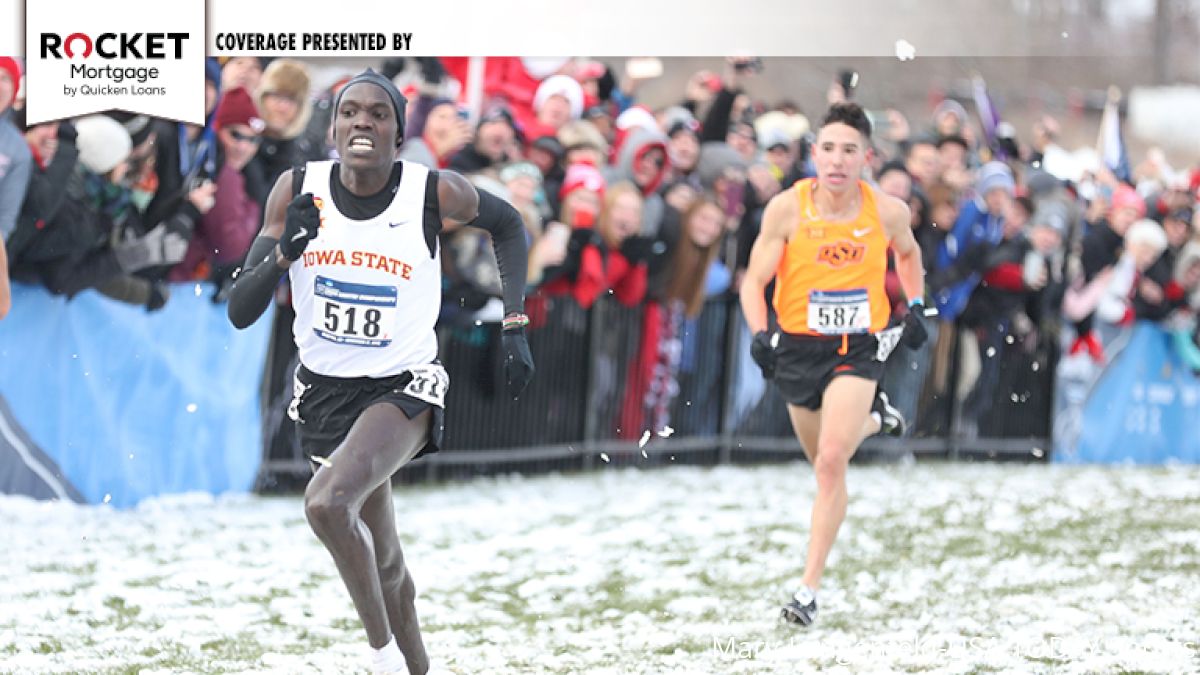 (Editor's Note: This article was published before Kurgat won the 2019 NCAA XC individual title.)
Running was not Edwin Kurgat's first love.
That wasn't for lack of exposure. As a prep at St. Patrick's High School in Iten, Kenya, Kurgat had access to one of the greatest coaches in track and field history: Brother Colm O'Connell, the legendary Irishman known for mentoring some of the most accomplished Kenyan athletes ever, had put the school on the map as a distance running hotbed. The priest's accomplishments-- he was David Rudisha's coach when he ran the 1:40.91 800m world record in 2012-- have led some to dub him "the Godfather of Kenyan running."
The famed coach, who moved to Iten in the 1970s to teach at St. Patrick's, still trains athletes at the school to this day. It would be easy to see how a Kenyan high schooler who routinely saw world-class distance runners training on his campus would be naturally drawn to the sport.
"I always saw [O'Connell] in school…[He would] talk to us sometimes in school and he was such a great person," said Kurgat.
But that's not the path that Edwin Kurgat followed to becoming the favorite for this year's NCAA Cross Country Championships.
Watch the 2019 DI NCAA XC Championships LIVE on FloTrack
The Iowa State senior, who enters Saturday's race undefeated after finishing third at NCAAs last season, has only been running since 2016. His career began modestly after high school when his sister-- seven-time DII champion Caroline Kurgat-- suggested he start training in order to earn a scholarship to the U.S.
"I just started going to a camp. I just kept training. I wasn't good at all," said Kurgat. "When I got there at first, I used to run with the guys who were training for scholarship, too, because I was not good at it at all."
What he was good at was field hockey, the sport he played all four years at St. Patrick's. Any running he did at school came on the field as the team's center, a position where he first showed his gift for endurance. Like a midfielder in soccer, Kurgat found himself covering the entire field in his role.
"I had some good endurance. If you play the center position, that's number six, you run back and forth. You help the defense, you help the striker. That's where I started doing some endurance stuff, but it wasn't like anything with running."
Even with flashes of talent showing through on the field, running only entered Kurgat's life in March of 2016 when it became a means to coming to the U.S. for college. Older sister Caroline was an All-American at Alaska-Anchorage by this time and she urged Edwin to consider a similar route.
"She just kept telling me, 'Please, it's not anything hard. You just have to run. You don't have to think about anything else,'" he said.
"That's when I said, 'Ok, let me just train and maybe run for the four years in college and maybe get done and do something else.'"
With just a few months of training and the help of Caroline, Kurgat found a school willing to bet on his potential. Peter Dalton, then the head coach at Tennessee Martin, received a call from Caroline that spring looking to find a taker for a recruit that had never run a race in his life.
Dalton, a former DII coach, knew of Caroline's success at that level and decided her brother was a worthy project.
"Because I'd recognized her name, it was kind of, 'Let's take a shot,'" said Dalton.
It was a shot worth taking. Kurgat's potential was evident right away to Dalton, and by the spring of freshman year his coach could tell that something special was taking shape. Kurgat's win in the Ohio Valley Conference outdoor 5,000m was an eye-opener.
"It wasn't a really, really fast time, but he absolutely jogged the outdoor championships...You're talking about a lot of the Eastern Kentucky guys. And he just made an absolute mess of them," Dalton recalled.
"When we went to the summer between his freshman and sophomore year, I sat him down and I told him, 'You won that outdoor championship 5k and I've really taken a back seat on your progression but now we can step into some real training.'"
The ensuing fall, Kurgat quickly established himself as one of the best athletes in the country. The season culminated in a 21st place finish at the 2017 DI NCAA XC Championships in Louisville.
The breakout performance also showed that he had a lot more in him-- to curb Kurgat's nervousness, Dalton advised him to go out conservatively for the first 6k and then race the final 4k. The strategy was to pick off runners as he went, and in 77th place through 4k, he had plenty of guys to pass on the way to the finish line.
"I was not expecting anything and I just went and ran and at 2k to go I still had some energy and I just tried to make a big push. It worked out very well. I got so happy after not expecting that and getting that," said Kurgat.
That race ended up being Kurgat's last for Tennessee Martin, as his rapid growth highlighted the need for tougher competition and top notch facilities. By the beginning of 2018 he found a new home at Iowa State, where the Kenyan has since progressed to the top flight of the NCAA.
His development in Ames under head coach Martin Smith and assistant Jeremy Sudbury has seen him sharpen the finishing ability he displayed at nationals in 2017. That meant working on his raw speed, as running with the NCAA's elite would not allow him to go out as conservatively as he had in his first nationals appearance.
"At any championship level, you're going to have to kick even if it is honest....That was something that wasn't a natural thing for him," said Sudbury.
Through consistent training, an increased focus on core work and routinely racing the nation's best, Kurgat's kick has become as asset. Last fall, he finished less than a second behind Morgan McDonald and Grant Fisher in Madison.
That finish has given way to a dominant lead up to the 2019 championships in Terre Haute. Kurgat has been labelled the favorite in part due to where he placed in 2018 and how effortless his victories have looked this season. His win at the Nuttycombe Invitational in mid-October showed Sudbury that his pupil had entered a new realm.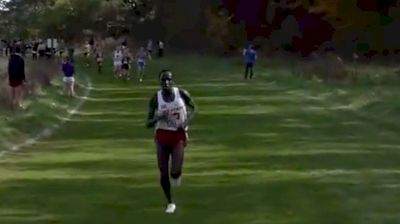 Unlock this video, live events, and more with a subscription!
Get Started
Already a subscriber? Log In
"He executed the plan literally perfect at right around 6k. Just pulled away so effortlessly," he said.
"I think maybe the guys let him go a little bit because they didn't want to necessarily go there. When he pulled away it looked as if he was just out on one of our tempo runs on the dirt roads."
Still, Saturday won't be easy by any means. Kurgat has yet to face the dynamic Kenyan duo from Alabama this season, Gilbert Kigen and Vincent Kiprop, two guys who beat Kurgat on the track in 2019. The pair can test Kurgat in either a fast or slow race.
"We're kind of erring on the side of, 'Get ready for the hardest, fastest, toughest race you've ever seen,'" said Sudbury.
But no matter what place Kurgat crosses the finish line on Saturday, his ascent from a non-runner to NCAA contender in three years will be no less remarkable. In that time Kurgat has uncovered a world-class talent that only emerged by virtue of necessity.
That's not to say the Kenyan has forgotten entirely about his first athletic passion. The day before a track meet at Stanford last spring, Sudbury noticed Kurgat had disappeared from the track after a shakeout run. When he returned, the coach asked where he had been.
"He was like, 'Oh, I was at field hockey over there.' He just sat there in the stands and literally watched field hockey for like an hour during the meet," said Sudbury.
"If there was a scholarship for men field hockey players in the U.S., I definitely think he probably would have been a field hockey player over running. I think that's truly where his heart lies and his true passion."