Create a free account to unlock this article!
Get Started
Already a subscriber? Log In
Upsets in the men's individual and team races unfolded at the 2019 DIII NCAA XC Championships in Louisville as Patrick Watson of Stevenson won the 8k race in 24:13 while Pomona-Pitzer unseated three-time defending champion North Central to win their first cross country national title.
Watson, who was 15th at NCAAs last year, broke away from a pack of contenders shortly before 5k and was never tested again as he scored a six-second win over runner-up Matthew Wilkinson of Carleton.
"I was feeling good going up the hill and I could hear the guys breathing around me and they looked like they were hurting a little bit," said Watson. "And I was like, if I'm going to make a move it might as well be now. I might as well go hard and try to get a gap on everybody."
MXC | HE DID IT! @StevensonTFXC senior Patrick Watson is your NATIONAL CHAMPION winning with an unofficial time of 24:13.4! First individual national title in school history! #d3xc #MACxc #StangNation pic.twitter.com/DvjW17YV9o

— Stevenson University Mustangs ? (@GoMustangSports) November 23, 2019
For Stevenson, it was their first individual national title across any sport in school history.
Behind Watson, the Sagehens from Pomona-Pitzer were making history of their own with a brilliant team race.
The West region champions were only seventh at NCAAs in 2018 and they lost their No. 1 runner to graduation, but the 'Hens used dramatic improvements from a pair of sophomores— Ethan Widlansky and Dante Paszkeicz— to unseat the mighty North Central 164-182 for their program's first ever national title.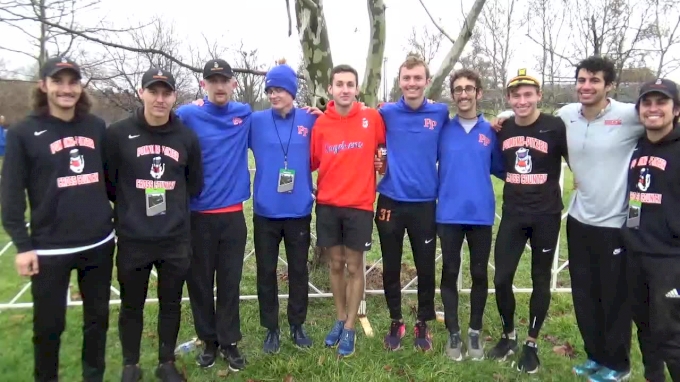 Unlock this video, live events, and more with a subscription!
Get Started
Already a subscriber? Log In
Widlansky, 192nd at NCAAs last year, finished seventh on Saturday, while Paszkeicz went from 118th to 16th in the same span. Against an NCC team that wasn't nearly as strong as a year ago when they won nationals by 67 points, Pomona-Pitzer's big day was good enough to score the colossal upset.
Your 2019 Men's Cross Country National Champions! The Sagehens claim their first NCAA National Championship in program history. @SagehenRunning #NationalChamps pic.twitter.com/ySJwvPYyek

— Sagehens (@Sagehens) November 23, 2019
Not only was their victory a remarkable turnaround from last year, but Pomona-Pitzer toppled a North Central team on Saturday who beat them by 33 points just over a month ago at the Kollege Town Sports Invitational.
Johns Hopkins Avenges 2018 Loss; Hannan Wins Two-Way Individual Battle
The women's race touted as a rematch of last year's epic team duel between Washington U. and Johns Hopkins lived up to the hype as Hopkins earned revenge over the Bears with a 125-138 victory.
A year after Washington slipped past Hopkins by a point, 98-99, the Blue Jays took back the crown by putting three women in the top 25— Sam Levy (17th), Rebecca Grusby (21st) and Ariel Keklak (23rd). Washington still ran well in their title defense, but reigning individual champion Paige Lawler was seventh and the team that had four All-Americans last year had just two this time around.
For the Blue Jays, it was their sixth title in the last eight years. They controlled the race from start to finish as they led at every split.
NATIONAL CHAMPIONS!!! Sam Levy leads the way, finishing 17th as @HopkinsTFXC wins their 6th championship in program history! #GoHop pic.twitter.com/xhw8W3DKLn

— HOPKINS ATHLETICS (@HopkinsSports) November 23, 2019
The individual race quickly developed into a two-woman battle as SUNY Geneseo senior Genny Corcoran hammered the opening kilometer in 3:23 and only Ithaca sophomore Parley Hannan followed.
Corcoran was 20th at NCAAs in 2018 and had beaten Hannan on two previous occasions this season. Hannan, meanwhile, didn't even qualify for nationals last year after placing 45th in the Atlantic region in 2018. On paper, this was advantage Corcoran.
But the Ithaca sophomore has been a different athlete this season, and especially in her last five races. At the Atlantic regional last Saturday, she handed Corcoran her first loss of the season, and by the 4k split in Louisville she was running away from her more-experienced counterpart.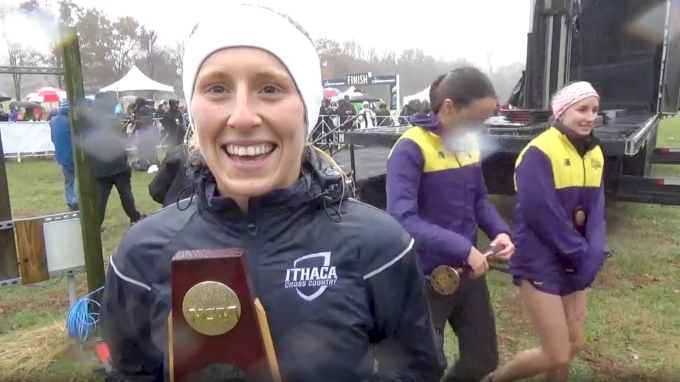 Unlock this video, live events, and more with a subscription!
Get Started
Already a subscriber? Log In
A three-second lead at 4k grew substantially in the final two kilometers as Hannan won easily in 20:53. Corcoran settled for second in 21:11.
For the NCAA debutant, Corcoran's fast early pace set up perfectly for her own race plan.
"[Corcoran] allowed me to keep the pace I wanted to. She goes out fast," said Hannan.
"I don't really have any expectations when it comes to these races. That's the beauty of why I love it. It's my time to forget everything and just go."