2019 BU Sharon Colyear-Danville Season Opener
Diljeet Taylor's Unconvential Path To Coaching Stardom
Diljeet Taylor's Unconvential Path To Coaching Stardom
The BYU coach has guided the women's program back to the elite of the NCAA, while turning down offers from big-name schools in the process.
Dec 4, 2019
by Kevin Sully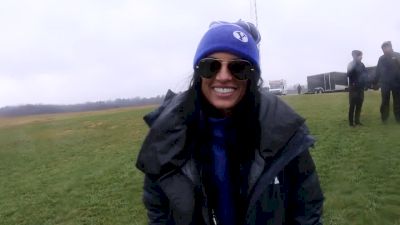 Unlock this video, live events, and more with a subscription!
Get Started
Already a subscriber? Log In
As the weather deteriorated into a biting mix of wind and rain in Terre Haute, Indiana, the Brigham Young University (BYU) women's cross country team stepped onto the awards podium. Each woman, ten in all, wore a blue and white beanie with "Taylor Made" printed on the front, the Y emphasized to match the BYU logo.
The woman in the middle, holding the runner-up trophy, was their coach, Diljeet Taylor. As the embroidery on their hats suggested, she was both the catalyst and the architect of BYU's resurgence, and guided them to the podium for the first time since 2003—an era when the Cougars won four national titles and were the pre-eminent women's program in the nation.
The assembled crowd was watching a promise being fulfilled in real-time.
Four years ago, Taylor told her first recruiting class she would get them onto the podium before they graduated.
It was a bold statement.
Taylor, 42, had never coached at the Division I level, and the year before she arrived, the Cougars finished 23rd.
"As a coach, you don't get teams like this very often, and it's taken us four years with these women to get them to this point," Taylor said after she stepped off the podium.
The moment was also shaped by a decision four months prior. Taylor's success at BYU brought job offers from other schools—so much so, that BYU head coach Ed Eyestone became accustomed to trying to hang on to Taylor each summer.
But in July, her dream job came calling when Stanford offered her their top job. It was a chance to move closer to home, lead an entire program in a Power 5 conference, and do it at a place rich in resources and tradition.
She shocked herself and her family when she said no.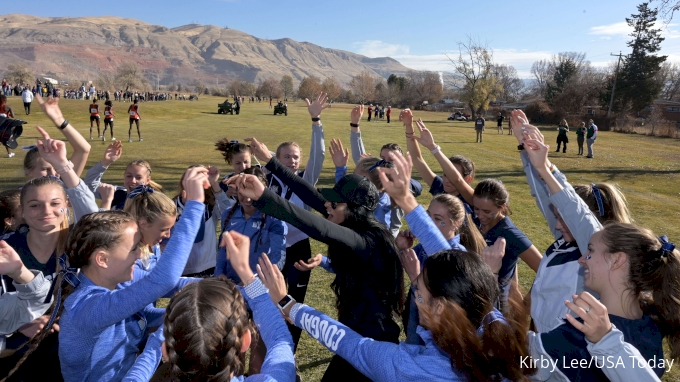 Taylor's rise in the coaching profession is both long overdue and sudden. A child of Indian immigrants, Taylor grew up in Ceres in California's Central Valley. Her father worked in insurance and her mother was a nurse. She had a sheltered upbringing. She wasn't permitted to go to sleepovers or football games. Prom was out. Sports became her outlet, but they weren't a priority for the family.
"My parents weren't very excited about me running in college. It's not what Indian girls do. They don't put on short shorts and run in circles," Taylor said.
She stayed close for college, attending Cal State Stanislaus, a 15-minute drive from her home. Her senior year at Stanislaus, she finished second at the NCAA Division II Indoor National Championships in the 800m. After college, she moved to the Bay Area and ran for the Nike Farm Team. The group, coached by Frank "Gags" Gagliano, trained on the Stanford track. Three years later, she moved into coaching. First, at Menlo College for two seasons, and then to her alma mater, Stanislaus.
She took to it quickly.
"I learned how to grind at Stanislaus. You're the coach, but you're also the counselor with academics. You're also the nutritionist. You're also the fundraiser for your program and you're also the meet director for the meets you put on and you're also the volunteer coordinator for all the volunteers that you need; you're also the equipment person—you're doing everything," Taylor said.
In her nine years, she trained 16 All-Americans. Her star 800m runner, Abraham Alvarado, made it to the 2016 Olympic Trials semifinal in the 800m.
While at Stanislaus, Taylor bumped into Coach Eyestone during breakfast before an indoor meet in Seattle. They made small talk, and Taylor asked how things were in "Happy Valley"—a bit of local vernacular for Provo, Utah. Eyestone asked where she heard the term. She told him her father-in-law went to BYU and they had relatives in the area.
Eyestone stashed away the information—he knew it wasn't easy recruiting coaches to BYU. Coaches and athletes at BYU don't need to be members of the Church of Jesus Christ of Latter-day Saints, but they do need to follow the school's honor code. Taylor isn't Mormon, but she had a connection to Utah and was familiar with the culture.
In the summer of 2016, BYU's women's cross country coach Patrick Shane retired, leaving Eyestone to look for a replacement for the man who won all those titles. He emailed Taylor.
"I was a little bit mystified as to why she wasn't coaching DI," Eyestone said.
Taylor was plugging away at Stanislaus, getting results with little resources. She was a rising star, and a visible one ("you can hear me anywhere you are on the track because I am very loud"). Initially, she was hesitant about BYU. She wanted to raise her two sons in a diverse area. A campus visit and a meeting with Eyestone and the administration convinced her it was worth a shot.
"I ran for Division II. I coached at Division II. And I think sometimes that can pigeonhole you into just staying at Division II, but Ed didn't think like that, Ed thought outside the box, he took a chance on me," Taylor said.
Eyestone saw passion and the ability to connect and form relationships with athletes. He hired her to coach the women's program.
"I think she was a big fish in a smaller pond, I think she relished the thought of becoming a big fish in a really big pond," Eyestone said.
It was an unconventional match—a Punjabi woman from the Central Valley of California who wasn't Mormon was now leading the BYU women. But Taylor found kinship with the team in her own upbringing.
"I can definitely relate to how these women grew up and to the mindset that some of them and the pressures that they may feel culturally," Taylor said. "When women come to me and they're not super confident, through sport I help them believe in themselves and they end up being very empowered women."
Taylor's teams speak about her the way someone describes their favorite childhood teacher. They can recite back her favorite quotes and recall advice that Taylor has given them at trying times. She gives them each handwritten cards before every race with personalized messages. Each year on her birthday, she gives them a "Taylor Made" piece of clothing, a tradition she started at Stanislaus.
"It seems like self-promotion and it probably is a little bit but there's also some pride that goes along with it," Taylor said.
During meets and practice, she's in constant motion. At one workout in September, she pulled a portable speaker out of her royal blue Jeep to play music during a fartlek workout. She ran from spot to spot on the university intramural fields yelling encouragement ("this is fun!!") as Nipsey Hussle and Drake blasted from the speakers.
Senior Courtney Wayment has a progression that runners and coaches fantasize about: 123rd, 71st, 23rd and then 5th at this year's NCAA Cross Country Championships. But she's had struggles. Wayment was sidelined with a stress fracture for six months during her sophomore year. Taylor contacted her every day, sometimes talking for an hour.
"I know it's cutthroat at other schools when you get injured, you are kinda put on that back burner," Wayment said.
A year later, Wayment came down with E. coli. While at the hospital, the IV that was supposed to go into her vein was instead inserted into her artery. Doctors thought she had an air embolism. Taylor came straight from practice to stay with her.
"She just does so freaking much," Wayment said.
Earlier in her career, Wayment wasn't on speaking terms with her mother. Taylor helped mend their relationship.
"There was a lot of hurt there and Coach Taylor, she was like, 'No, that is your mother, you will fix this,'" Wayment said.
In Taylor's first season, BYU placed 10th—their highest finish since 2005. With success came more attention from other schools. In June of 2018, the Oregon women's coaching position became available when Maurica Powell left for the University of Washington. Taylor was happy at BYU, but she felt she owed it to herself to take the interview.
It was, after all, Oregon.
"You grow up with a certain level of respect for these big programs, and in my wildest dreams, you'd never think that if they came knocking at your door, that you'd say no," Taylor said. "I had something good at BYU. (Oregon) just wasn't a good fit for me professionally or personally."
Her coaching friends were surprised she turned it down. But it didn't dissuade others from trying to pull her away. In 2018-2019, BYU made another jump in cross country, placing 7th. In March, the team finished second in the distance medley relay at the NCAA Indoor Championships.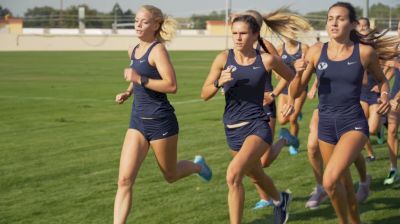 Unlock this video, live events, and more with a subscription!
Get Started
Already a subscriber? Log In
On June 27 of this year, Stanford coach Chris Miltenberg announced he was leaving the school to take a position at the University of North Carolina. Taylor's dream job was open. That phrase—dream job—is tossed around with enough frequency, particularly in coaching circles, that it can lose its meaning. For Taylor, though, it was accurate.
The school was the object of her affection growing up. It was 90 minutes from her parents' house. Her sister lived in San Francisco. She trained on the track as part of the Farm Team. Moving to the Bay Area would also help her husband's accounting career. Unlike Oregon, this was a director job. She'd be in charge of one of the highest-profile programs in all of the NCAA at one of the most prestigious universities. And she'd be one of a small number of female directors in all of the Power 5 conferences (currently, there are only seven). Everything pointed toward Palo Alto.
Early on at BYU, she'd told Eyestone that Stanford would be the one place she'd consider if they ever offered her. So, when they asked for an interview, Eyestone knew they might be in trouble.
"I was in denial because I knew what was going on. We had kind of weathered it the year before," Eyestone said.
He knew how good of an interview she was. It was only four years ago, when she had come to Provo and owned the room.
"She gives more than 100% in everything she does," Eyestone said.
"I just knew that if she went (to the interview), that whoever was talking to her was gonna go, wow this is somebody who could really take this program to another level."
Taylor was still content at BYU, just like she was the previous summer. She had support from Eyestone and the administration and a strong team returning and she'd made that promise about the podium four years ago.
"I had to do it, not because I wasn't happy at BYU, not because I (felt) like BYU didn't value me, not because I was so keen on climbing the ladder and becoming a director. It wasn't any of those things. It was just that Stanford was a dream, and I needed to go through that and realize that dreams are constantly evolving," Taylor said.
In the third week of July, she went out to the Bay Area for an interview. As Eyestone expected, she sold them. She quickly got an offer.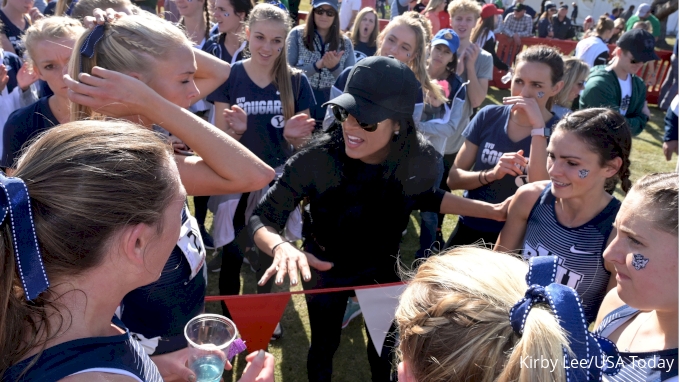 Back in Provo, Eyestone and the administration were working on a way to keep her.
"We've realized that this is a rare jewel that we have here, that we get to work with," Eyestone said.
"Sometimes, talent is talent, and you are just going to lose talent—that's part of the process. But then again if someone really likes it where they are, and can see they are making a huge impact where they are and could still get a lot of things she would like, then there's a chance to keep someone and the administration did an excellent job of recognizing this is someone who is going to be very good and very difficult to replace," Eyestone said.
Taylor's husband wanted her to accept the offer. But she didn't feel ready to move on from Provo. She consulted with her old coach, Gags, who told her to stay (he also told her not to accept the Oregon offer).
She thought about the senior class she made a promise to four years ago about getting on the podium.
"I could take over a really good program and I would be good in a few months. Stanford is always good; they should have podium teams every year," Taylor said.
"It means a lot more when you take over a program and you are really good in four years, and so I think you should invest in something you believe in and I believe in what I've built here and what we've built here—I really wanted to see it through,"
Stanford didn't accept her first no, but on July 21 she gave them her final answer.
"Stanford had always been a dream to me, and as I went through the process, I realized that Stanford was no longer the dream," Taylor remembers telling Stanford's Deputy Athletic Director Patrick Dunkley.
"People are going to think that's crazy; I know that because it sounds crazy. If somebody told me that, I would be like, 'No way, these kids come and go—you don't stay at a place for the athletes,' but call me soft—I don't know, it was important to me," Taylor said.
Soon after, she was promoted to the role of Associate Director of Cross Country and Track and Field at BYU.
Right around the time she told Stanford no, Wayment asked her about the job. Wayment's high school coach told her he'd seen a rumor that Taylor was leaving for Stanford. Taylor gave Wayment a quick no and didn't go much further.
A month later at BYU's cross country camp in Park City, Taylor told the team.
"There were a lot of tears shed because we felt, man that was her dream job, that was her dream place to live," said Wayment. "Stanford is a special track to her and a special place to her individually because as an athlete, she ran some incredible times and did some incredible things there.
"It was a realization of 'wow, she is not just any other coach,' because in my opinion, any other coach would have taken that job," Wayment said.
BYU entered the fall outside the top five in the preseason rankings. A month into the season, they looked capable of much more. The team rode the trio of Erica Birk, Whittni Orton and Wayment to an impressive regular season.
After they won their conference championship, Taylor got them pens with "Tougher Than You" stamped on them. She said they weren't allowed to write with anything else before the NCAA Championships. In the lead-up to the race, Arkansas was the favorite, but both BYU and Stanford had chances at winning. Early in the season, Taylor eschewed listing specific goals (her team did, as well), but privately, she thought they could win.
Before the race in Terre Haute, Taylor told them to part the "red sea," a reference to Arkansas and Stanford's jerseys.
At the two-kilometer point, they were in first place. By the next split at four kilometers, Arkansas had moved in front by nine points. In the final straightaway, the BYU trio of Wayment, Birk and Orton came together to cross the line in 5th, 6th and 7th. Arkansas proved to be too tough, finishing six points ahead. But BYU was a solid second, 21 points ahead of Stanford, and back on the podium.
After the race, she balanced the emotions. The highest achievement of her coaching career, and yet agonizingly close to pulling off the win. "So proud, yet so painful," she tweeted.
"It's easier to lose by 30 points than by 6," Eyestone said.
THE WOMEN & THEIR FIGHT?⠀
⠀
?Best team finish since 2003⠀
3️⃣ Women in the top seven for the first time in program history⠀
3️⃣All-Americans⠀
7️⃣Incredible runners⠀
⠀
?: https://t.co/lRIM8eKTOr#BYUXC #GoCougs #BYU #NCAAChampionship pic.twitter.com/MOnQ4lWEkl

— BYU Track and Field (@BYUTFXC) November 24, 2019
A few days later, Taylor was asked if she was a BYU lifer. After all, if you are a distance coach and you don't leave for Oregon or Stanford, what destination would be good enough to leave for?
"I don't know. I can't predict the future. I just know right now I'm in a very good situation, and I like to be able to win the right way and the pressure here is the pressure I put on myself," she said.
"We got second, and there are two billboards on the freeway. We got seventh last year, and (BYU) celebrated it like we were on the podium. I just think that success is celebrated the right way here and we are chasing it the right way, and I'm proud of that."