2019 Nike Cross Nationals
Nico Young Is Ready To Let Loose At NXN After Monster Season
Nico Young Is Ready To Let Loose At NXN After Monster Season
Nico Young enters Nike Cross Nationals fresh off one of the best cross country seasons in U.S. high school history.
Dec 6, 2019
by Lincoln Shryack
With 1200 meters to go in the CIF State Cross Country Championships last Saturday, Nico Young spotted Newbury Park head coach Sean Brosnan. A second straight state title was well in hand by this point. Young's lead was 18 seconds at two miles and growing, a common theme in a dominant season that has included meet, course and national records. The only question remaining was whether the 17-year-old star would break German Fernandez's 14:24 5k state record from 2007.
But neither Young nor Brosnan were concerned about the record. They had no interest in breaking it. Doing so would be counterproductive to their overall mission. The pair had orchestrated a strategy before the race for Young to get out hard through the first mile, and then let off the gas from there. The real goal was the following week's Nike Cross Nationals, and Brosnan didn't want his pupil going all out seven days before the big one.
So when Young saw his coach with less than a mile to go at Woodward Park in Fresno, he gave him a thumbs up. Things were going to plan. Brosnan told him to cruise it in to the finish line.
"We did not want that record because we felt that if he got that record, it would hurt his chances for NXN. We made the decision to run at about 80-something percent," said Brosnan.
For the second time this season at Woodward Park, Young crossed in 14:28, a mere four seconds away from Fernandez's mark run 12 years prior. His proximity to the California legend obscured the fact that, according to Brosnan and Young, the senior had deliberately left seconds on the course.
Congratulations to the Boys DIV II Placers and Team Champions ?
1st Place Indiv, Nico Young (14:28.5)
1st Place Team, Newbury Park (37)

Results ? https://t.co/R6V4IqOutu pic.twitter.com/GSdPhHnw3a

— CIF State (@CIFState) November 30, 2019
"I think he could have run 14:10 on Saturday. But it's just not the place," said Brosnan. "You have to pick your battles wisely."
On Saturday in Portland, Young won't hold back. In the wake of one of the best cross country seasons in high school history, Brosnan and Young are hoping that their meticulous planning will result in a national title at NXN.
Arcadia Arrival
Superstar distance runners from California tend to be a dime a dozen, but by the conclusion of his junior cross country season, Young had clearly established himself as one of the best runners in the country. His 14:59 winning time at the 2018 Division II CIF State Championships was the second-best among all divisions. A week later, he was fourth at NXN.
Even still, the wiry junior with the distinctive head bob had been overshadowed by his peers in prep running's upper crust. Last year's NXN champion, Liam Anderson, was also from California, and his fellow junior, Cole Sprout, had beaten Young by a place in Portland. There was a clear step up still to be made.
Young made that step in the 3200m at last April's Arcadia Invitational when he accelerated his career into hyperdrive.
Annually the most competitive high school distance race each spring, winning Arcadia frequently requires running the fastest time in the country all season. After a 3:48 1500m and 8:13 3k early in the season, Young set his sights very high for the all-star 3200m clash-- he and Brosnan circled sub-8:40 as their goal time at Arcadia, a feat that only two boys had ever accomplished in the U.S.
"Each race that I have has been a new area that I haven't explored that's been surprising," said Young.
8:40.00 was technically shy of that goal, but a thrilling duel between he and Sprout came down to the race's final meters. Young scored a signature victory while running the third fastest 3200m in U.S. high school history. For the first time, his performance reflected what Brosnan had been seeing in practice: that he was capable of becoming one of the best high school runners ever.
"After NXN last year he said to me, 'I think I want to run around 8:55 for 3200,' Brosnan recalled. "I had to adjust that. I was like, 'Ok, that's not fast enough.' Because I don't think he realized how fast his workouts were."
Striking A Balance
Like with many athletes with a ceiling as high as Young's, Brosnan initially struggled to rein in his superstar's determination. The coach could tell during Young's freshman year that he was going to be special, but only if the ninth-grader didn't run himself into the ground first. When a hamstring injury popped up during that track season, Young tried to ignore the symptoms and press through the pain. Brosnan, knowing that could be dangerous for a 14-year-old's long term development, told Young his season was over.
"I actually emailed his mom and I said, 'I'm going to pull his season. I don't want him running track,' said Brosnan.
"I explained why and in the letter, ironically, I said, 'This kid is going to be one of the fastest kids in the state if not the country. He needs to heal.'"
A year later, Young ran 9:05 for 3200m, the fourth-fastest sophomore time in the country in 2018.
"If I didn't do that I probably would have kept getting injured and wouldn't really have had a great freshman track season. In the grand scheme of things, that one wasn't that important," Young said.
Restraint has been a common theme in Young's high school career. Brosnan speaks of Young's ability to "redline" in almost mythical terms, a pain tolerance that can be self-destructive if not monitored closely. Newbury Park has a staple workout of seven one-kilometer repeats that they run a few times throughout the season, a session that Young can hammer at 2:45 intervals if left unchecked.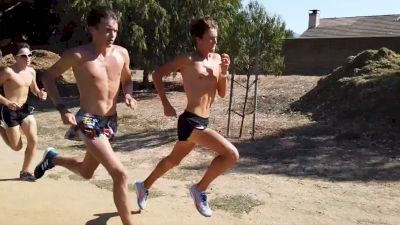 Unlock this video, live events, and more with a subscription!
Get Started
Already a subscriber? Log In
(Video courtesy of California MileSplit)
"On a cross country course, he can run 2:44-2:45 and I have to pull him back. I think it's too fast at certain points in the season," said Brosnan.
"He has two twin brothers that are in 9th grade and they're the same way. They have the same ability that they can just redline the whole way. You have to hold them back."
The coach and Young have clearly struck the right balance this fall as the senior has built on the momentum of his breakout at Arcadia. His season-defining race thus far came back in September at the Woodbridge Cross Country Classic, where Young ran 13:39 for the three-mile course, breaking the national record for the distance. He had eclipsed Craig Virgin's 13:50 record that had stood since 1972.
"That definitely set the tone for the rest of the season," said Young. "I was super excited for what the rest of the season would hold."
'He's Going To Shock People'
That race was one of only two this season that Brosnan says Young was permitted go all-out, the other being the Clovis Invitational on Oct. 12 where Young first ran 14:28 on the state course at Woodward Park. That performance was a 40-second improvement on the same meet the year before. On Saturday at NXN, the gloves will be off for just the third time this season.
Soon Young will decide where he will continue his running career as the most sought-after recruit in the country will choose between North Carolina, Virginia and Northern Arizona shortly after this weekend's national championships. Whichever school Young selects will receive an athlete who Brosnan believes will soon belong among a short-list of the greatest high school runners of all-time.
"We've been really careful about making sure he's gradually improving. But I don't know, I think he's going to be one of the best, if not the best, before he leaves high school. I really do," the coach said.
"I think he's going to shock people this year, some of the times he can actually throw down in track are going to be pretty unbelievable."
Making that claim reality necessitates Young delivering a victory on Saturday at Glendoveer Golf Course. There, he'll face Sprout once again, along with Illinois' Josh Methner, the latter of which broke Virgin's Illinois state course record last month.
But if Brosnan and Young have played this season right, Young is saving his best for last in his final prep cross country race.
"I think it's been a really phenomenal season. Saturday, it would be awesome to cap it off," said Young.