2019 Nike Cross Nationals
Katelyn Tuohy Hangs On To Win Third NXN Crown
Katelyn Tuohy Hangs On To Win Third NXN Crown
Katelyn Tuohy had to tough out a late challenge, but ultimately she won her third straight NXN title on Saturday.
Dec 7, 2019
by Lincoln Shryack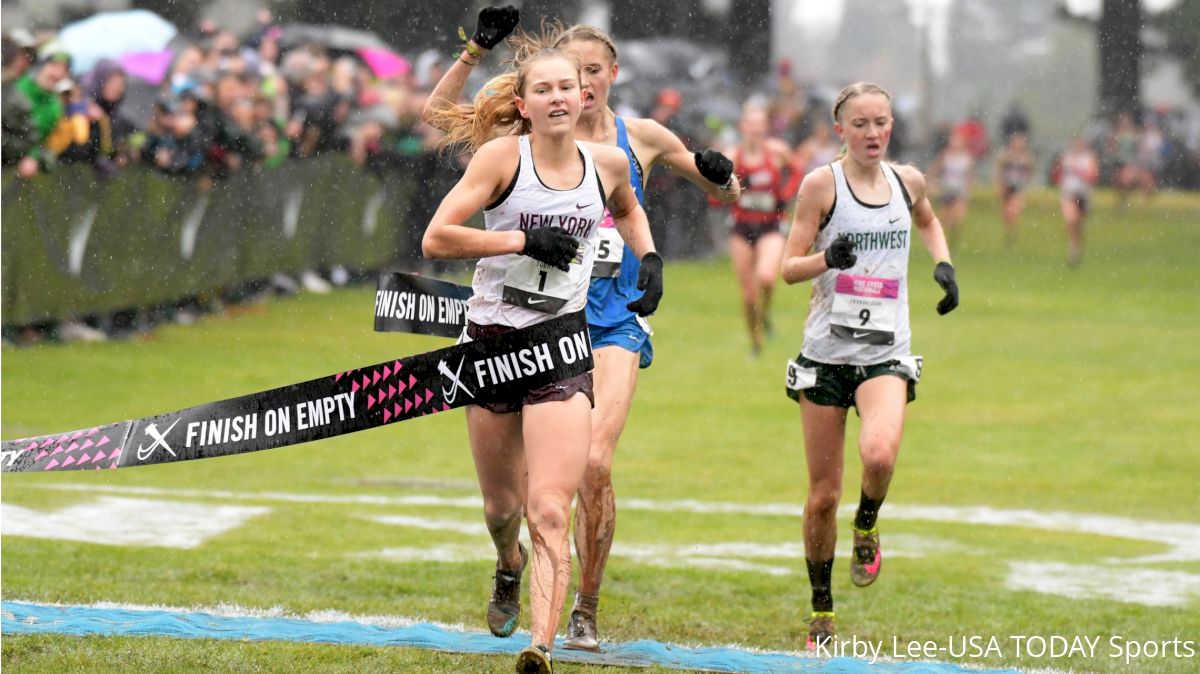 One of the greatest high school runners in U.S. history wrapped up her prep cross country career in style on Saturday as Katelyn Tuohy of North Rockland, New York, won her third consecutive Nike Cross Nationals title in 17:18. She is now the first three-time NXN champion.
It was anything but easy for the senior in Portland, who set the 16:37 course record in 2018. An aggressive race plan in sloppy conditions took its toll late in the 5k contest as a lengthy lead dissolved for the fatigued Tuohy.
A six second lead at two miles shrunk to virtually nothing with 200 meters to go as Taylor Ewert of Beavercreek (OH) and Sydney Thorvaldson of Rawlins (WY) had the two-time champion in their sites with the finish line quickly approaching. As the trio crested the final hill, Tuohy looked spent with the tandem behind her poised to strike.
But Tuohy, who owns multiple high school national records, had one more gear that she desperately deployed just as it appeared she would be caught. With it she managed to hold off Ewert by less than a second as the Ohio senior finished runner-up in 17:19. Thorvaldson was right behind, also in 17:19.
Afterwards, a relieved Tuohy reflected on her most challenging national title to date.
"I was really stressed out before the race. It kind of affected how I felt during the race," said Tuohy. "I'm just really happy that I was able to mentally tough it out the last 200 meters. I was really hurting."
Tuohy had won by 17 and 41 seconds in her previous triumphs in Portland, and when she broke away early on Saturday at Glendoveer Golf Course it seemed like a similar outcome would occur. But the wet course made for tough racing conditions, and Ewert and Thorvaldson were able to work together to gain on an exposed Tuohy. At 2.75 miles, the trailing pair had cut into Tuohy's two mile lead by nearly four seconds.
In the end, however, the overwhelming favorite was able to hang on by the slimmest winning margin in girls' NXN history.
In the team race, the Kinetic girls (Saratoga Springs, New York) made it a sweep for the Empire State with a dominant 82-point victory over defending champion Summit (Bend, Oregon).
After close losses at both the New York state meet and NXR New York to Fayetteville-Manlius, Kinetic ran their best race of the year to score the NXN title. They were led by Ella Kurto in 14th, who improved 31 places from her 2018 finish.