2019 DI NCAA Northeast XC Regional
The Road Trip That Brought Vaporflys To A Cross Country Meet
The Road Trip That Brought Vaporflys To A Cross Country Meet
When the 2019 DI NCAA XC Northeast Regional was moved to the roads, two running store employees got to work to outfit the athletes in Nike Vaporflys.
Dec 13, 2019
by Kevin Sully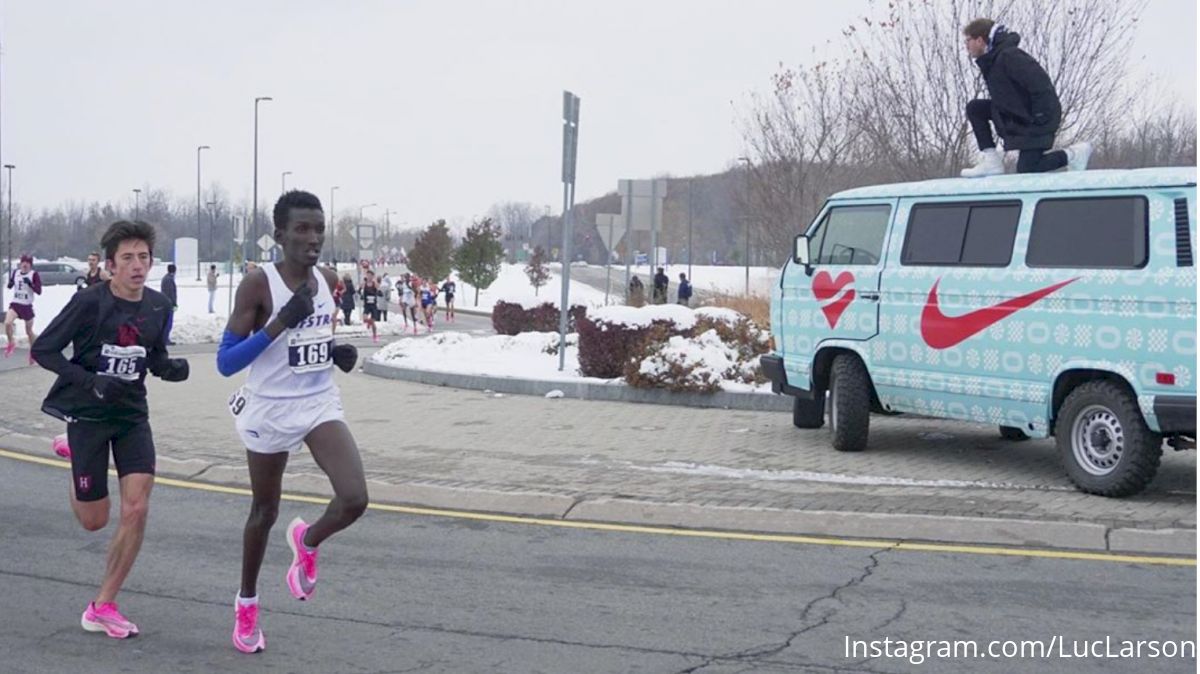 The phone rang before Luc Larson even had a chance to turn on the lights. Larson, the general manager of the Heartbreak Hill Running Company store in Chicago, has a rule against answering calls before the store is open. But a few minutes before 11 A.M. on November 14th, he picked up.
"It was a cold Thursday and I thought this might be the only person I talk to for a couple of hours," Larson said.
On the other end of the line was an NCAA cross country coach looking to buy Nike Vaporflys. The coach explained to Larson that his team's race at the Northeast Regional Cross Country Championships had been moved to a road course due to record snow in Buffalo. There would be no need for their spikes. Flats were now required. And not just any flats.
For the competing teams, who were sponsored by Nike, getting their hands on the most-coveted shoes wasn't particularly easy, especially in the time crunch.
The meet was starting in less than 24 hours. The coach who called Larson had a parent that was flying from Chicago to Buffalo for the race and asked Larson if he could place a phone order and have the parent pick them up.
After the call, Larson called the company's co-founder, Justin Burdon, who lives in Boston where the company has three stores. Maybe there was an opportunity here--sell some shoes and help runners avoid racing in their biggest meet of the year in trainers. When Larson called, Burdon was already on the way to Buffalo.
Burdon had also violated his rule about answering the phone before the store opened. A parent called him, frantic, looking for four pairs of Vaporflys. That was enough to convince Burdon. He loaded up his Mazda 3 hatchback with 70 pairs of pink and yellow Vaporfly Next%s, brought a friend, and headed west to Buffalo.
"If I go to Buffalo, worst-case scenario it's a fun story," Burdon said.
90 minutes later, Larson headed to Buffalo from the opposite direction. The Chicago store had a van--a Volkswagon Vanagon adorned with a Nike Swoosh and the store's logo with about 130,000 miles on it. It's used primarily as a promotional tool at road races. If this was going to be a road race, Larson thought it would be a natural fit. But it wasn't built for long trips. It was towed out from Portland for the Chicago Marathon this year. Larson asked if he could drive it to February's Olympic Trials in Atlanta and was told towing would be a better option.
"At this point in its life, it's definitely meant more to be parked and look great than as a functional working van," Larson said.
But they decided to chance it. The Chicago store had a decent stock of Vaporflys and Larson happened to have brought an extra change of clothes and deodorant.
Burdon arrived around 7:00 PM. On the drive to Buffalo, he fielded orders and communicated with coaches. The truncated time-table left three different groups of teams: ones that were able to pick up racing shoes on the way to the meet, others who were having shoes shipped to them from the school's equipment room and the third group that was already in Buffalo and scrambling to get something on their feet.
"Definitely there is something to the Next% and the performance element of them," Burdon said.
"I think everyone is trying to get the edge."
All the team hotels in Buffalo were within a mile of each other. Burdon went lobby to lobby selling the shoes. Athletes tried them on and did strides down hallways. Some teams just bought them for one athlete, others outfitted their whole team. They paid with Square and then Burdon moved on to the next hotel. All total, about 10 teams bought shoes from them.
Larson and the van got to Buffalo a bit later. Once he started driving, he realized the van couldn't go quicker than 65 miles per hour. He pulled in around 11 pm.
"We were a little careful to pre-sell too much out of the van cause we weren't entirely sure the van was going to make it there," Larson said.
Early Friday morning, Larson sold a couple of pairs of shoes and then headed to the course. They convinced a police officer to let them park the van on the course and set-up a makeshift cheering zone.
The field was littered with Vaporflys. Hofstra head coach Vincent Giambanco noticed it during warm-ups, when he saw the flashes of pink and green in the fieldhouse before the race. Giambanco drove about an hour into Manhattan to get shoes for his top two runners from the Nike SoHo store on Wednesday night. "We didn't want to be second-guessing if that was the reason someone missed (nationals)."
Alex Masai, Hofstra's best runner, won the race in a pair of pink Vaporflys. Harvard (also in Vaporflys) swept the men's and women's team races, advancing to the NCAA Championships. Afterward, they posed for a picture with Larson.
When the award ceremony concluded, Burdon and Larson headed home. They didn't get rich off the trip, Burdon said it was "moderately profitable."
"You don't drive nine hours to Buffalo thinking it's a cash cow, you go because you are passionate about the sport, you want to see these kids succeed," Larson said.