2020 DI NCAA Indoor Championships
Katie Izzo's Improbable March Into The NCAA Record Books
Katie Izzo's Improbable March Into The NCAA Record Books
After a collegiate career filled with injuries, Katie Izzo is making up for lost time.
Jan 16, 2020
by Kevin Sully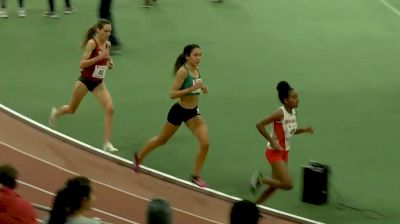 Unlock this video, live events, and more with a subscription!
Get Started
Already a subscriber? Log In
Click on Katie Izzo's "One Second Everyday" video on YouTube and you will see a collegiate athlete's experience in fast motion. Clips of studying, parties, practices, teammates, coffee and cafes pop on and off the screen. Nothing labors or lingers.
Even big moments like graduation or racing at the NCAA Championships are only given a single second, thrown in with everything else that comprised her 2019.
The pace is rapid enough that you might have to pause and rewind to catch the key moments. Like on May 7th, when she's filling out a financial aid form for the University of Arkansas. Or December 12th, when her one-second video from that day was a shot of her computer. On the screen are tickets to the 2020 U.S. Olympic Trials.
There's a causal relationship between those two events, but again, it's lost in the rapid succession of the video---concerts, trips to the beach, moving from California to Fayetteville, cross-training, holidays with her family. Everything is only given a second, making it hard to decipher the mundane versus the significant.
But if there was a medium to capture Izzo's rise from unknown to one of the fastest runners in NCAA history, this seems appropriate.
"It's still blowing my mind," Izzo said.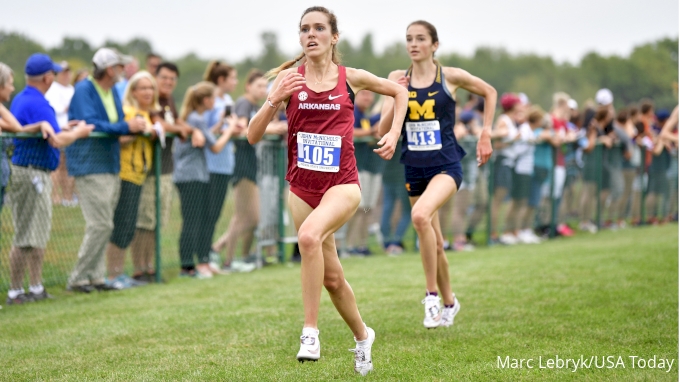 Izzo's coach at Arkansas, Lance Harter, knew a few things about Izzo when she was considering transferring to Arkansas--she was tough and, if you could manage her injuries, she had untapped potential.
But ask him if he thought she'd get this fast, this quickly he gives an unequivocal no.
It was a logical conclusion.
In high school, Izzo was a late bloomer by design at Catalina Foothills High School in Tucson, Arizona. She ran shorter events (down to the 100m) through her sophomore year before focusing on the 800m her junior season. Her family moved to Seal Beach, California, for her senior year of high school. With deeper competition in California's Southern Section at Los Alamitos High School, she improved.
Izzo finished fourth at the 2015 state meet in the 3200m, running a personal best of 10:21.67. She wasn't recruited by any colleges before her senior year, but the performance in the spring was enough for Cal Poly to offer a partial athletic scholarship. Izzo took it.
Izzo never ran high mileage in high school. She'd never been injured before, and thus was unfamiliar with what a stress fracture felt like. All these facts collided to form a cruel outcome her sophomore year. At the 2016 NCAA West Regional Cross Country Championships in Sacramento, Izzo felt a snap in her leg just past the two-mile mark.
"It was like a stick--just snapping a stick," Izzo said.
She collapsed on the course. Her tibia and fibula were broken. She'd been running on a stress fracture (she believes the result of lots of miles) and didn't know it. That night at the hospital, she cried with her mother. Doctors put a titanium rod in her tibia. She wasn't able to run or cross-train for seven months.
"I think my body needed that physical break. Mentally, too, I was just kind of burnt out. That's when I realized I had so much more in me," Izzo said.
FloTrack caught up with Izzo during a workout in Lafayette during the 2019 cross country season:
Unlock this video, live events, and more with a subscription!
Get Started
Already a subscriber? Log In
When she returned to running, she scaled down her mileage and emphasized cross-training—the elliptical in particular. After sitting out for the 2017 track and cross country seasons, she thought she was ready to return to competition in the fall of 2018. A week before her first race, though, she sustained a stress reaction in her femur. She hadn't quite figured out the formula to keep herself healthy; she'd have to sit another season.
"It was harder than breaking my leg because I was so ready to come back," Izzo said.
For her senior year, she capped her mileage at 35 per week. Her first workout of the fall in 2018 was her first race. She progressed steadily from there, placing third at the Big West Conference Championships. The regional meet was at the same location where she broke her leg two years ago. Izzo finished the race in 22nd to qualify for her first NCAA Championship meet. The 2018 edition of her "One Second Everyday" video opened with Florence & The Machine singing "Dog Days Are Over"—a musical reminder that she'd turned a corner.
In the outdoor season, she lowered her 5000m personal best to 16:08. More importantly, she stayed healthy.
Izzo was set to finish her degree at Cal Poly in June. But she still had eligibility remaining and the feeling that she was just getting started in running. She looked for graduate programs that fit her interest. She took official visits to Arkansas and Arizona. She decided on Arkansas, in part because of the recreation and sports management master's degree, but also the thought of where it could take her running. Arkansas had never won a women's cross country title, but they were flush with resources and returning a senior-heavy group that could contend for a championship in 2019.
Izzo had experience with this type of transition. In high school, she made a huge leap up in competition when she went from Arizona to California for her senior year. She'd responded well to the increased challenge then—why couldn't the same happen for her college career?
"I knew training with the best, I could be All-American," Izzo said. "[I] wanted to be a part of a historic cross country season."
Thus began the unlocking of Katie Izzo and a four-month span where she blasted her personal bests like someone who was just getting started at running. She's still in disbelief about how quickly it all happened--attributing it to a combination of Arkansas, training with All-American teammates, Harter, and belief from her family and friends.
Harter took a cautious approach. He kept the mileage low, prescribed corrective exercises and worked with the Arkansas medical staff to keep her healthy. He even thought of redshirting Izzo, though she never planned on missing out on this season.
"I knew there was some talent there. It was just a matter of getting to where she's physically capable of training," Harter said.
After the first meet of the cross country season, it was clear Izzo was going to be a major factor. She clicked off great run after great run. At the Chile Pepper XC Festival, she covered 5000 meters in 15:50—18 seconds faster than her track personal best. When she finished ahead of her teammate Taylor Werner at the SEC Championships, Izzo elevated herself from a useful role player to a bonafide threat to win the NCAA Cross Country Championships.
Three weeks later, she took third in Terre Haute to lead the Razorbacks to a historic title. In the final stretch, a look of shock took over her face. She couldn't believe what she'd done.
The team score was close. Izzo didn't find out for certain that Arkansas had won for at least 10 minutes. When they did hear that they'd beaten BYU by six points, the tears came. "It was just like a movie moment," Izzo said.
The year before for Cal Poly, she placed 82nd in the same meet. The 79-place improvement was a helpful way to quantify what Izzo had done. It wasn't lost on Izzo that this moment was a by-product of the injuries. Without them, she wouldn't have had the extra eligibility to transfer to Arkansas.
But she wasn't done yet. On the first Saturday in December, she raced an indoor 5000m at Boston University. The meet typically hosts fast distance races for collegiate athletes who are still fit from cross country season. Izzo knew she would easily beat her existing track personal best of 16:08, but also had a "crazy goal of going for that Olympic Trials standard." Before the race, she and Werner looked up the time needed to qualify for this summer's Olympic Trials in Eugene. It was 15:20—she wrote it down in her journal.
The race was expected to be quick with most of the top ten from the cross country season entered. Werner, who was running unattached, and New Mexico's Weini Kelati, who had won the cross country title in Terre Haute, kept the pace moving. Izzo passed through 3000 meters in 9:15 (14 seconds faster than her 3000 personal best) and was right with Kelati and Izzo.
The field thinned and the three were by themselves in the final mile. Werner made a big move to pass Kelati at the bell; she built her lead over the final 100 meters and won in 15:11.18. Izzo couldn't stick with Werner, but passed Kelati.
Izzo's finishing time of 15:13.09 was the second-fastest in collegiate history, less than a second from Emily Sisson's collegiate record (Werner's didn't count for NCAA record purposes because she ran unattached). She breezed past the Olympic Trials mark and got dangerously close to the standard of 15:10 for the Olympics.
Watch Izzo's historic race from the 2019 BU Season Opener:
The time (in 2019, only 9 American women ran faster all year), the ramifications (she'd have to make plans to for Eugene now) and her future beyond Arkansas (she's not thinking about pro running yet) were met with the same earnest incredulity that's accompanied all her accomplishments at Arkansas.
And there's plenty of questions about what will come next. How hard will it be to sustain success after jamming five years of breakthroughs into a four-month span? Izzo is now a known quantity, she will be on every shortlist to win NCAA championships. The time in Boston qualified her to race in Eugene, but she's showing that she can be more than just a bit player in the meet that will decide the Olympic team.
"When you've been at the lows, it makes the highs so much better," Izzo said.