Unlock this article, live events, and more with a subscription!
Get Started
Already a subscriber? Log In
The 2020 track season got started in earnest over the weekend as droves of top professionals debuted and many impressive collegiate performances took place. Here were the takeaways from Boston, Albuquerque and New York:
Donavan Brazier Is Still In Monster Shape
At the risk of overanalyzing a season opener in an off distance, Donavan Brazier's 1:14.39 600m in Boston on Saturday was further proof that the 2019 world champion remains in a league of his own among 800m runners. Although his competition at the New Balance Indoor Grand Prix was overmatched as expected, Brazier hammered away alone to the second-fastest indoor 600m ever, behind only his 1:13.77 world best from 2019. And it was easy. So easy that the 22-year-old managed a shrug across the line as if to say sorry, not my best but it will have to do.
Just look at this gear change as he assumes control of the lead:
.@DonavanBrazier is starting 2020 in style.

He wins the men's 600m!#NBIGP | @usatf pic.twitter.com/UV0dRbe9aV

— #TokyoOlympics (@NBCOlympics) January 26, 2020
Word is that Brazier isn't planning to run World Indoors this year, but his brief indoor campaign could still bring more fireworks as he next targets the Millrose Games 800m on Feb. 8. A lowering of his 1:44.41 indoor American record will be the expectation given his dazzling season opener.
A New Name Emerges In The NCAA Women's 60m
Texas sophomore Julien Alfred wasn't expected to be a contender in the women's 60m dash this season after posting just a 7.36 best as freshman. But after running 7.10 (#6 NCAA all-time) over the weekend in Albuquerque, the St. Lucia native is in the thick of the title hunt. Just 18 years old, Alfred had a modest freshman season highlighted by a second place finish in the Big 12 100m. That's why her defeat of reigning NCAA 60m champion Twanisha Terry is such a surprise.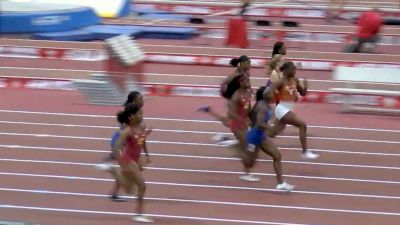 Unlock this video, live events, and more with a subscription!
Get Started
Already a subscriber? Log In
Tyler Day Puts Edwin Kurgat On Notice With 13:16 5k In Boston
The race featuring Olympic silver medalist Paul Tanui and 13:05 man Eric Jenkins disappointed in that no one hit the 13:13.50 Olympic standard (Tanui won in 13:15), but the silver lining was the performance of Northern Arizona senior Tyler Day, who ran 13:16.95 to surpass Galen Rupp as the third-fastest collegiate all-time indoors. It's not like the time was a total shock— Day ran 13:25 in May— but eclipsing arguably the greatest distance runner in U.S. history carries significantly more weight than simply a nine-second PB.
That's what it means to Tyler Day to run 13:16.95 indoors at Boston University — knocking Galen Rupp's 13:18.13 American collegiate record from the books. pic.twitter.com/4KOmZWfwtc

— Jonathan Gault (@jgault13) January 25, 2020
Naturally, the question now becomes whether Day can translate his stellar performance into an NCAA title in March. Although he's a standout cross country and 10k runner, Day was just 13th in the 5,000m at NCAA indoors last year and then failed to qualify for nationals outdoors despite his 13:25 being the fastest mark of the season. A great time-trialer, but it remains to be seen if he can thrive in a championship 5k setting.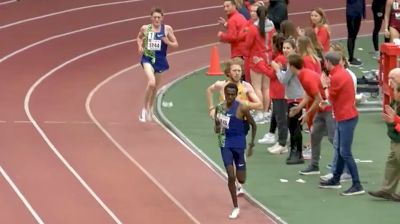 Unlock this video, live events, and more with a subscription!
Get Started
Already a subscriber? Log In
That, and the presence of 2019 NCAA XC champion Edwin Kurgat, will make winning in Albuquerque a tough task come March, but this just might be a different version of Day than we've seen before. He did push a 12:58 man to the line, after all. Add in NCAAs being held at 5300 ft. above sea level (he trains at 6900 ft.), and it would seem that Day has a real chance to avenge past shortcomings in the 5,000m this March.
BYU's Whittni Orton Remains On A Tear
It will be interesting to see which events BYU star distance runner Whittni Orton competes in at NCAAs, as Orton secured another outstanding mark on Saturday (4:29.76 mile at Dr. Sander Invite) to go along with her 15:22.98 5k from December. Orton, who placed seventh at NCAA XC in November, continued her ascent over the weekend from solid collegiate runner to stud collegiate runner by finishing just a step behind 2019 World Championship finalist Nikki Hiltz and breaking the Cougar school record.
?NEW SCHOOL RECORD? Whittni Orton breaks the Mile school record by 5 SECONDS to run 4:29.76!!

— BYU Track & Field and Cross Country (@BYUTFXC) January 25, 2020
Orton has previously been a miler, so her running the mile-DMR double at NCAAs seems most likely. The 5k is also stacked with Katie Izzo (15:13 PB), Weini Kelati (15:14 PB) and defending champion Alicia Monson representing significant roadblocks. All three beat Orton at nationals in cross country. The mile could ultimately feature four-time NCAA champion Dani Jones, so it's not like any path to the top will be easy. But Orton's continued rise should make her a threat in any event that she chooses, and whichever route she takes will have a significant impact on the distance races at nationals.
Jessica Hull Might Be On The Cusp Of A Breakout
No performance at the New Balance Indoor Grand Prix on Saturday was more expertly crafted than Jessica Hull's 4:04.14 1500m win, as the former NCAA champion let training partner Konstanze Klosterhalfen do all the work before cutting her down in the final 10 meters.
The thunder from Down Under! ⚡??@jessicahull143?? kicked to victory in an Australian indoor 1500m record of 4:04.14 tonight in Boston, beating Konstanze Klosterhalfen?? (4:04.38) and Ciara Mageean??, who clocked an Irish indoor 1500m record of 4:06.42 #WorldIndoorTour pic.twitter.com/h2E3cvMwxT

— World Athletics (@WorldAthletics) January 26, 2020
It is just one race, of course, but beating someone of the caliber of Klosterhalfen-- the 2019 World Championship 5k bronze medalist and 4:19 miler-- proves that Hull's finishing speed is elite. The 23-year-old missed the 1500m World Championship final last October, but only after she ran a 4:01.80 PB. The type of form she showed in Boston indicates she could be a medal threat at March's World Indoor Championships.
Beyond that, it's going to be tough to make serious noise in an event as deep as the women's 1500m outdoors in just year two as a pro, but Saturday suggests that the best of Hull is yet to come.