Create a free account to unlock this article!
Get Started
Already a subscriber? Log In
By itself, Craig Engels' weekend in Boston was routine enough— the 2019 U.S. 1500m champion was tasked with pacing the men's 5,000m on Friday night before racing the mile the next day. His training partners Paul Tanui and Eric Jenkins ultimately missed the 13:13.50 standard as Engels strained to get through 2600m— "I definitely underestimated what 4:12 pace felt like", he said— and yet he came back on Saturday to win the mile in 3:56.85 on tired legs.
It was a solid, if uneventful, 2020 debut for one of America's top runners. But as is typical of the happy-go-lucky miler, Engels couldn't help but let his unique personality shine through in the process of his work.
The 2019 world championship finalist chatted with our Phil Grove after the mile race, a race where he broke away after 1200m only to nearly blow the lead as Irishman Andrew Coscoran rallied late and caught Engels at the line. Their times were identical— 3:56.85— but the American got the edge by just a hair.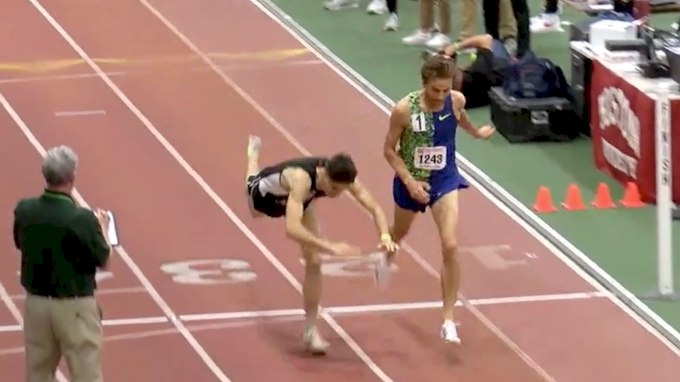 Unlock this video, live events, and more with a subscription!
Get Started
Already a subscriber? Log In
It was a nail-biter made all the more intriguing when a smile broke out on Engels' face with a lap to go, a grin that faded as soon as he realized Coscoran was hot on his heels.
"That was crazy, man. I didn't know he was coming, looked over to my left, I was like smiling, I thought I was in the clear," he said. "Looked over to my right, he was right there. That was crazy."
Come for the U.S. indoor standard, stay for the free Engels entertainment. When asked how his legs felt coming back after the pace job, he joked, "Terrible."
"But after the warm-up, I felt all right. I was like, all right I can work with this," he said. "And I felt pretty good out there. I was really excited to be out here, and the fans are just so loud that they got me hyped up. Maybe a little too hype a little too early, but I had fun."
Engels will next target an 800m race at Camel City before competing in the 1500m at USAs in mid-February, where he will hope to qualify for his second straight World Indoor team.
The location of the fast-approaching World Indoor Championships in Nanjing, China, scheduled for March 13-15, has caused some in the track community to worry about potential safety risks associated with the outbreak of the coronavirus in nearby Wuhan, which is just over 300 miles away from Nanjing.
World Athletics made a statement to Sports Illustrated's Chris Chavez on Sunday saying that they are monitoring the situation closely while working with the World Health Organization. As of now, no contingency plan in case of a worsening outbreak has been announced.
In vintage Engels fashion, he had his own way to share in those concerns.
"Hopefully [I] make the team in China, and hopefully not get [the virus]," he said.