2020 U.S. Olympic Marathon Trials
U.S. Olympic Marathon Trials Men's Preview: Can Rupp Overcome To Win Again?
U.S. Olympic Marathon Trials Men's Preview: Can Rupp Overcome To Win Again?
Galen Rupp appears to be more vulnerable than ever heading into this second U.S. Olympic Trials marathon. Can he stay on top in Atlanta?
Feb 26, 2020
by Lincoln Shryack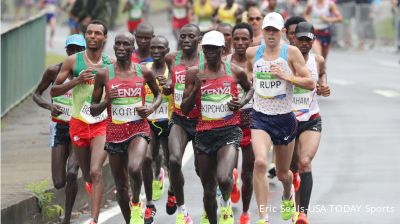 Unlock this video, live events, and more with a subscription!
Get Started
Already a subscriber? Log In
Unlock this article, live events, and more with a subscription!
Get Started
Already a subscriber? Log In
The men's race at the 2020 U.S. Olympic Marathon Trials is top-heavy on paper. Defending champion Galen Rupp exists in a league of his own with an Olympic bronze medal from Rio and a 2:06 personal best buoying his position. Injury struggles and Alberto Salazar's ban have made a potential victory in Atlanta much less certain, but Rupp seems to have steadied the ship after tuning up with a 61-minute half earlier this month. If he makes it through 26.2 miles on Saturday, there's a strong chance he will break the tape.
Beyond Rupp, it looks like a three-man battle for two spots to Tokyo. Jared Ward made the team in 2016 and is as consistent as they come. Scott Fauble beat Ward in Boston last year and has the sort of fearless attitude that is rare among U.S. marathoners. Then there's Leonard Korir, who ran the fastest debut by an American ever last October.
Beyond the big four, every other contender seems like a wildcard to make the team. But plenty of big names can be found in the periphery, including several multiple-time Olympians.
Here's the breakdown of the men's race in Atlanta.
FAVORITES
Galen Rupp
Age: 33
PR: 2:06:07 (Prague 2018)
Olympic Teams: 3
Rupp's 61:19 half marathon win on Feb. 8 in Mesa, Arizona was confirmation that he's the favorite in Atlanta. The defending champion and 2:06 marathoner could've easily been considered as much before that race, but in the wake of his DNF in Chicago last October and Achilles surgery a year before that, Rupp's health was a major question mark that put a fourth Olympic team in peril. But now that he's proven fitness and health, the 33-year-old two-time Olympic medalist will be expected to win on Saturday.
That said, it's been a rough couple years for arguably the best distance runners in U.S. history. He enters Atlanta having not completed a marathon in over 500 days, and his former longtime coach Alberto Salazar is currently serving a four-year anti-doping ban.
It's reasonable to think that the combination of those factors puts Rupp in a more vulnerable position than he's ever been in against domestic foes. The psychological edge that he's used to has been diminished, and I have to think his competitors don't fear the two-time medalist to the same degree as they once did. It's impossible to know what effect that will have in Atlanta, but I can't imagine that each of Ward, Korir or Fauble, or whoever is around after 20 miles, will let the race turn into a three-mile sprint like it was in LA four years ago. An honest pace is a tough demand in a race with such high stakes, but that may be the best shot for the field to test the favorite and his health.
Jared Ward
Age: 31
PR: 2:09:25 (Boston 2019)
Olympic Teams: 1
It feels safe to rely on Jared Ward making a second Olympic team on Saturday as he has placed top ten in five of his last six major marathons. The 31-year-old did lose to Scott Fauble when the pair matched up in Boston last April, but I feel very confident in Ward claiming a top-three spot on a challenging course like he'll see in Atlanta. 2:10:45 in New York last November made him the fastest American there since 2011, leaving little doubt that he's fitter than ever entering the Trials.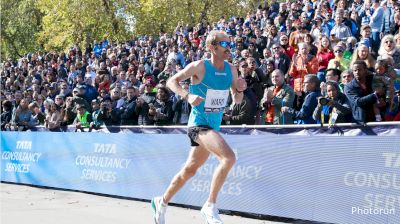 Unlock this video, live events, and more with a subscription!
Get Started
Already a subscriber? Log In
Leonard Korir
Age: 33
PR: 2:07:56 (Amsterdam 2019)
Olympic Teams: 1
Korir has run just one career marathon, but that one was a blockbuster as he debuted with a 2:07:56 performance in Amsterdam last October. One marathon isn't a big enough sample size for him to leapfrog Ward in my eyes, but the sub-60 half marathon PB and 10,000m best (27:20) gives him the speed to hang with Rupp in the final kilometers should it come to that. That said, the Amsterdam terrain was nothing like the course he'll see on Saturday, so don't put him through to Tokyo just yet.
CONTENDERS - TIER 1
Scott Fauble
Age: 28
PR: 2:09:09 (Boston 2019)
Olympic Teams: 0
Fauble belongs in a tier to himself after beating Ward at Boston last April and running 2:09:09. The 28-year-old didn't run a fall marathon and had only run 2:12 prior to Boston, but it would not be a surprise to see him finish in the top three this weekend. He's giving up speed to Rupp and Korir, and experience to Ward, but he didn't run the second-fastest time by an American in 2019 by accident. I feel confident that he'll run well in Atlanta, and if one of the big three slips up, he'll be on the team.
CONTENDERS - TIER 2
Jake Riley
Age: 32
PR: 2:10:36 (Chicago 2019)
Olympic Teams: 0
The former Stanford star experienced a career renaissance in Chicago last October in finishing as the top American in 2:10:36. He PR'd by nearly three minutes and led three other Americans under 2:11 that day in a watershed moment for under-the-radar marathoners. Previously, injuries had kept Riley from finishing a marathon since the 2016 Trials. Is it enough to make him a serious contender in Atlanta? It's tough to say. So many guys ran fast in Chicago that it almost dilutes the result. He'll need to take another big step forward to have a shot at top three.
Jerrell Mock
Age: 24
PR: 2:10:37 (Chicago 2019)
Olympic Teams: 0
Mock finished one second behind Riley in Chicago in his marathon debut, a result that far-exceeded expectations for Mock coming off a good-but-not-great career at Colorado State. In a vacuum, it wouldn't be a surprise to see a 2:10 guy make the Olympic team, but the 24-year-old is so new at this that it's tough to imagine him hanging with Rupp, Korir, Ward, etc. in the final miles.
Shadrack Biwott
Age: 35
PR: 2:12:01 (New York 2016)
Olympic Teams: 0
Biwott won't blow you away with his PRs, but the 35-year-old has been extremely reliable in challenging races over the years. Look no further than his three top-five finishes at majors since 2016, including a third-place finish in the arctic monsoon that was Boston 2018. He won't enjoy such favorable conditions in Atlanta, but Biwott's strong record in New York and Boston suggests he'll navigate the hilly Trials course well. Don't count him out.
Abdi Abdirahman
Age: 43
PR: 2:08:56 (Chicago 2006)
Olympic Teams: 4
Every time it looks like 43-year-old Abdi Abdirahman is finally over the hill in a professional career that has spanned 20+ years and four Olympics, he runs another solid race to turn back the clock. In New York last November, Abdi ran 2:11:34 to finish ninth overall and second among Americans. He would, of course, be the oldest man ever to qualify at the Trials should he finish top three, and his performances have been a little erratic over the years. It would be quite the story though.
Matt Llano
Age: 31
PR: 2:11:14 (Berlin 2019)
Olympic Teams: 0
Considering that he was sixth in Los Angeles four years ago and just ran a 2:11:14 PR last fall in Berlin, it sure seems that Matt Llano is being overlooked heading into Atlanta. After all, a PodiumRunner expert panel only slotted him in for 11th in their poll. But Llano has the experience and fitness to do much better than that.
LONG SHOTS
Bernard Lagat
Age: 45
PR: 2:12:10 (Gold Coast 2019)
Olympic Teams: 5
It would be the story of the Trials if 45-year-old Bernard Lagat could eek out a spot on the podium to qualify for his sixth Olympic team. Lagat should be fit after spending six weeks training in Kenya for this race, and he'll need to be at his very best in a distance he hasn't yet mastered. Nobody has been in more big races than Lagat, though.
Chris Derrick
Age: 29
PR: 2:12:50 (Chicago 2017)
Olympic Teams: 0
Injuries have stunted what many predicted would be a promising marathon career for Chris Derrick, the high school phenom turned Stanford standout who finished fourth in the 10,000m at the 2012 Olympic Trials. Believe it or not, Derrick has only run two marathons in his career and Atlanta will be his first since 2018. His Trials tune-up was a 64:09 half marathon in New Orleans on Feb. 8, a fine rust-buster if it was meant to resemble his pace for the full. But Derrick isn't sure if that's what it was and neither am I.
Andrew Bumbalough
Age: 32
PR: 2:10:56 (Chicago 2019)
Olympic Teams: 0
"Bumby" was one of the four Americans who broke 2:11 in Chicago last October in a race that chopped off two minutes from his personal best. But only finishing fourth among U.S. runners that day doesn't make me believe he can place top three in a field that includes Rupp, Ward, Korir and Fauble, to name a few.
Dathan Ritzenhein
Age: 37
PR: 2:07:47 (Chicago 2012)
Olympic Teams: 3
Ritz has only finished one marathon in the last five years, and that was a lowly 2:16 showing last spring in Boston. Another career ravaged by injuries, there has been little indication that Ritzenhein has the magic left in his legs that carried him to PRs of 60:00 and 2:07. But I can't fully write him off yet as he did run a 61:24 half marathon at age 36 just one year ago.