2020 U.S. Olympic Marathon Trials
U.S. Olympic Marathon Trials Women's Preview: Who Emerges From Deep Field?
U.S. Olympic Marathon Trials Women's Preview: Who Emerges From Deep Field?
Two of three qualifiers from 2016 won't be on the start line in Atlanta, but the U.S. women's marathon trials is as deep as ever.
Feb 27, 2020
by Kevin Sully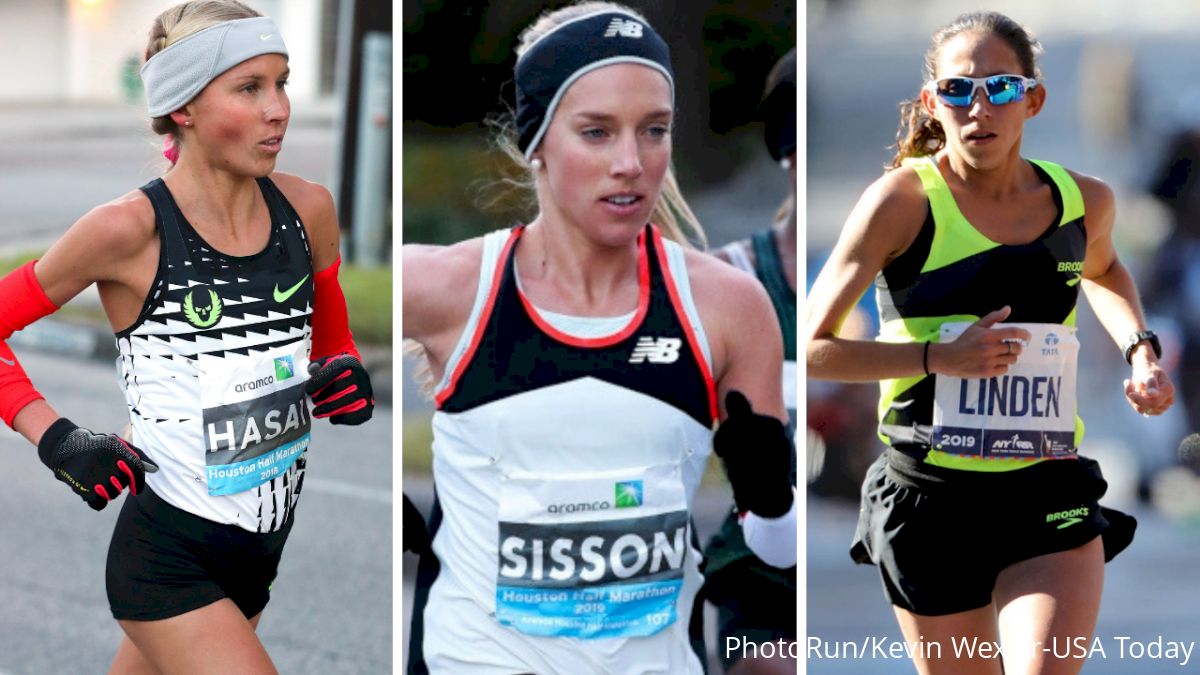 Unlock this article, live events, and more with a subscription!
Get Started
Already a subscriber? Log In
The ascent of the American women's marathoning that started with almost 20 years ago with Deena Kastor continues on Saturday at the US Olympic Marathon Trials. Whoever makes the team is capable of getting a medal at the Olympics, and medal-worthy athletes will be left off the team. Here's a breakdown of the top contenders.
Desiree Linden
Desiree Linden's strongest attribute is her consistency. She's never run a bad marathon and you'd have to nit-pick to even describe one that is sub-par.
Her track record is long enough that once she announced she'd give the Trials a go, she was immediately a favorite to make the team. With key injuries to other competitors, those odds have only increased.
At this point in her career, it looks like she can run these marathons off muscle memory. Can somebody beat her on Saturday? Certainly. It's much more difficult to game out a scenario where three people finish in front of her. That's in part because Linden has always been able to beat who she's supposed to in big races. In the past 10 years, her only losses to Americans in marathons have come against Shalane Flanagan, Molly Huddle, Jordan Hasay and Amy Cragg. That's a pretty good group.
The more variables, the better for Linden, so the hills of downtown Atlanta should be to her advantage.
There aren't many questions around Linden. You know exactly what you are going to get from her over 26 miles. In a marathon, that carries a lot of weight.
Jordan Hasay
Jordan Hasay enters this marathon with decidedly more questions. After the 2017 season, she looked to be on a direct path to becoming the best marathoner in US history after two third-place finishes in Boston and Chicago and a PR of 2:20. But the marathon is never that simple. In 2018, she didn't race a marathon due to injuries. She got right in the first part of 2019, finishing third again in Boston. Inevitably, there was another setback. In Chicago, she dropped out in the early miles. Since then, she hasn't raced.
A week before Chicago, the US Anti-Doping Agency suspended her coach, Alberto Salazar for four years (Salazar is appealing the ban). In October, Nike disbanded the training group Salazar headed up, the Nike Oregon Project. Without a group or a coach, Hasay moved back to her hometown of San Luis Obispo, California. Former world record holder Paula Radcliffe is advising her training.
Hasay's health is the biggest question of the entire women's race. If she's had a full build-up, she will be hard to keep off the team. But the women's field is deep enough that she doesn't have much room for error. Her former Oregon Project teammate Galen Rupp, can afford to be 90% in the men's race and still make the team. Hasay doesn't have that luxury.
Emily Sisson
Emily Sisson has the ability to join Hasay as the leaders of the American marathoning in the next decade. Sisson's only run one marathon, but it was so good that it immediately put her into the top three conversations. Her 2:23:08 was good for sixth place in London and, combined with her 1:07:30 half marathon (second-best by an American), left no doubt about her potential on the roads.
Meanwhile, she's run well on the track. Sisson ran 30:49 in the 10,000m in her tune-up for London. In the summer, she qualified for the US team in the 10,000m and took 10th at the World Championships.
The case for Sisson is simple--London was just the beginning and though she's inexperienced at the distance she could be even better in her second opportunity. Atlanta will be much different than London. The pace won't be pre-determined, the course will be hilly and she will be one of the runners that the rest of the field is keying off of.
The presence of Molly Huddle in the lead pack will mitigate Sisson's inexperience. The two are training partners and 2016 showed just how critical it can be to have a familiar face over the final miles.
Molly Huddle
Huddle has the consistency of Linden and the relative inexperience at the distance as Sisson. Huddle's marathon debut came in 2016, but she's only finished three marathons in that time frame.
She hasn't had the big breakthrough at the distance as she has in other events, but she's still a solid marathoner. If she takes even a moderate step up from her previous races, she will be in the top three. Her last marathon, a 2:26:33 in London, was her first on a flat course after running in New York and Boston earlier in her career.
Huddle's tune-up in Houston didn't give any indication on her fitness as she cruised through the 13.1 miles in 1:09:34. She should draw some confidence from Sisson, particularly if the two are able to establish their race plan on the rest of the field (whatever that plan might be).
The Other Contenders
After the top four, Sara Hall has the strongest case for a top-three finish. Hall dropped a stunning 2:22:16 in Berlin last fall. Her newly adopted approach to running includes a lot of racing and it seems to be paying dividends. Hall didn't finish in New York; however, she rebounded in 2020 with a personal best of 1:08:58 in the half marathon in Houston.
Kellyn Taylor finished sixth in 2016--making her the #3 returner in the race. Her 2019 included a pair of 2:26s--in Prague and New York. Taylor's training partner, Steph Bruce, is always in the mix and was sixth in Chicago last year.
Emma Bates was fourth in that same race and has only run two marathons. Sally Kipyego will also be on her third marathon. She ran the same race where Molly Huddle debuted in New York, finishing second behind Mary Keitany. Kipyego's silver medals from the track give her credibility, and an outside chance, at an upset of Saturday.