True Crime Doc On Nike Racing Shoes Coming To Netflix
True Crime Doc On Nike Racing Shoes Coming To Netflix
The biggest controversy in the running world will be exposed to the masses in Netflix's newest true crime documentary.
Apr 1, 2020
by Lincoln Shryack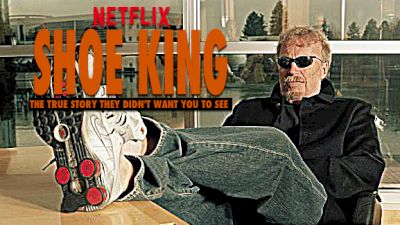 Unlock this video, live events, and more with a subscription!
Get Started
Already a subscriber? Log In
Fans of Netflix's true crime hit Tiger King: Murder, Mayhem and Madness have been captivated by the colorful characters, shady dealings and blood-thirsty nature of the big cat industry. The story of eccentric zookeeper Joe Exotic and his various animal associates has enthralled millions across the globe with its revelations of a murder-for-hire plot, copious polygamy, the rumor of a husband fed to a tiger and one dangling eyebrow piercing.
Now, on the heels of one you-have-to-see-it-to-believe-it series comes another Netflix documentary filled with all sorts of twists and turns. And this time, the topic pop culture will dig its claws into is the mysterious shoe controversy at the center of the running world. Shoe King: Miles, Millimeters and Mischief, which premieres this Friday on the streaming platform, will tell the hair-raising tale of how Nike's Vaporfly and Alphafly racing shoes have unapologetically made marathoners faster through carbon fiber technology.
Viewers will go inside Nike boardrooms to see the first moments when brazen footwear designers first conceived of their horrific plot: creating better shoes. Greed, power, stack height-- no boundary is too far so long as World Athletics approves.
If you thought Big Cat Rescue's Carole Baskin had a vindictive side, just wait until you go behind the scenes with a few angry Twitter users after a whole bunch of guys broke 2:06 in a marathon. This doc brings new meaning to the term mad online.
In the six-part series, director @_shutruther is granted unprecedented access to the YouTube video of Eliud Kipchoge's 1:59:40 marathon exhibition in Vienna, where enhanced footage strongly suggests that Nike stuck a mini-motor in the heels of Kipchoge's record-breaking flats. This is track and field's smoking gun.
Over a half dozen interviews with foam experts are sure to keep you glued to your chair, while elite athletes from rival brands will try to complete the high wire act of condemning Nike's advantage without admitting their sponsor makes an inferior shoe. Netflix has an eye for riveting content, and this was a can't-miss opportunity.
With the Olympics postponed until 2021 and no track and field period for the foreseeable future, Shoe King couldn't be coming at a better time for fans of the sport. America's true crime obsession cannot be tamed, and now amateur sleuths across the nation will have another mystery to solve: whether a good running shoe is somehow a bad thing for running.