Top 10 Oregon Track & Field Athletes Of All-Time
Top 10 Oregon Track & Field Athletes Of All-Time
The definitive list of the best Oregon track and field athletes of all-time.
Apr 22, 2020
by Lincoln Shryack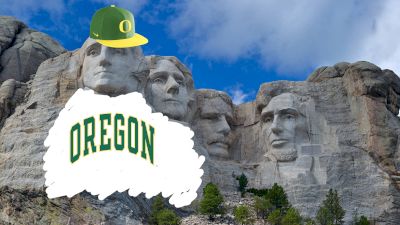 Unlock this video, live events, and more with a subscription!
Get Started
Already a subscriber? Log In
Unlock this article, live events, and more with a subscription!
Get Started
Already a subscriber? Log In
It goes without saying that many legendary track stars have come out of the University of Oregon throughout the years. No school is more closely associated with the sport of track and field in the universe, and it's not even close. An Oregon coach literally invented the first Nike track spike, and the program hasn't slowed a bit since the days of Bill Bowerman.
So many big names have called Hayward Field home for their collegiate careers that it's hard to identify the 10 athletes who have stood out the most. But I went ahead and gave it a shot. Here are the top 10 University of Oregon track and field (and cross country) athletes of all-time.
10. Alberto Salazar
Salazar is much more famous these days for his controversial coaching career, but as a UO athlete in the late 1970s he quickly developed into one of the world's top distance runners. Salazar won the 1978 NCAA cross country title and in 1980 he famously won the New York City Marathon in his debut while wearing an Oregon singlet.
9. English Gardner
Gardner is the last woman to win back-to-back 100m NCAA titles in 2012 and 2013. Her resume is padded by a 60m crown and two 4x400m wins as well.
8. Jordan Hasay
Expectations were sky high for Jordan Hasay entering college after winning Foot Locker twice in high school, and she delivered as a Duck by tallying 18 first-team All-America honors and two national titles. She fell short of breaking the Foot Locker curse by winning an NCAA XC title (that would come later from Molly Seidel), but the California native finished top three at cross country nationals three times and led Oregon to a team title in 2012.
7. Joaquim Cruz
One of only five men in history to break 1:42 for 800m, Cruz's monster 1984 season included a sweep of the 800m and 1500m NCAA titles. The Brazilian went on to win Olympic gold in Los Angeles that same year as a 21-year-old collegiate and ultimately ran his 1:41.77 PB later that summer in Germany. U of O counts that time as their school record, a mark that truly may never be broken.
6. Brianne Theisen
Although she was at times overshadowed by her future husband's decathlon exploits, Brianne Theisen-Eaton had a spectacular collegiate career of her own as the Canadian won six NCAA titles at Oregon, three each in the heptathlon and pentathlon. Her 6,440 points at the 2012 NCAA Outdoor Championships ranks second in NCAA history.
5. Galen Rupp
Before Edward Cheserek made an Oregon man winning NCAA cross country titles seem routine, Galen Rupp became the first UO male since 1978 to claim the individual crown when he won in 2008 (Ironically, the last to do it before him was Alberto Salazar.) That win-- in a thrilling battle with Liberty's Sam Chelanga-- set off a dominant senior year for the Portland product as he won five other NCAA titles between indoor and outdoor track.
4. Raevyn Rogers
Rogers never lost an NCAA 800m final in her three years at Oregon, accumulating five titles at that distance while helping the Ducks win four national titles. Among those was the epic walk off win in the 2017 outdoor championships, where she anchored the 4x400m to a collegiate record that propelled Oregon to a narrow team victory. Rogers also owns the 1:59.10 800m NCAA record.
3. Ashton Eaton
Eaton is the only NCAA athlete to win three consecutive decathlon titles, a feat that foreshadowed a professional career that included two Olympic golds (2012, 2016), two outdoor world titles (2013, 2015) and several world records. Eaton set the then indoor heptathlon world record (6499 points) at the 2010 NCAA Indoor Championships to eclipse Dan O'Brien's mark from 1993 by 25 points.
2. Steve Prefontaine
Pre's seven NCAA titles don't come close to capturing the full measure of his impact on the Oregon community and distance running as a whole. Prefontaine's no bullshit approach to the sport has helped make U of O a top track and field destination for generations. His bold racing style and general disregard for authority helped popularize distance running domestically in the 1970s and he continues to be relevant some 45 years after his death.
1. Edward Cheserek
One of the most successful NCAA athletes ever, across all sports, Edward Cheserek has more NCAA titles (17) than any other Division I male athlete in history. King Ches became an instant star at Oregon, winning four NCAA titles as a freshman (XC, 3k/5k (i) and 10k). Cheserek was the primary protagonist for the Ducks on five national team titles, and yet somehow the Bowerman Trophy eluded him throughout his career. Such was his greatness that that fact reflects more negatively on the Bowerman than Cheserek.
Honorable Mentions: Andrew Wheating, Matthew Centrowitz, Jenna Prandini, Otis Davis, Harry Jerome, Devon Allen, Matt Centrowitz Sr., Laura Roesler, Jessica Hull, Bill McChesney