FloTrack 24/7
Top 10 NAU Track & Field Athletes Of All-Time
Top 10 NAU Track & Field Athletes Of All-Time
The definitive list of the best Northern Arizona track and field athletes of all-time.
Apr 29, 2020
by Lincoln Shryack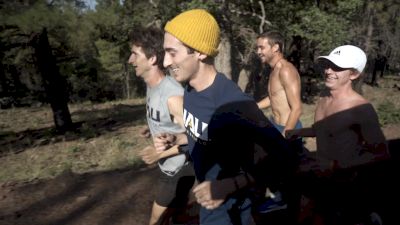 Unlock this article, live events, and more with a subscription!
Get Started
Already a subscriber? Log In
Northern Arizona University's reputation as a distance running powerhouse has deeper roots than just their recent string of three straight men's NCAA XC titles from 2016 to 2018. The Lumberjacks have produced several multiple-time national champions and the program's prime location in Flagstaff as well as their dominant teams of late should make NAU a distance hotbed for years to come.
With so many talented runners past and present, I wanted to outline the 10 best track and field/cross country athletes in the school's history. If you've followed the men's team in recent years, you should recognize some of the names who helped them become an XC dynasty. But there also might some names you're not as familiar with, as well as All-Americans who surprisingly didn't quite make the cut.
Here are the top 10 NAU runners of all-time:
10. Diego Estrada
Although Estrada never quite got over the NCAA title hump (thanks in large part to Lawi Lalang and Kennedy Kithuka's greatness), he did notch 10 All-American honors in a storied career in Flagstaff. His 13:15 5,000m at Payton Jordan in 2013 still stands as the second-fastest outdoor performance in NCAA history.
9. Tyler Day
Day's career is every late bloomer's dream as he improved from a 9:28 3200m best in high school to 7:45/13:16 3k/5k at NAU. The latter of those two performances was the third-fastest in NCAA indoor history, which surpassed Galen Rupp on the all-time list. Day was an All-American in each of the Lumberjacks' NCAA XC titles from 2016 to 2018, including his third place finish in 2017.
8. Matt Baxter
The New Zealand native matched NAU's best male individual finish at NCAA cross with his runner-up showing in 2017, equaling David McNeill's second place from 2009. Baxter was another key piece of Northern Arizona's three-peat as he finished 11th (2016), second (2017), and 15th (2018).
7. Futsum Zienesellassie
A superstar in high school, Futsum Zienesellassie became an NCAA cross country stud immediately upon arriving at NAU. He garnered three top five finishes at NCAA XC throughout his career, with the latter performance in 2016 leading the Lumberjacks to their first ever national title.
6. Geordie Beamish
Beamish won a surprising NCAA mile title in 2019 despite holding a meager 4:06 PB at the time. (Of course, the subpar PB was primarily a byproduct of competing at a school in the mountains.) While the Kiwi didn't get to defend his title in 2020, he certainly legitimized his performance with a 3:56 mile and 7:44 3k personal bests this past indoor season.
5. Ida Nilsson
The older sister of 2005 NCAA XC champion Johanna Nilsson, Ida made plenty of noise of her own with her two national titles-- the NCAA steeple in 2004 and the indoor 5,000m in 2005. Nilsson also placed in the top 15 at NCAA XC on three occasions in her career.
4. David McNeill
The Aussie McNeill won the NCAA indoor and outdoor 5k titles in 2010, with each win coming against NCAA legend Sam Chelanga of Liberty. McNeill also notched runner-up finishes at the 2009 NCAA XC Championships and in the indoor 3k in 2010.
3. Angela Chalmers
The first cross country champion at NAU back in 1986, the Canadian Chalmers went on to a hugely successful international career that included an Olympic bronze medal in the 3,000m at the 1992 Barcelona Games.
2. Lopez Lomong
Lomong won two NCAA titles in 2007-- indoor 3k, outdoor 1500m-- while also netting two top five NCAA XC finishes in his Lumberjack career. The Sudanese-born Lomong, who has won six U.S. titles across the 1500m, 5k and 10k in a professional career spanning 13 years, also flashed his special range in college by placing fourth in the NCAA 800m in 2006.
1. Johanna Nilsson
The winningest track and field/cross country athlete in school history, Sweden's Johanna Nilsson won four NCAA titles as a Lumberjack in the early to mid 2000s. In 2005, she became just the second ever NAU athlete to win NCAA cross, and she kept that momentum rolling into 2006 as Nilsson swept the mile and 3k at NCAA indoors. Sadly, Nilsson's life was tragically cut short in 2013 when she took her own life at the age of 30.
Honorable Mentions: Andy Trouard, Luis Grijalva