Matthew Boling Is Ready For His Next NCAA Race
Matthew Boling Is Ready For His Next NCAA Race
A year after a superb high school season, Matthew Boling reflected on his first season at Georgia and the road ahead in the NCAA
Jun 14, 2020
by Cory Mull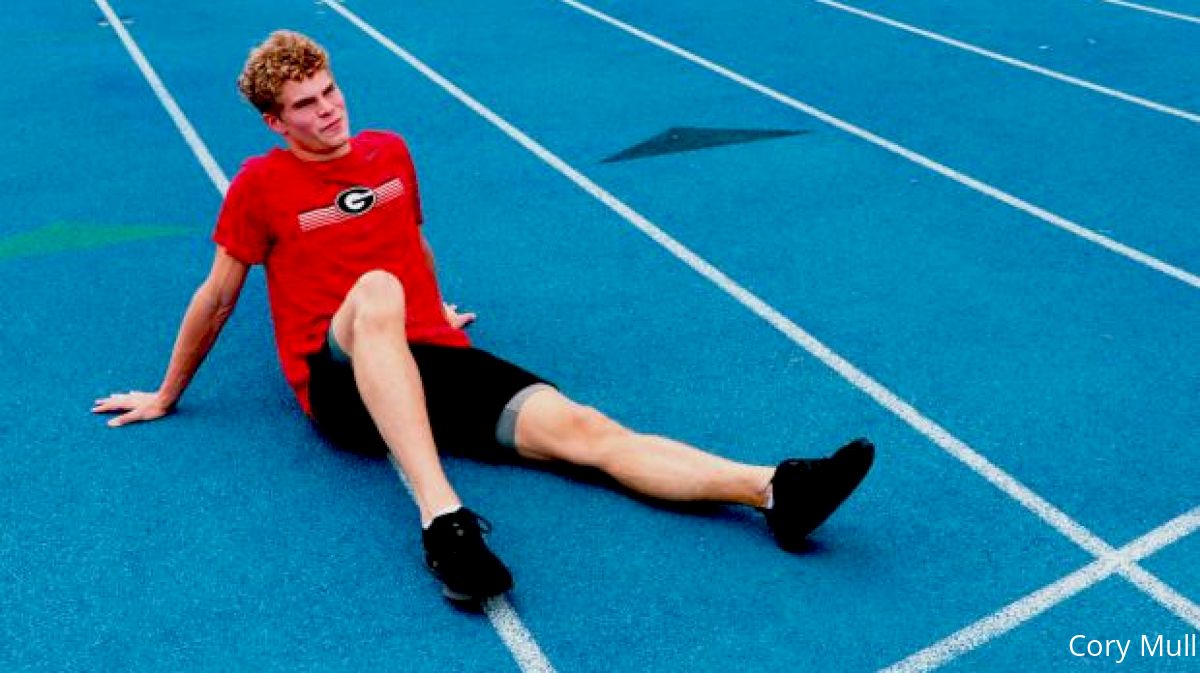 An easy workout behind him, Matthew Boling softened for a few seconds on Monday and let himself think about the possibility. What would a day training with the world's absolute best sprint athletes look like?
He was still young, 19 years old and fresh off his first collegiate season with the University of Georgia. And so visions of racing on the Diamond League circuit swirled through his head. On the starting line ... Christian Coleman ... Noah Lyles ... and Matthew Boling.
One day, that would be the goal.
But he wasn't getting ahead of himself. He was experienced enough to know two things: That while track and field only gets more difficult the higher you advance in the sport -- i.e. only the strongest survive -- there are obvious benefits with each stage forward. Like training in a group with your idols.
He grabbed a tight blond curl and twisted it in his hand.
"I feel like it would awesome to practice with Christian Coleman," he said, posing a hypothetical. "Just to see how fast he gets out of the blocks."
A year removed from one of the greatest high school seasons in history -- the Houston Strake Jesuit graduate was the fastest high schooler to ever run a non-wind legal 100m and just the second ever to break 10 seconds -- Boling felt like he was in a totally different place and full of new information: He not only had a better understanding of his particular gifts, but he also knew how far he was away from his true and absolute best.
9.98 would not be his final legacy.
"It's a concept," Boling said of the techniques he's working on with his block starts, including a subtle foot drag that welcomes low drive and fast heel recovery. "I don't think I can perform it at my best yet, but it's in my head and I'm practicing doing it."
His time on the track at Houston Christian High School on Monday represented a transition of sorts, a man amidst the next stage of his life. In some ways, Boling seemed like a completely new person, reassured but still the same old Matthew.
He walked into the facility with a bright red Georgia t-shirt and black shorts and was promptly greeted by coaches Margaret Glover and T.J. Fakehinde, who acted as if he never left. The duo, who began coaching Boling in the sixth grade, are in large part to thank for Boling's growth as an athlete.
When Boling dreamt big as a young athlete -- Glover and Fakehinde even gave Boling his own off-shoot of the Houston Christian Track Club, creating the Jump Land team, complete with a new logo -- they obliged and filled in the gaps with training.
All these years later, even with all the success of Boling, the pair were now as grounded as ever. And as always, they were having fun coaching on the track. Roughly 15 or so athletes -- some in college, others in high school and a few others soon enough joining those ranks -- arrived in scheduled groups on Monday, each undergoing a tough 150m workout.
There was Boling's Pan American U20 Championship roommate, Rice University freshman Corbett Fong, and Texas freshman Moyo Oyebamiji, Houston Memorial graduate and future Florida athlete Claire Bryant and a host of others ... an athlete heading to MIT, another at the University of Texas-San Antonio and a walk-on at Louisiana State.
There may have even been a Boling protege waiting in the wings, an incoming freshman athlete from Stratford High School the coaches have come to term "Baby Matthew," by virtue of his effortless knee lift and smooth stride. Both Fakehinde and Glover have high hopes for Luke Rives.
Coincidentally enough, Boling completed his 400-meter warm-up with the young athlete.
"He could be something," Fakehinde said.
Boling, meanwhile, was on his own. Georgia gave the rising college sophomore, the SEC Indoor Conference runner-up at 200 meters, an easy-enough workout, a set of six 100 meter sprints at 12 seconds pace with just 90 seconds rest.
This was nowhere near the infamous workout at Georgia that Boling is continually reminded of -- an intense core and sprint circuit that he once conquered early, which only prompted his coaches to blast, 'You're not done yet! There's a second left!'
On Monday, he cruised through the first set with Fakehinde shouting '12.1!'
Just 10 minutes later, Boling was done. He pulled a swig from his water. These days, he knew, it was all about maintaining a grasp on fitness as the world slowly got back to normal.
Boling was only in Houston for a few weeks -- his family quarantined there -- before he would spend the rest of his summer in Colorado with his family, then would return back to Athens, Georgia. His first year saw him experience college like any other. He roomed in an athletic dormitory with former Houston Strake Jesuit teammate Caleb Cavanaugh and completed his first two semesters with applause, gaining a high GPA.
But there were also celebrity-like moments, too. There was that one time the Fed Ex guy said, 'Wait, are you Matthew Boling?' There was the regular routine of random strangers walking up to him in the cafeteria to talk or take pictures. There was that time he raced the University of Georgia's football team in a viral video. Oh yeah, and his Instagram and Tik Tok account continued to gain followers, 160-thousand on the former and 557-thousand on the latter.
Boling's time on the track was what he most looked forward to ... when there was a season.
"It's hard to train when there's really nothing in front of you," he said.
Fortunately, Monday also represented a moment to reflect. There was a lot of good to talk about.
While Boling didn't get a chance to compete for his first national title at the NCAA Indoor Track and Field Championships -- he had qualified in the 200m but the meet had been canceled due to precautions over the coronavirus -- or NCAA outdoors, there were already some seminal moments in his head.
His first huge performance was a runner-up finish at the SEC Indoor Championships to LSU's Terrance Laird, a former Penn State athlete turned JUCO product from Hinds College.
Laird won in 20.52. Boling ran 20.71. Oddly enough, the timed final saw them run in separate heats.
"In college, everyone is equal and a lot of times guys are just 0.1 seconds away from each other," Boling said. "There's no automatic wins. I knew Terrance wanted to win as much as I did."
Even before that, Boling was given a nice 'Welcome to the SEC' moment. As a first-year indoor performer, Boling was thrown to the fire at 60 meters.
"I remember finals of the first race," he said of his performance at the Clemson Orange & Purple Elite Invitational. "I was probably last or second to last after the first 30 meters. I'm trying to speed up really quick to catch up and there's no time to do that."
Boling ultimately reached the finals and then faced off against Florida State's Taylor Banks, an athlete Boling had beaten in the 100m at Great Southwest the previous June -- though Banks had gone down with a hamstring injury.
Banks got his revenge, winning the duel by a hundredth-of-a-second in 6.67 seconds. Boling also finished second in the long jump with a mark of 7.50 meters (24-7.25) and ran on the team's 4x400, one of two relays he ran over the indoor season.
Despite taking his first losses in over a year, Boling said he came away with new perspective.
"Last year I don't think I would have broken 6.7," he said. "I don't know I would have broken 6.75 in the 60. I was happy where I was at."
Moreover, he was given a prompt realization.
"That competition felt like I was at Great Southwest almost," Boling added. "That was one of the hardest meets I was at (last year as a high school athlete). This was the first meet of college. So it's really just like 'All right, it's time to get focused.' You can't just come into this meet and be like, 'Whatever happens, happens.' It's go time right from the start."
And there was no resting on your laurels. Nobody cared about all those state championships, or that crazy 4x400 anchor at the Texas State Meet. No one would be dazzled by that Gatorade National Track and Field Athlete of the Year award, or those four gold medals at the Pan American U20 Championships, or that World Junior Record in the 4x400.
Times made little difference against men who didn't care what your name was.
Everyone was equal in college, Boling said. And so that focused him even more. He worked specifically on speeding up his block start with an eye on low center of mass, which can be buoyed by that drag out of the blocks. On Monday, every rep saw Boling employ that newly refined skill.
"My start in high school, it wasn't the worst," Boling said. "But I was usually not better than fourth place through the five, 10 meters. It was a catch up thing.
"I'm not trying to drag it super hard to stop my momentum," he continued. "My first four steps I'm really trying to stay low. I never really got that concept in high school. It started to make more sense with 60s. If my first four steps were low to the ground and powerful, that's quicker time to get your steps down."
Time will ultimately be the true revealer of progress for Boling. But even Monday, with months ahead of him until his next race, there was still an aire of complete optimism. One practice down. Another one coming.
He was much farther in the sport than we last left him, but there was still so much left to go.