Six Dream Match Races During Social Distancing Era
Six Dream Match Races During Social Distancing Era
As track and field continues to adhere to social distancing guidelines, we have a few remote match race ideas we'd like to make happen.
Jun 24, 2020
by Lincoln Shryack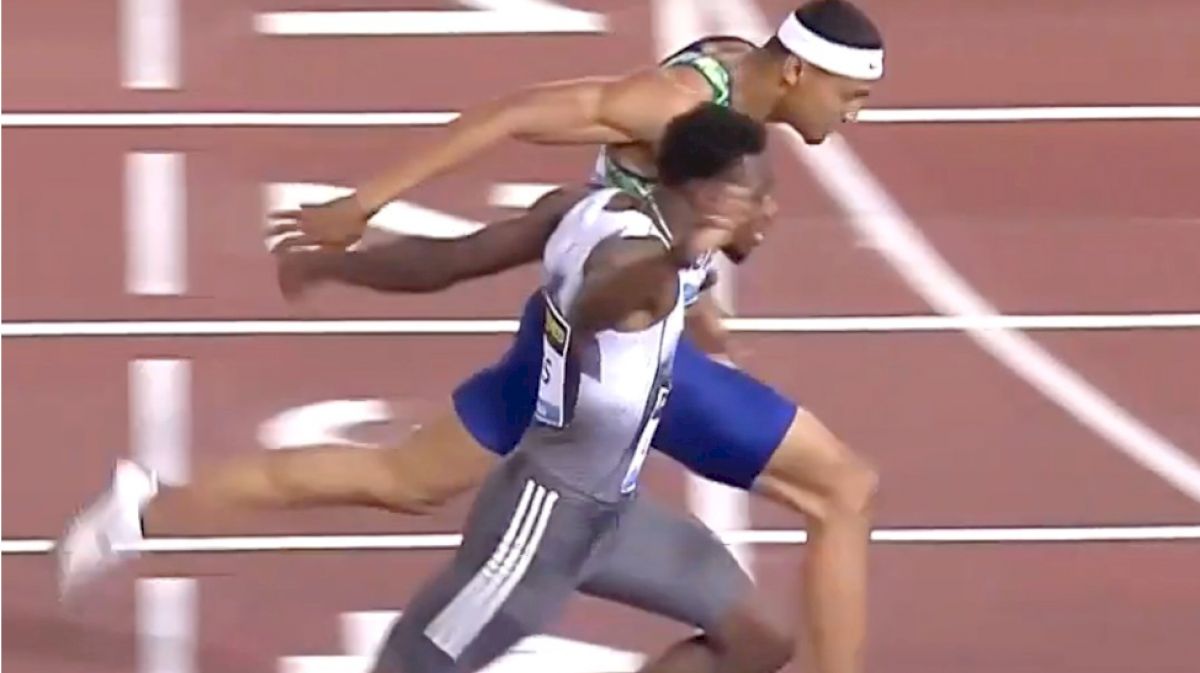 Unlock this article, live events, and more with a subscription!
Get Started
Already a subscriber? Log In
Track and field has attempted to solve the challenges of racing while social distancing with remote match races, which pits competitors against each other simultaneously in separate locations. While the method is far less entertaining than the real thing, the sport has had fun with the circumstances by racing over unfamiliar distances. The Impossible Games and the OTC/ATC dual have gotten the format off to a good start, but I have some ideas for other virtual races I'd love to watch as we wait for the sport as we know it to return.
Here are six dream matchups I would like to see:
Michael Norman vs. Noah Lyles 300m
The fact that Michael Norman and Noah Lyles didn't race each other again in 2019 after their dramatic 200m in Rome, which Norman won 19.70 to 19.72, was a crime against track and field.
Michael Norman beats Noah Lyles in Rome 200m. 19.70 to 19.72. pic.twitter.com/leVvenciQD

— Nick Zaccardi (@nzaccardi) June 6, 2019
A 300m is not only the perfect middle ground between the two men's specialities, but the winner would have a legitimate shot to break Wayde van Niekerk's 30.81 world best. Lyles ran a 31.51 time trial earlier this month, but you can bet he'd go much faster if his competition, even remotely, was Norman.
300m time trail today
31.51s pic.twitter.com/8PWHZDMRmn

— Noah Lyles (@LylesNoah) June 12, 2020
Sifan Hassan vs. Shelby Houlihan 2k
The women's 2,000m world record of 5:25.36 (Sonia O'Sullivan, 1994) is begging to be broken, and who better than the unquestioned rangiest runner alive, Sifan Hassan, to take down the mark. If she's in the shape she was last year, Hassan could probably break this mark on the tail-end of a 10k.
But the double world champion would have a worthy opponent in Houlihan, the U.S. record holder at 1500m (3:54.99) and 5,000m (14:34.45), who also happens to have sub-2:00 800m speed.
Joshua Cheptegei vs. Eliud Kipchoge Half Marathon
I know we're all itching to see Kipchoge vs. Bekele over 26.2 miles, but I don't want to waste that colossal matchup on a remote competition. Instead, I'd love to see the marathon GOAT step down to the half to face a foe who has been dominating in cross country, the roads and on the track of late, Uganda's Joshua Cheptegei.
Both men would be out of their comfort zone as Kipchoge has not run a half marathon since 2016, while Cheptegei has yet to make his debut, so this feels like a fair fight between a 1:59:40 marathoner and the 10,000m/world cross country champion. My rule is to never pick against Kipchoge, but I do think the Ugandan and his 12:51 road 5k speed would give him a run for his money.
Donavan Brazier vs. Nijel Amos 600m
I called for this match race after the announcement of the Oregon Track Club vs. Atlanta Track Club dual was made last week, as Brazier and Amos haven't met since before worlds last summer. The American owns the indoor 600m world best (1:13.77), but Amos and his famously fast start would make this a good battle.
Amos split 1:14.43 at 600m in Zurich last year, the same race that Brazier dramatically tracked him down in the final 100m.
Shaunae Miller-Uibo vs. Dina Asher-Smith 150m
Shaunae Miller-Uibo has owned Dina Asher-Smith in the 200m of late, having beaten the Brit in their last six matchups. But the 2016 400m Olympic champ would have a tougher job beating the reigning 200m world champion if the race was 50m shorter. Asher-Smith is an elite 100m runner with a 10.83 PB, while Miller-Uibo and her 11.19 best can't hope to match that straightaway speed.
Lopez Lomong vs. Paul Chelimo Literally Any Distance
Lopez Lomong told us recently that his intermittent online back-and-forth with Paul Chelimo is not a "beef", but whatever you call their rivalry it's just plain entertaining. My preference would be to see the pair in a 5,000m as an encore to the U.S. Championships last summer, but I'm not picky. As long as they promise to bring the fire memes before and after the race, I'll watch them over any distance.
Unlock this video, live events, and more with a subscription!
Get Started
Already a subscriber? Log In