2020 AAU Junior Olympic Games
Tamaal Myers Is Ready For His Encore At AAU
Tamaal Myers Is Ready For His Encore At AAU
One of the most anticipated races of the AAU Junior Olympic Games this week is led by an athlete that few might know about.
Aug 4, 2020
by Denise Spann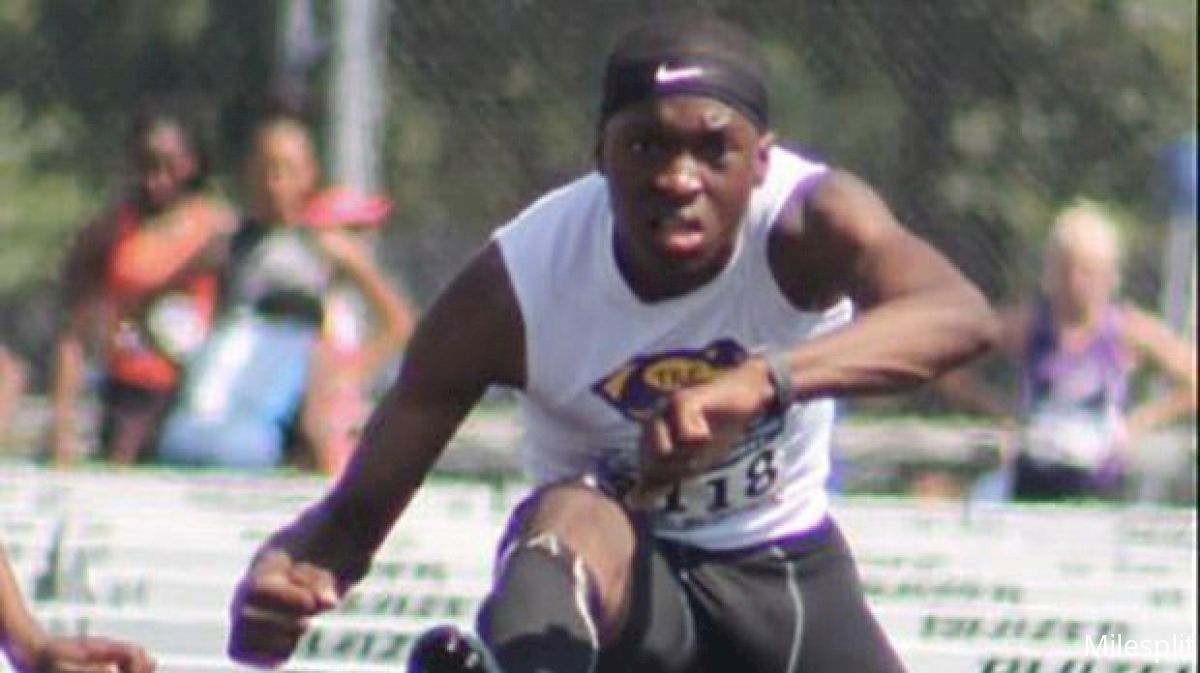 One of the most anticipated races of the AAU Junior Olympic Games this week is led by an athlete that few might know about.
"[The] Junior Olympics is always an exciting time for me," he said. "It's just fun, it's not really stressful. It's always fun to compete and get out there and do something on a big stage."
Myers, a rising junior at Detroit Cass Technical High School (MI), won the boys 15-16 age group 400 meter hurdles final last year by just 0.01 seconds over George Ranch's (TX) Bryce McCray in 52.68, improving his personal best by two seconds.
Watch The 2020 AAU Junior Olympic Games Live On FloTrack
And it was a big moment because it was his first AAU Junior Olympic Games title. Myers had been competing at the Games since his eighth-grade season in 2017, and he had made strides every season as he moved up through the ranks. A year earlier, he had finished three-tenths behind Shamali Little in the 14-year-old category of the 200mH.
Last year's race provided some momentum.
So while the win wasn't unexpected to Myers, that race was about more than a championship title.
"It really boosted my confidence because the previous year I took second in the 200-meter hurdles," Myers said. "So, last year was about proving myself, to myself -- knowing I was good enough. And that's really what last year did, it set the tone for my high school years to come."
As opportunities to compete have been scarce since March due to COVID-19, the hurdler has gotten to compete twice thus far. Myers opened his outdoor season at the Track Dynamite Meet in Dallas, Texas, with a time of 53.48 seconds in the 400mH for U.S. No. 5. The previous indoor season, he also broke 50 seconds in the 400m for the first time, following up on his freshman performance of 49.59.
Coincidentally enough, McCray also ran this race, but moved up to the 17-18 division. Myers' overall time was four-hundredths of a second faster.
"It was definitely good for the experience, so that I'm not going into it [Junior Olympics] blind, especially since my training has been different this season," he said. "It's good to compete and get something under my belt. A 53 opening is great, I couldn't ask for more."
In practice Myers has been focusing on strength training and getting out the blocks harder. He says these are the phases of his race that could make a defining surge at 200m. Headed into his upcoming 400mH semifinal this week, he's looking to make a few changes to last year's winning strategy.
"Since I got stronger, we might change my steps between the hurdles; maybe going from 16 [steps] to 15 [steps], or 15 [steps] to 14 [steps]," Myers said. "I just want to stay strong throughout the whole race and get out harder than last year."
This year, Myers and his family will travel over 1,100 miles to compete in this one event. In 2019, he competed in the 110mh, 400mh and 400m.
But as the No. 1 seed, Myers has the potential to break Heisman Trophy winner and Baltimore Ravens quarterback Robert Griffin III's meet record of 51.77, which was set in 2006.
Prior to COVID-19, Griffin's record was Myers' primary goal, but now, he said, simply running a PR would be enough.
And if he broke the record, well, that would be an added bonus.
To defend his title, Myers said he will have to focus on each hurdle in front of him by drowning out outside pressures and dialing in on the standards he has set for himself.
"Hurdling takes a lot of focus and effort, it's not an easy event to do," he said. "It's taught me to keep pushing and to always push myself to be better than I was yesterday... and I'm not going to let anyone distract me from that."