Laura Muir Wins Stockholm 1500m In 3:57 World Lead
Laura Muir Wins Stockholm 1500m In 3:57 World Lead
Laura Muir ran a world-leading 3:57.86 1500m on Sunday in Stockholm.
Aug 23, 2020
by David Monti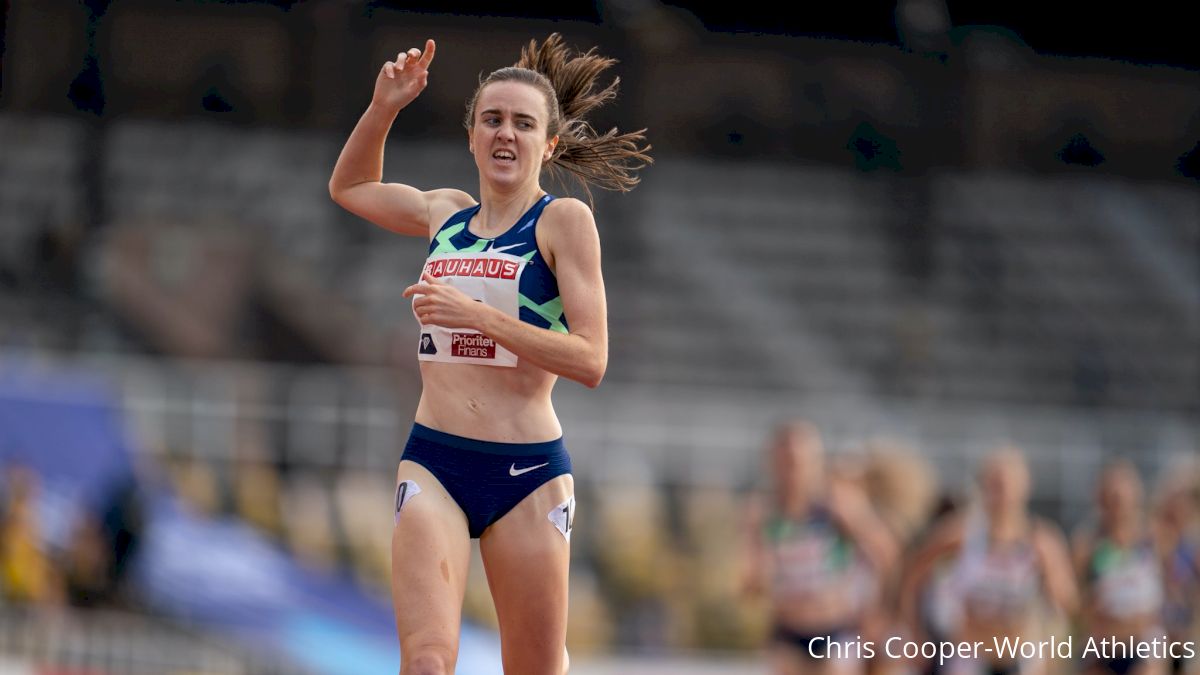 (c) 2020 Race Results Weekly, all rights reserved
(23-Aug) -- While Karsten Warholm's twin victories in the 400m and 400m hurdles will rightly grab the headlines, Laura Muir's explosive win in the women's 1500m is surely deserving of some attention, too, at today's Bauhaus Galan in Stockholm, the second stop of this year's Wanda Diamond League. The Scotswoman had a slight lead at the bell over American Shannon Rowbury and Kenyan Winny Chebet before blasting a 59.6-second final lap to win in a world-leading 3:57.86. She beat runner up Laura Weightman of England by nearly four seconds.
"I felt strong in the last lap and was able to work well into the wind and ultimately come away with a clear win," Muir said in her post-race interview. "My strength is my endurance and I really wanted to run fast today and ultimately I made sure I cut behind the pacers as best I could when I did have them and then tried the best by myself."
British women swept the podium with Weightman running a season's best 4:01.62 and Melissa Courtney-Bryant running a career best 4:01.81. Multiple world champion Hellen Obiri of Kenya had an off day, finishing 11th in 4:10.53.
Muir's housemate and training partner, Jemma Reekie, also had an excellent race delivering a second victory for coach Andy Young. Reekie burst away from American Raevyn Rogers in the 800m with about 300 meters to go, and although she tied up in the finish straight she was able to hold her form well enough to run 1:59.68 to Rogers's 2:01.02.
"I enjoyed it and I like to run fast," Reekie said. She added: "We're really fortunate that we (Laura Muir) train together and we're world class athletes and we complement each other in different ways. I'm bringing her on in speed and she's bringing me on in endurance and we're both working so hard together."
In the men's middle distance disciplines the two pre-race favorites, American Donavan Brazier and Kenyan Timothy Cheruiyot, got the wins. Brazier won his tenth consecutive 800m race (indoors or out), darting to the outside from lane one with 100 meters to go and passing both Marco Arop of Canada and Andreas Kramer of Sweden to win in 1:43.76. He felt fortunate to prevail today.
"Given the way I felt I'd give myself a good grade (but) I don't know if my coach (Pete Julian) would," said Brazier. "Since I've been in Europe I've kind of been having problems with my foot, so I'm very pleased with that."
Cheruiyot won the 1500m, holding off the challenge of 19 year-old Jakob Ingebrigtsen of Norway. Following pacemakers Mounir Akbache of France and Timothy Sein of Kenya, Cheruiyot had a 2/10ths of a second lead at the bell over Ingebrigtsen, then powered through the final lap in 55.5 seconds to win in 3:30.25 to Ingebrigtsen's 3:30.74. Versatile Australian Stewart McSweyn took third in a career best 3:31.48 making him the second-fastest Australian of all-time behind Ryan Gregson.
"It was a bit windy, but the pace was good and I am pleased with my win today," said Cheruiyot, the reigning world 1500m champion. "We are traveling around many countries but we are following all precautions and wearing masks so I am happy to be racing."
The Wanda Diamond League continues with the Athletissima meeting in Lausanne on September 2.
MEN -
800m: (Meet record 1:41.73, Wilson Kipketer, DEN, 1997)
1. Donavan BRAZIER, USA, 15 APR 1997, 1:43.76 [51.0 / 52.8]
2. Marco AROP, CAN, 20 SEP 1998, 1:44.67
3. Andreas KRAMER, SWE, 13 APR 1997, 1:45.04 SB
4. Ferguson Cheruiyot ROTICH, KEN, 30 NOV 1989, 1:45.11 SB
5. Wesley VÁZQUEZ, PUR, 27 MAR 1994, 1:45.88 SB
6. Max BURGIN, GBR, 20 MAY 2002, 1:46.02
7. Peter BOL, AUS, 22 FEB 1994, 1:46.26
8. Amel TUKA, BIH, 9 JAN 1991, 1:47.55
9. Erik MARTINSSON, SWE, 25 SEP 1996, 1:50.06
Žan RUDOLF, SLO, 9 MAY 1993, DNF (pace/49.90 at 400m)
1500m (Meet record 3:29.30, Hichal El Guerrouj, MAR, 1997)
1. Timothy CHERUIYOT, KEN, 20 NOV 1995, 3:30.25 [last lap 55.5]
2. Jakob INGEBRIGTSEN, NOR, 19 SEP 2000, 3:30.74
3. Stewart McSWEYN, AUS, 1 JUN 1995, 3:31.48 PB
4. Jesús GÓMEZ, ESP, 24 APR 1991, 3:33.46
5. Matthew RAMSDEN, AUS, 23 JUL 1997, 3:35.99 SB
6. Craig ENGELS, USA, 1 MAY 1994, 3:37.55
7. Kalle BERGLUND, SWE, 11 MAR 1996, 3:38.19
8. Neil GOURLEY, GBR, 7 FEB 1995, 3:38.30 SB
9. Johan ROGESTEDT, SWE, 27 JAN 1993, 3:38.97 SB
10. Emil DANIELSSON, SWE, 5 SEP 1997, 3:40.08 PB
11. Charlie GRICE, GBR, 7 NOV 1993, 3:41.75
12. Simon SUNDSTRÖM, SWE, 1989, 3:47.76
Filip INGEBRIGTSEN, NOR, 20 APR 1993, DNF
Mounir AKBACHE, FRA, 14 MAR 1986, DNF/pace (54.04 at 400m)
Timothy SEIN, KEN, 1 FEB 1988, DNF/pace (1:50.90 at 800m)
WOMEN -
800m: (Meet record 1:56.71, Maria Mutola, MOZ, 1998)
1. Jemma REEKIE, GBR, 6 MAR 1998, 1:59.68 [59.6 / 60.1]
2. Raevyn ROGERS, USA, 7 SEP 1996, 2:01.02 SB
3. Hedda HYNNE, NOR, 13 MAR 1990, 2:01.44
4. Christina HERING, GER, OCT 1994, 2:02.13
5. Alexandra BELL, GBR, 4 NOV 1992, 2:02.25
6. Selina BÜCHEL, SUI, 26 JUL 1991, 2:02.38
7. Renelle LAMOTE, FRA, 26 DEC 1993 2:02.53
8. Lovisa LINDH, SWE, 9 JUL 1991, 2:04.98
Noélie YARIGO, BEN, 26 DEC 1985, DNF/pace (59.37 at 400m)
1500m: (Meet record 3:57.64 Gudaf TSEGAY, ETH, 2018)
1. Laura MUIR, GBR, 9 MAY 1993, 3:57.86 WL [last lap 59.6]
2. Laura WEIGHTMAN, GBR, 1 JUL 1991, 4:01.62 SB
3. Melissa COURTNEY-BRYANT, GBR, 30 AUG 1993, 4:01.81 PB
4. Winny CHEBET, KEN, 20 DEC 1990, 4:02.58 SB
5. Jessica HULL, AUS, 22 OCT 1996, 4:02.65 SB
6. Shannon ROWBURY, USA, 19 SEP 1984, 4:03.04 SB
7. Esther GUERRERO, ESP, 7 FEB 1990, 4:03.13 PB
8. Eilish McCOLGAN, GBR, 25 NOV 1990, 4:03.74 SB
9. Hanna HERMANSSON, SWE, 18 MAY 1989, 4:09.51 SB
10. Linn SÖDERHOLM, SWE, 5 MAY 1996, 4:10.27 PB
11. Hellen OBIRI, KEN, 13 DEC 1989, 4:10.53 SB
12. Ciara MAGEEAN, IRL, 12 MAR 1992, 4:10.99 SB
Aneta LEMIESZ, POL, 17 JAN 1981, DNF/pace (2:09.08 at 800m)
Katharina TROST, GER, 28 JUN 1995, DNF/pace (2:42.4h at 1100m)