NCAA XC Champs Scheduled For March 15, But Hurdles Remain
NCAA XC Champs Scheduled For March 15, But Hurdles Remain
The NCAA Division I Council has approved a proposal to hold the cross country national championships on March 15, 2021, but hurdles remain.
Sep 17, 2020
by Lincoln Shryack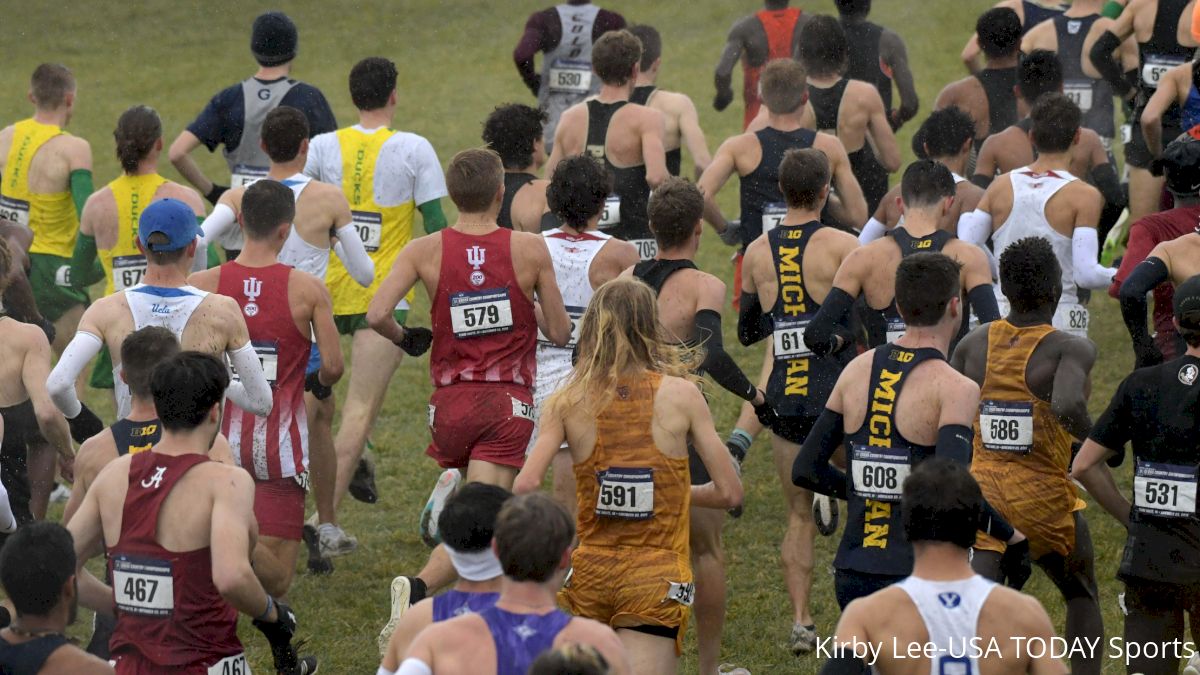 The NCAA Division I Council has approved a proposal to hold the cross country national championships on March 15, 2021, although conflicts with indoor and outdoor track and field could still stymie the plan, the NCAA announced on Wednesday.
The DI Council has green-lit moving seven fall championships, among them cross country, to the 2021 spring term, a recommendation that now transitions to the Division I Board of Directors for approval. But, as the NCAA's release states, "there is some concern in the membership about conducting cross country, indoor track and field, and outdoor track and field in the spring term."
The Board of Directors will be presented with the plan next week, per the release.
According to the release, the Division I Competition Oversight Committee will continue to monitor the scheduling conflict. As of now, however, a field of 255 runners per gender— a typical field size for cross country nationals— is scheduled to run at the NCAA Championships on March 15.
The championships are slated to be contested in Stillwater, Oklahoma, the original site for this fall's national meet.
The regular season leading up to the championships is penciled in right now for Jan. 30 to March 5, followed by championship selections on March 6. A selection criteria is still to be determined, but there will be no regional championships for qualifying.
Securing consensus about how and when to reschedule the postponed NCAA Division I cross country season has proved difficult among track and field and cross country coaches in the last several weeks since we reported on Aug. 31 that the executive committee had voted to hold a winter cross country season in 2021.
That vote, 21-3 in favor of a March championship, revitalized hope for a season after the NCAA canceled fall sports on Aug. 13. But pushback from those who cited the conflict with indoor track and field temporarily stalled momentum from the vote.
But then on Sep. 9, the Division I Competition Oversight Committee recommended holding the cross country championships in March, which then sent its recommendation to the DI Council.
The Council's approval on Wednesday is the strongest sign yet that there will be Division I cross country in early 2021, but it is still unclear what final barriers— beyond approval from the Board of Directors— cross country must clear in order to become a reality this upcoming winter.
It is not known who exactly represents those pushing back against this plan. However, it is understandable that certain track and field coaches would see a potential cross country/indoor track scheduling conflict as a significant drawback to the rescheduled season. But competing outdoors does seem to be a more viable and safer alternative than in an indoor facility during the age of COVID-19.
Even still, Oregon head coach Robert Johnson was quoted in a Sep. 7 Oregonian article that a winter cross country season was a "non-starter" in a year that includes the Tokyo Olympics. "Too important of a year for that in the big picture," said Johnson.