2020 London Marathon
Bekele Scratches From London Marathon Upending Race
Bekele Scratches From London Marathon Upending Race
Kenenisa Bekele will not start the London Marathon on Sunday, citing a calf injury.
Oct 2, 2020
by David Monti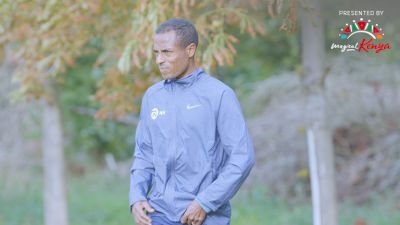 Unlock this video, live events, and more with a subscription!
Get Started
Already a subscriber? Log In
Three-time Olympic gold medalist Kenenisa Bekele has scratched from Sunday's Virgin Money London Marathon, organizers reported this morning. Bekele, 38, picked up a small injury in his left calf in the final weeks of preparation for the hotly-anticipated showdown between the Ethiopian star and marathon world record holder Eliud Kipchoge of Kenya. The men are the two fastest marathoners of all time.
"I am very disappointed that I cannot race on Sunday," Bekele said through a statement provided by London Marathon Events, the race organizers. "It has been a tough preparation time with lockdown when I couldn't have my NN team around me. I was in good shape but then I picked up a niggle in my left calf after two fast training sessions too close together in the last weeks of preparation."

Race Results Weekly was informed of Bekele's withdrawal yesterday by an individual inside of the marathon's biosphere at a hotel outside of Central London, but was unable to confirm the story. Another person inside the biosphere observed Bekele and his long-time manager Jos Hermens in an intense conversation over a meal yesterday, but did not know the subject of the conversation. "Jos doesn't look happy," the person said.

Bekele has struggled with injuries in the waning years of his career. In his last four marathon starts, Bekele has dropped out twice, including at the 41-kilometer mark of the 2018 TCS Amsterdam Marathon. However, in his last marathon (Berlin, 2019) he was brilliant running the second-fastest time in history, 2:01:41, just two seconds off of Kipchoge's world record.

Bekele appeared at the organizers' press conference on Wednesday and did not mention his injury. He said later, however, that he was trying his best to be ready for Sunday.

"I have been having treatment every day since then and I truly believed I would be ready," he said. "But today it is worse and I now know I cannot race on it."

Without Bekele, Kipchoge still faces a formidable challenge from five excellent Ethiopians: Mosinet Geremew (2:02:55 PB), Mule Wasihun (2:03:16), Sisay Lemma (2:03:36), Tamirat Tola (2:04:06), and Shura Kitata (2:04:49). Kipchoge has won the race four times and holds the event record (2:02:37).

It's hard to say at this point whether Bekele's marathon career is over, but he is clearly disappointed not to be able to start on Sunday.

"This race was so important to me," he said. "My time in Berlin last year gave me great confidence and motivation and I was looking forward to show that again, I have worked so hard for it. I know many people around the world have been looking forward to this race and I am sorry to disappoint my fans, the organisers and my fellow competitors. I will take time to recover and become fit again and I hope to be back in London next year.