All Eyes On Cheptegei At Saturday's World Half Marathon Championships
All Eyes On Cheptegei At Saturday's World Half Marathon Championships
The man of the hour for Saturday's World Half-Marathon Championships in Gdynia, Poland, is multiple world record holder Joshua Cheptegei.
Oct 16, 2020
by David Monti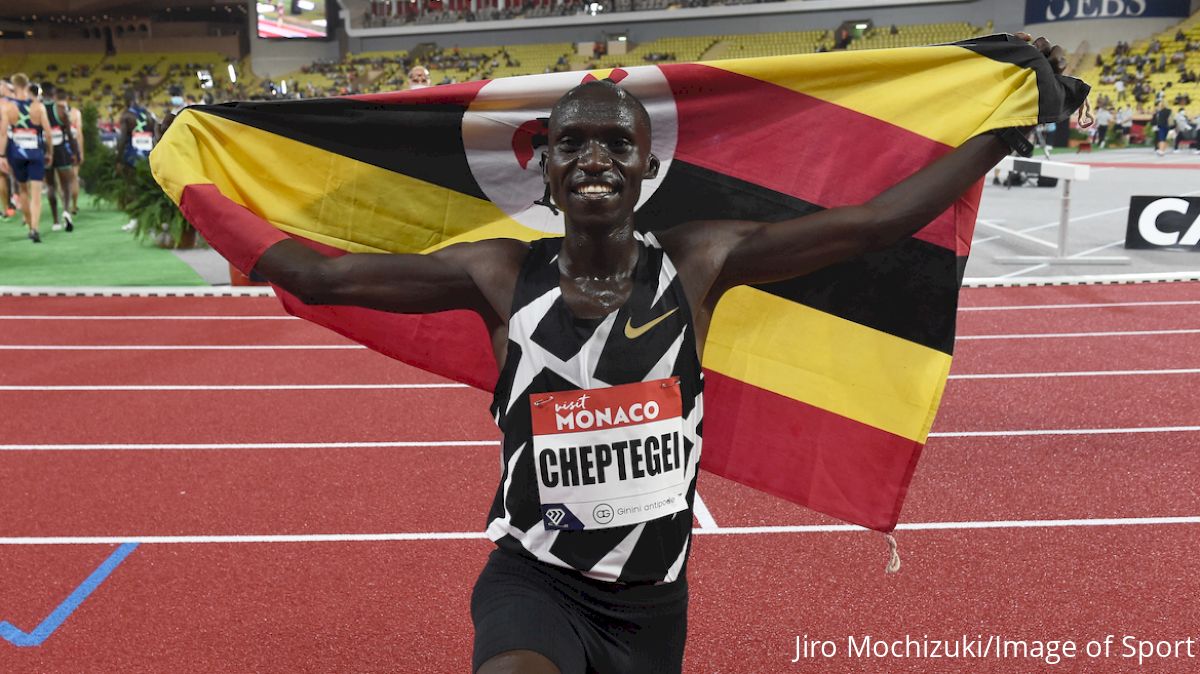 (c) 2020 Race Results Weekly, all rights reserved
(16-Oct) -- The man of the hour --although probably a few seconds less-- for Saturday's World Athletics Half-Marathon Championships in Gdynia, Poland, is multiple world record holder Joshua Cheptegei of Uganda, despite the fact that the reigning world cross country and 10,000m champion has never run the half-marathon distance outside of training. Should the 24 year-old overcome a top-notch field (and cold and rainy weather) he would become the first man to hold world titles in cross country, 10,000m and half-marathon at the same time. He would also become the first Ugandan to win a world half-marathon title, although Stephen Kiprotich was the world marathon champion in 2013.
Cheptegei is having a dream season, despite the pandemic. Between August and October, he broke the two of the legendary Kenenisa Bekele's world records. In Monaco on 14 August he toppled Bekele's 5000m record by two seconds, clocking 12:35.36. Then just nine days ago in Valencia he broke Bekele's 10,000m record by about seven seconds, stopping the clock at 26:11.00 on the strength of a 60.1-second closing lap. It is almost a distant memory that he also broke the world record for 5 kilometers on the road back in February, running 12:51 in Monaco.
Tomorrow's championships were pushed back from March due to the pandemic. The event was always in the 2020 plan Cheptegei and coach Addy Ruiter had formulated, but he did not expect to be running it in the fall after a hard 10,000m on the track. When asked today in Gdynia at a press conference about his season, which involved a lot of improvising and some difficult travel, Cheptegei was philosophical.
"I know we are in difficult times," Cheptegei said. "But, of course, we have to be thankful. We have to be grateful for the life that we have. You know, the sport is faced with challenges now because of COVID, and in the beginning we thought that things were not going to work. But, thanks to everyone who made this event. I think it's going to be a fantastic event."
Cheptegei possesses a rare combination of strength, speed and endurance. He is just as good on a hilly cross country course --like the one in Aaarhus, Denmark, where he won his world title last year-- as he is on a Mondo track or a flat road course. The Gdynia course should be perfect for the affable Ugandan who smiles easily. The main loop is 5440 meters with rolling hills (high point is 24m/79ft and low point is 1m/3ft) and the athletes will run it four times. That set-up should be perfect for Cheptegei, giving him plenty of chances to attack.
"This morning I did kind of small jogging on the course," he said. "It's a good one. Sometimes you have the hill, the slope. For me, it's not a problem. I think I will enjoy (it)."
The weather might be a problem, however. According to Weather.com, there is nearly a 50% chance of rain overnight to wet the streets, and about a 35% chance of light rain during the race. The temperature will be a little cold, about 7C/45F. World Athletics president Sebastian Coe pointed out that it was very windy for these championships in Valencia two years ago, and it poured (for the women's race) in Cardiff in 2016.
"The athletes have always punched through and we've seen some incredibly fast times," Coe observed.
Although a number of countries did not send teams due to the pandemic --including Australia, Canada, Eritrea, Japan, New Zealand, and the United States-- Cheptegei's Ugandan squad will face superb competition from the Ethiopian and Kenyan teams. Four Ethiopian men --Guye Adola, Andamlak Belihu, Leul Gebresilase and Amedework Walelegn-- have run 59:22 or faster during their careers. The Kenyan team has five men who have achieved the same standard: Leonard Barsoton, Morris Gachaga, Kibiwott Kandie, Benard Kimeli, and Benard Ngeno. Kandie, who has run 58:38, is the fastest man in the field and has won three of his last four half-marathons.
Great Britain sent a team, but four-time Olympic gold medalist Mo Farah isn't on it. That disappointed Cheptegei who relished the chance to race Farah who set a new world record for the one-hour run this summer. Farah, who won the bronze medal at these championships in Cardiff in 2016, just completed a pacemaking assignment for the Virgin Money London Marathon where he shepherded a group of mostly British athletes hoping to run the Olympic qualifying standard of 2:11:30. Without Farah, the field is missing some zing, Cheptegei said.
"I believe having and crowning the season with a title would be something special, of course, for me, something I would really be grateful for," Cheptegei told reporters. "First the debut then the win, that's really amazing. I thought we would have a more exciting field. Like, of course, we have the Kenyans, we have the Ethiopians, but I was surprised --and I'm still surprised-- why Mo Farah is not part of the field." He continued: "It's quite really peculiar that he's not in the field."
Cheptegei's 19 year-old teammate, Jacob Kiplimo, the silver medalist from last year's World Athletics Cross Country Championships, will be running his first high-level half-marathon in Gdynia (he ran 1:01:53 in a national-level race in Kampala last November). He had a very short 2020 season, running only two races, but both were spectacular. He clocked a world-leading 7:26.64 for 3000m at the Golden Gala in Rome on 17 September, and a week before that he ran the #3 time in the world for 5000m this year, 12:48.63, at the Golden Spike meeting in Ostrava, Czech Republic. He has tremendous closing speed and could be a factor if the race comes down to a final sprint.
The Kenyans aren't worried about Cheptegei, at least publicly. A reporter at today's press conference quoted a Kenyan athlete, Benard Ngeno, who told his local media that Cheptegei and Kiplimo were track athletes and that the Kenyans would teach them a lesson about road running tomorrow. Cheptegei, who owns the world best for 15 kilometers on the road (41:05, equivalent to 59:11 half-marathon) was unfazed.
"Everybody is entitled to their own opinion," Cheptegei said, unable to suppress a grin. "Maybe to them it matters, but to me it's a different kind of approach." He continued: "It's about having the best experience in racing. If you're comfortable, you can go for the title."