The Marathon Project Gives Elite Athletes A Lifeline During The Pandemic
The Marathon Project Gives Elite Athletes A Lifeline During The Pandemic
A slew of top Americans will contend for fast times in Chandler, Arizona, in Sunday's The Marathon Project.
Dec 17, 2020
by David Monti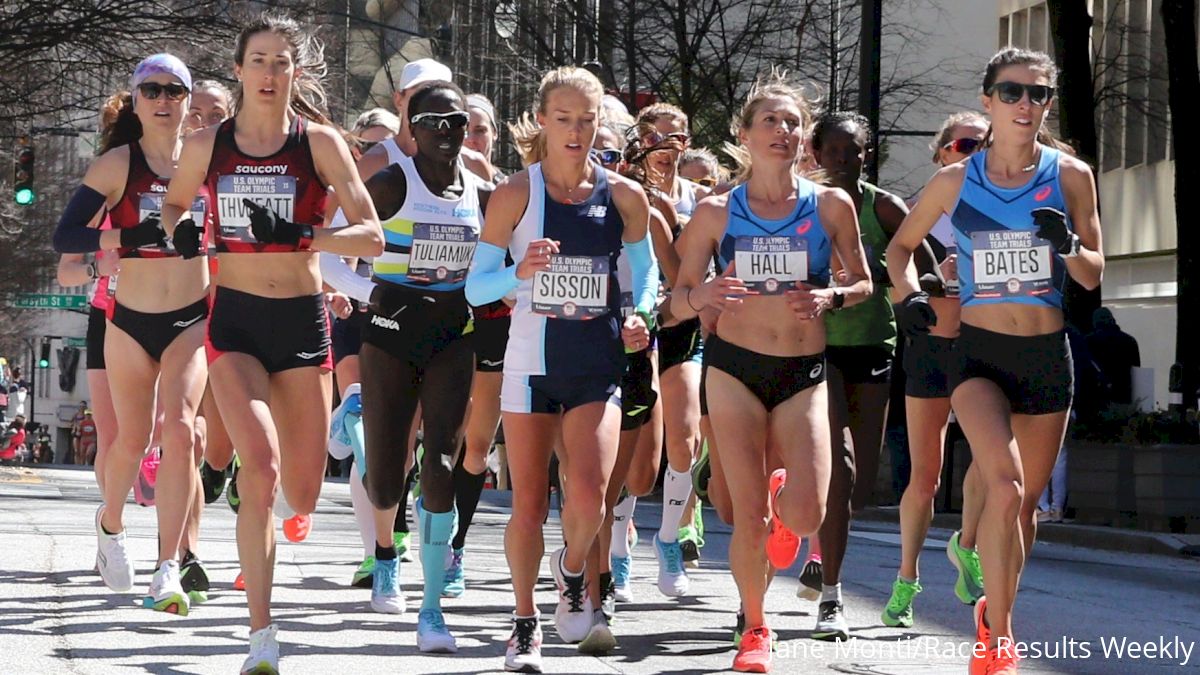 (c) 2020 Race Results Weekly, all rights reserved
(16-Dec) -- Against the backdrop of a global pandemic which is generating over 200,000 new COVID-19 cases every day in the United States alone, 54 men and 44 women will mask-up and travel carefully to Chandler, Ariz., to compete this Sunday at The Marathon Project, a one-off elite-only marathon which will be held on the Gila River Indian Reservation. Run on a flat, 6.86-kilometer course, the race offers a lifeline to North America's elite marathoners who have seen nearly every important marathon in the world this year shut down after mid-March.
"I think that everyone knows with this year that nothing is a given," said 2018 national 10-K champion Steph Bruce via video conference today. "I think for us every opportunity we have to just to be on a starting line is kind of a gift in 2020. It's crazy to think back that the Olympic Trials Marathon was just ten months ago; it feels like ten years ago."
Bruce, 36, who lives in Flagstaff and will drive the two and one-half hours down to Chandler, would normally have run one of the big city marathons this fall like Chicago or New York. At those races she would collect a five-figure appearance fee and possibly make some prize money and/or personal bonuses for a high place or a fast time. But at Sunday's race --bootstrapped by Bruce's agent Josh Cox and coach Ben Rosario-- the first place prize is $5000. Although she can earn some bonus money from her sponsor Hoka One One if she runs well, she's primarily competing on Sunday to advance her craft and keep up her visibility for herself and her sponsors (she has 95,000 Instagram followers).
"When we were plotting out this fall and this winter racing season we were kind of just thinking we would just focus on the track and try to knock out the Olympic standard for 2021," said Bruce, who recently achieved the Tokyo Olympic Games qualifying standard for the 10,000m at a meet in California. "Then, with the collective thoughts of my coach Ben Rosario and agent Josh Cox and a handful of other people putting The Marathon Project together just felt like a huge bonus for us. So really, I'm just going in with a lot of gratitude that we get to have another race before 2020 ends, and that it's another chance at a marathon because the marathon is my event. I really do love that event."
Rosario, who just had his course measured and certified today so that performances can count for Olympic Games qualifying and national records, has set up Sunday's race so athletes can achieve fast times. Besides the flat course, cool temperatures and low humidity, Rosario has also engaged ten male pacemakers, four for the women and six for the men. The top women's pace group plans to reach halfway in a blistering 1:09:40, on pace to break Deena Kastor's American record of 2:19:36 which has stood for over 14 years. Sara Hall, who ran an excellent personal best of 2:22:01 at the Virgin Money London Marathon on October 4, will be in that group; indeed she may be the only woman in that group.
"I'm really excited for the opportunity for Sunday," Hall told reporters on today's video conference. "I'm really excited to get out there, just see what I can do."
Hall, 37, the reigning USA 10-K champion, failed to finish at the Olympic Trials Marathon last February, a huge disappointment given that she ran a 1:08:58 half-marathon for her tune-up race and was among the favorites for a top-3 finish. Her time from London, however, was already the fastest by an American woman this year, but getting Kastor's vaunted record would be a huge accomplishment, a memorable way to end her year.
"I'm not really, like, calling it an American (record) attempt," Hall said carefully. "Not because of the pressure, but just because I think I just want to go into this race with the mind-set of trying to run as fast as possible. I can kind of be all or nothing. So, I don't want to be in a scenario where I'm running really well and if I'm just off American record pace I feel like I'm failing. I still think that would be a big success, a big PR."
Other top women entered include Kellyn Taylor, Bruce's Northern Arizona elite teammate; Emma Bates, the reigning USA 25-K champion; Diane Nukuri, a three-time Olympian for Burundi who now represents the USA; Ursula Sanchez, a Mexican who was 19th at the 2020 World Athletics Half-Marathon Championships; Keira D'Amato, who recently broke the USA all-women's 10 mile record; and Natasha Wodak, the Canadian record holder for 10,000m. Both Sanchez and Wodak are hoping to break the Olympic Games qualifying standard of 2:29:30 so she can be considered for their respective national teams.
The men are similarly grateful for the chance to race, although none will be trying for the American record of 2:05:38 set by Khalid Khannouchi at the London Marathon in 2002. Still, the first-group pacemakers will be taking the field out at a 2:09 pace, and as many as ten men have the credentials to get under 2:10 on Sunday. Among them are Cam Levins, a Canadian Olympian who had hoped to run an Olympic qualifying time at the London Marathon in October, but dropped out after splitting 35 kilometers in 1:47:26 (2:09:30 pace).
"I'm still looking to get the standard and qualify for the Olympics," Levins said. "I'm looking to compete with the top guys on Sunday, mostly just get out and race, I think." He added: "The times come when you go and do your best. That's what I'm looking for."
Martin Hehir, a medical student in Philadelphia, said his training had gone well, but that the pandemic was never far from his mind. He's been on the front lines battling the virus.
"For the last two weeks... I've been working in an ICU," Hehir explained. "It's mainly COVID patients in there. That's been the big shift in ICU care right now these beds are becoming a hot commodity because COVID patients (get very) sick. The moral of the story here is that it's just as scary as it's hyped up to be. And, yes, not everyone ends up in the ICU. But when you end up there you are incredibly sick, and it's definitely a bleak place to be."
Hehir, 27, who finished sixth in the Trials with a personal best 2:11:29, said he was comfortable with the level of risk he was assuming by traveling to, and competing in, Sunday's race. He pointed out that the small field size combined with the stringent anti-virus measures made him feel safe.
"Ben and Josh and everyone have set up the race to be exceptionally safe," said Hehir. "Two tests for everyone, as far as even like the hotel, the (airport) shuttle, everything is very COVID-safe."
Also likely to be at the front of the race are Amanuel Mesel of Eritrea, the fastest man in the field with a 2:08:17 personal best; Jose Antonio Uribe of Mexico, who has a 2:08:55 personal best and is hoping for a Tokyo Olympic qualifier; Scott Fauble, who finished seventh at the 2019 Boston Marathon in a career best 2:09:09; and Jared Ward, who finished sixth at the 2016 Olympic Marathon.
For the record, the fastest times ever run in the United States for a marathon in December were both achieved at the Honolulu Marathon: 2:08:00 by Titus Ekiru of Kenya in 2019, and 2:22:15 by Brigid Kosgei, also of Kenya, in 2017.
The race will be broadcast live via usatf.tv on Sunday at 9:45 EST; there will also be a recap show in prime time on NBCSN at 7:30 p.m. EST.