2021 Gulf South Indoor Championships
How Christian Noble Began Breaking DII Records
How Christian Noble Began Breaking DII Records
Christian Noble's has rewritten the DII record books this winter. How has the senior from Lee University done it?
Feb 23, 2021
by Logan Stanley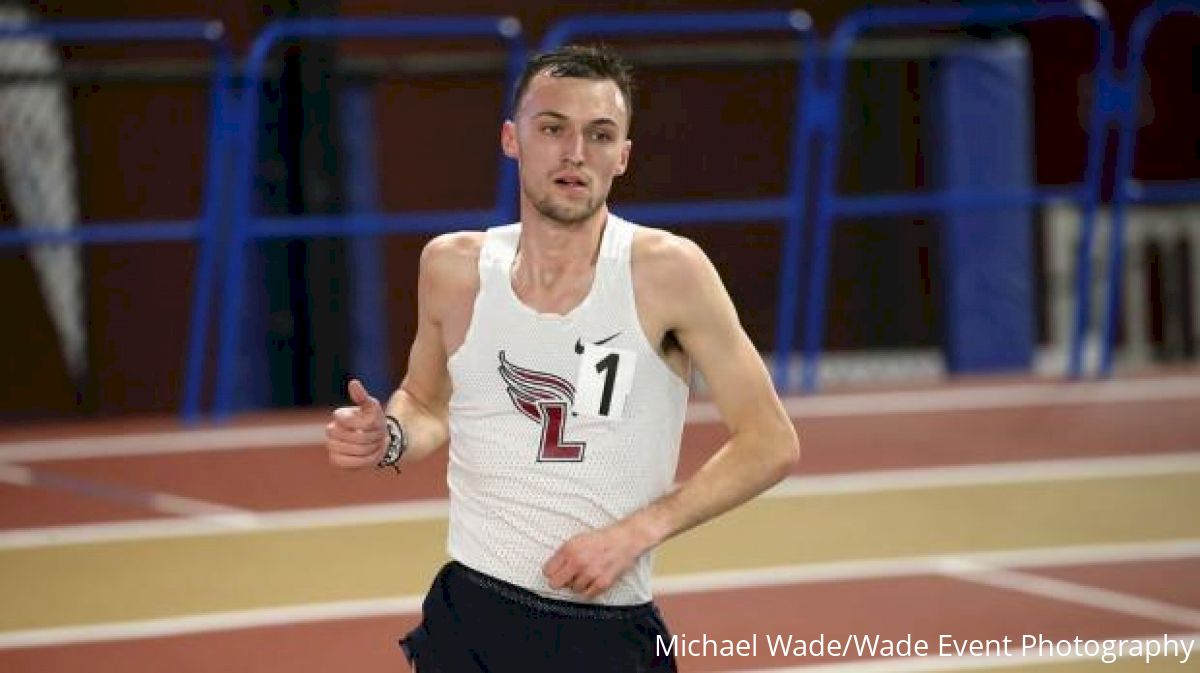 When Christian Noble made Foot Locker Nationals in 2015 as a senior at Mt. Vernon (IN) High School, he truly thought that would be the pinnacle of his running career.
"Back in high school, I didn't think I'd get to this point," Noble said recently. "For me it was, 'Ah, I made Foot Locker. That's it. That's the top of it for running.' Like I didn't even know about anything past that. That's all I really looked at."
But Noble has redefined what he thought was possible in the past month as the now redshirt-senior at NCAA Division II Lee University has quickly vaulted himself up the ladder of the nation's best runners -- regardless of classification -- by setting two NCAA records and running a qualifying time in the 5,000 meters for the U.S. Olympic Trials.
All in a span of 15 days.
He began the indoor season with a 4:00.60 mile at the UAB Vulcan Invite on January 16. Eight days later, at the Magic City Elite Distance Meet, Noble ran 13:37.39 for a new NCAA Division II record -- albeit after some brief pacing lights controversy. Noble finished off the month with another sizzling performance, clocking 7:51.46 in the 3,000m at the Magic City Elite Meet #2 for his second NCAA record.
"To be where I'm at now, it's super cool to look back and see how far I've come in just the short amount of time I've been in the running world," he said.
But this has also always been a dream for Noble.
In high school, he was one of his state's top distance runners, accumulating PRs of 4:16.92 in the mile and 9:04.71 in the 3,200m. The latter time earned him a runner-up finish at the IHSAA State Track and Field Championships in 2016.
In college, though, he wanted to break records -- even as early as his first season at Lee University.
A few years later, it finally became a reality.
It wasn't always a sure thing. In fact, these goals looked like a reach at the beginning of Noble's start with the Flames. When he first got to Lee, head coach Caleb Morgan became worried when his star recruit was struggling just to keep pace in training.
"The first semester with the team -- like literally a few weeks before our first meet we went to Furman when he was a freshman in cross country -- he couldn't even workout with our top seven," Morgan said. "I was super concerned as a coach because I was like, 'Wow, we got this guy who was a Foot Locker finalist. You expect him to come in and be in your top three, and he's not even in our top seven in workouts.'"
The pair met the week before the first meet of the year. Morgan asked Noble what was going on.
"Christian alluded to the fact that he was just a really good racer," Morgan remembered. "And then we went out to our first competition, and I think he was our number one by like 20 seconds."
It was actually 11 seconds, but still, Noble had proven himself right out of the gate. He carried that competitive drive and had an intangible that, in some ways, could not be coached.
Over the years, Noble quickly morphed himself into Lee's lead runner as he became the school's first All-American in cross country and won five Gulf South Conference championships on the track.
As it stands, Noble is No. 2 in the nation for the 5,000m and No. 6 in the 3,000m. It is an odd time period for the NCAA running world due to the schedule logjam caused by COVID-19, as athletes are choosing between running cross country or indoor track, which are ongoing simultaneously. Nonetheless, Noble has cemented himself among the elites of the NCAA.
But while the record-setting success may come as a complete surprise, it really should not. The seeds were planted last year and the fast times were coming.
Morgan knew Noble had turned a corner in January of 2020. First, his athlete shaved off 22 seconds in the 5,000m for a new personal best of 14:01 at the BU John Thomas Terrier Classic. Then, Noble ran 8:05 in the 3,000m at the Camel City Elite Invitational in February.
After winning Gulf South Conference titles in the mile, 3,000m and 5,000m, Noble was literally warming up at the NCAA Division II Indoor Championships when they were canceled back in March at the onset of the COVID-19 pandemic.
Noble still continued to train, even though they were no races to compete in. In Morgan's eyes, this time period is where the proverbial switch was flipped.
"That's been the difference the last year and half for Christian," Morgan said. "That he's actually been able to start hitting workouts and doing everything in practice."
Before, Noble was still training like a No. 3 runner, but racing like a No. 1. Morgan began to see how Noble's training started to align more closely with his racing capabilities.
Following a block of altitude training in the small town of Nederland, Colorado -- just outside of Boulder -- Noble was looking to hop in a race at the end of summer. It was August when he finally got the chance to compete.
He did not disappoint.
Running unattached in a 5,000m field that included professional runners at the Music City Carnival in Nashville, Noble came through in 13:48.68. The vaunted barrier had been eclipsed. It was there when Noble realized he had taken the next step.
"Breaking 14 minutes [in the 5K] has been something I wanted to do since freshman year," Noble said. "After that, it was super motivating and my confidence was pretty high going into cross."
The momentum building continued in the fall for Noble during the shortened cross country season, in which he won all three of the races he competed in and posted a personal best of 23:24 for 8,000m.
"Running my best and pushing myself in all the meets was pretty big time for me. Just going out there -- better to pace hot early and maintaining that for the most of the race was really crucial going into indoor. I probably would give a lot of credit to the recent success from cross country season."
Although Noble has already racked up plenty of accomplishments, he's still hungry for more.
He's aiming to end the season on a high note at the Division II Indoor Track and Field Championships in Birmingham, Alabama in March.
Then Noble will tackle the outdoor season, where he thinks he can run in the 13:20s.
"I know there's a lot left," said Noble.