2021 Virgin Money London Marathon
Women-Only World Record Not Likely for London Marathon, Says Kosgei
Women-Only World Record Not Likely for London Marathon, Says Kosgei
Kosgei said that the 57-day turnaround from her Olympic silver medal performance in Tokyo was simply too short to be in world record shape.
Sep 30, 2021
by David Monti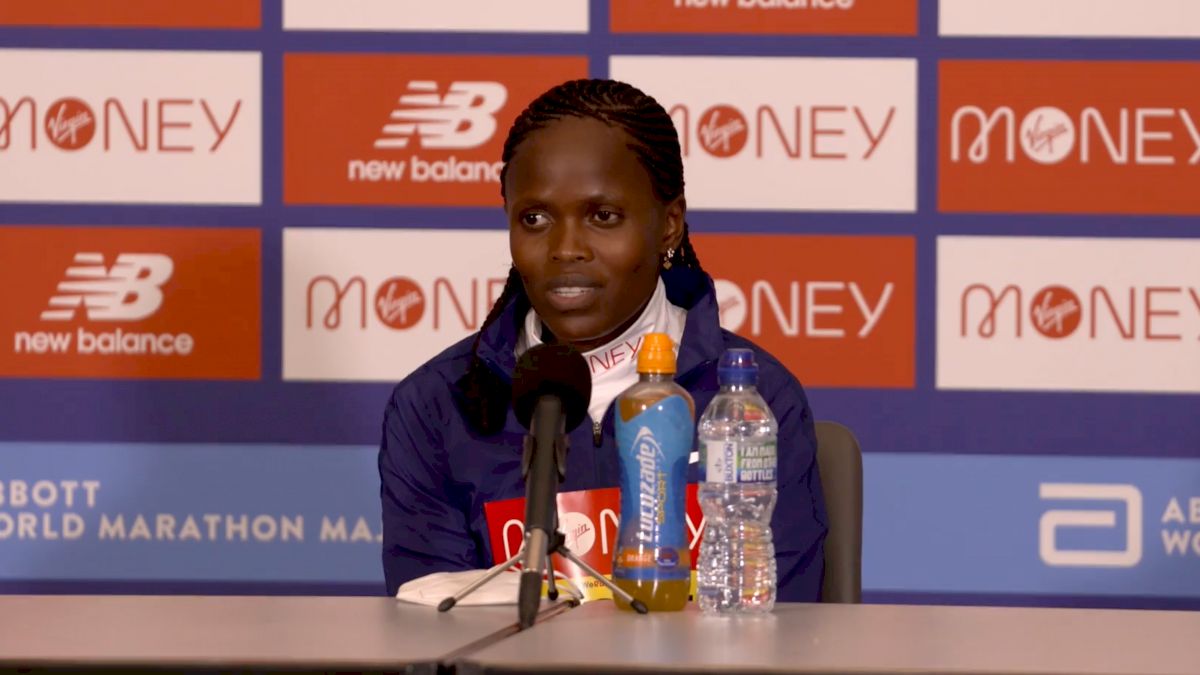 Although Brigid Kosgei's marathon personal best of 2:14:04 is nearly three minutes faster than the all-women's world record of 2:17:01, the 27 year-old Kenyan athlete doesn't see that as a goal for Sunday's Virgin Money London Marathon, despite rich financial incentives offered by race organizers. Kosgei, who has won the last two editions of the London Marathon, said that the 57-day turnaround from her Olympic silver medal performance in Tokyo was simply too short to be in world record shape.

"No, I don't have any course record (plans)," she told reporters on a video conference this morning. "You know I come from Olympics not far, just one month and something. No preparation is good (enough) to prepare for women-only record."

Under World Athletics rules, separate world records are kept in women's road racing depending on whether men join them on the field of play. Marks made in mixed-gender races, where women can enjoy the advantages of male pacemaking for nearly the full race distance, are kept separate from performances in women-only races, where only women are allowed to compete and pace. The 2:17:01 women-only record was set by another Kenyan, the recently-retired Mary Keitany, at the London Marathon in 2017. Kosgei ran her 2:14:04 mixed-gender record in Chicago in 2019.

Surpassing Keitany's record in London would provide Kosgei with a financial windfall. Under the prize and bonus structure set under event director Hugh Brasher, breaking Keitany's mark would deliver a payday of $355,000. Since Kosgei would also be receiving a six-figure appearance fee, personal bonuses for place, and a bonus from her kit sponsor Nike for a win, her total payday would be over $600,000 based on customary running industry payment practices. That's 135 times the average per capita income in Kenya, according to the World Bank.

Kosgei said she is instead focused on just competing well and trying to win, whatever the time. She said she only took a short break from training after her Olympic race on August 7, where in hot and humid conditions compatriot Peres Jepchirchir won the gold medal.

"After Olympics I went maybe two days break, then I continue doing practice," said Kosgei. "My training is well going on. I prepare very well. I am ready on Sunday."

Kosgei has raced well before when she only had a short recovery period between marathons. In 2016 she took second in the Lisbon Marathon on October 2, then won the Honolulu Marathon 70 days later. She accomplished a similar feat in 2017 --but at a higher level-- when she finished second at the Bank of America Chicago Marathon in on October 8 in 2:20:22, then came back to win Honolulu in a course record 2:22:15 just 63 days later. The new "super shoes," which have superior cushioning in addition to energy return, also make coming back easier.

In addition, Kosgei said that the return to London's traditional city course from Black Heath to the Mall would give her a boost. Last year's race was held on a special 20-lap closed circuit in St. James's Park in a COVID-safe "bubble."

"I don't like the loops like last year," Kosgei said. "I was running around and around. My head was turning, turning, turning."

London's elite athletes manager Spencer Barden didn't make it easy for Kosgei to retain her title. She's facing perhaps the race's deepest women's field ever where a total of nine women have broken 2:20 during their careers. Her biggest threat likely comes from compatriot Joyciline Jepkosgei, the reigning TCS New York City Marathon champion who has a personal best of 2:18:40. This is Jepkosgei's first time running London as a contender (she was a pacemaker in 2019), and she was opaque with her answer when asked why she did not choose to return to New York to defend her title.

"It was a pleasure for me to be invited to London," said Jepkosgei choosing her words carefully. "I was happy and I appreciate." She added: "The course of New York is so different."

The other top women are Israel's Lonah Chemtai Salpeter (2:17:45 personal best); Ethiopia's Roza Dereje (2:18:30), Birhane Dibaba (2:18:35), Degitu Azimeraw (2:19:26), Zeineba Yimer (2:19:28), and Tigist Girma (2:19:52); and Kenya's Valary Jemeli Aiyabei (2:19:10).

In all, 20 women have been recruited for the all-women's elite race.