2022 Tokyo Marathon
Eliud Kipchoge Takes On A New Challenge In Tokyo
Eliud Kipchoge Takes On A New Challenge In Tokyo
World record holders Eliud Kipchoge and Brigid Kosgei headline the Tokyo Marathon fields, while Sara Hall takes a shot at the American record.
Mar 3, 2022
by Kevin Sully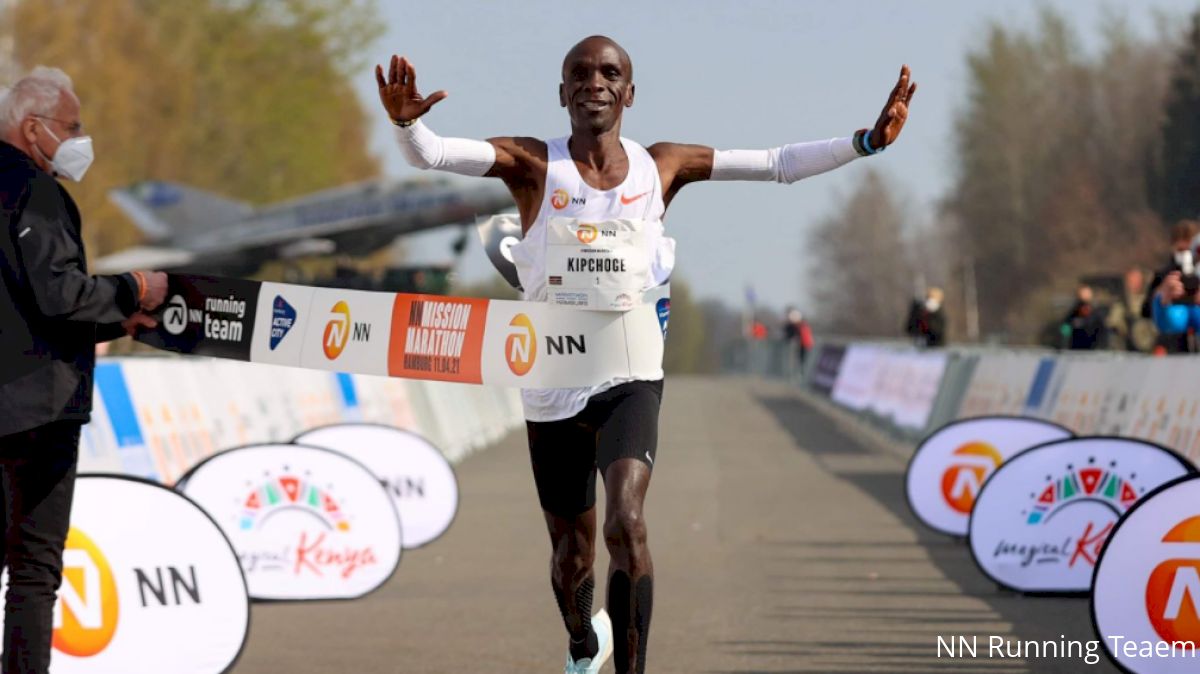 After dominating the marathon for nearly a decade, the list of things Eliud Kipchoge hasn't done is short. He's run times few thought were possible, won back-to-back Olympic titles and ushered the marathon into a new era with effortless excellence in a race that befuddles so many.
But there's a few things the world record holder wants to accomplish before he retires—specifically, win all of the World Marathon Majors. On Sunday, he will get his first chance at knocking one of those off the list when he heads back to Japan to compete in the Tokyo Marathon. The last time he was in the country, he put on a clinic at the Olympic, dropping the field in Sapporo and cruising to a gold medal.
Watch the 2022 Tokyo Marathon Live On FloTrack
This race should be more of a challenge. 37-year-old Kipchoge is half-a-year older than he was at the Olympics and he faces a deep field on Sunday of some of the best marathoners in the world. This could end up being a Kipchoge procession, but it won't be due to a weak field. Two other men have run under 2:03 in the field and another two have run under 2:04. Yes, that's a good distance from Kipchoge's world record of 2:01:39, but it's the best of what's available.
Birhanu Legese has won this race on two occasions (2019 and 2020). He ran his personal best in Berlin in 2019 when he posted a 2:02:48. Despite being a mainstay at the major marathons, he's never raced Kipchoge.
Mosinet Geremew was third in last fall's London Marathon and has been a consistent force the last several years. His lifetime best of 2:02:55 came in 2019 in London when he finished runner-up to Kipchoge.
The two other sub 2:04 men are Amos Kipruto and Tamirat Tola. Kipruto has run 2:03:30 but didn't finish at the Olympics and struggled in the Tokyo Marathon in 2020. Tola ran his best time in Amsterdam with a 2:03:39 and finished ahead of Kipchoge in London in 2020.
All these men would be considered long shot, in part because they'd have to have career days and Kipchoge would also have to run a race where he looks mortal.
This will be Kipchoge's 18th marathon, his previous 17 have gone like this:
-13 wins
-2 time trials where he ran 1:59:40 and 2:00:25
-2 losses (one in 2013, one in 2020)
The defeat at the 2020 London Marathon in retrospect looks like an aberration rather than a sign of decline. Kipchoge finished eighth in the race off a slow pace in rainy conditions in London. After that, he won an Olympic tune-up race in Enschede and then put on the master class at the Olympics.
He chose not to run a fall marathon after the Olympics, not a surprise given that he's always kept his race count low.
In the women's race, Brigid Kosgei will look to get back to her winning ways. Kosgei was the undisputed best women's marathoner in the world heading into the Olympics last summer. She has run-off several major marathon victories and was the owner of the world record in an astounding 2:14:04.
But she finished second in the Olympics and then only managed a fourth-place finish at the London Marathon last fall. Meanwhile, her two biggest rivals Peres Jepchirchir and Joycilinie Jepkosgei notched big wins in 2021 (Jepkosgei in London, Jepchirchir at the Olympics and then in New York City). In many ways, Kosgei needs a win in Tokyo to keep pace.
Ashete Bekere finished one place ahead of Kosgei in London, running a personal best of 2:18:18. She's also won some big races, including the 2019 Berlin Marathon. Angela Tanui has the second fastest personal best in the field—2:17:57. That run in Amsterdam was her third marathon of 2021 (all wins) and was a personal best by more than two minutes. Bekere and Tanui are the most likely women to beat Kosgei, but Hiwot Gebrekidan and Gotytom Gebreslase are both capable of pulling an upset.
Another story to watch is Sara Hall's pursuit of the American record. Hall just broke the national record in the half marathon in January, running 1:07:15. At the same event, Keira D'Amato ran 2:19:12 in the marathon to break Deena Kastor's American record. Sunday's race will be the first test of how durable that record is. Hall has taken cracks at fast times in the marathon before with her fastest coming in 2020 when she ran 2:20:32 in Arizona. Hall's established that she's in good form with her Houston performance and she likely will have someone to run with in the latter miles—4 women in the field have a personal best within 60 seconds of Hall's best time.
She has a busy spring planned with the New York City Half Marathon and Boston Marathon on her schedule. But that has become the routine for Hall. Despite the packed racing schedule (or maybe because of it) Hall has been able to churn out consistent performances across a variety of distances. That fact, along with the good field and fast course, give her a real shot at the American record.
The 2022 Tokyo Marathon is streaming live on FloTrack in the United States and Canada. You can also join us for a live watch party on YouTube.
Make your predictions below and if you get all three correct, you will be entered to win a $20 Fanatics Gift Card.
*Must enter your phone number to receive winning notification via SMS*
We have partnered with PickUp to give you the opportunity to share your thoughts on the Tokyo Marathon! Agree with Kevin and Gordon? Make your picks below to have your opinion heard. Enter your phone number to get the latest offers, news and updates from FloTrack as well as free awards from PickUp.
How fast will Eliud Kipchoge run?
Gordon: Sub-2:05:00 | Kevin: Sub-2:05:00
Will Sara Hall break the American record?
Gordon: No | Kevin: Yes
How Many Japanese Men Finish In The Top 10?
Gordon: 4 | Kevin: 3