2022 AAU Junior Olympic Games
AAU JO Games Day One Recap: Racewalk Takes Center Stage
AAU JO Games Day One Recap: Racewalk Takes Center Stage
A recap of the first day of action at the 2022 AAU Junior Olympic Games.
Aug 1, 2022
by Cory Mull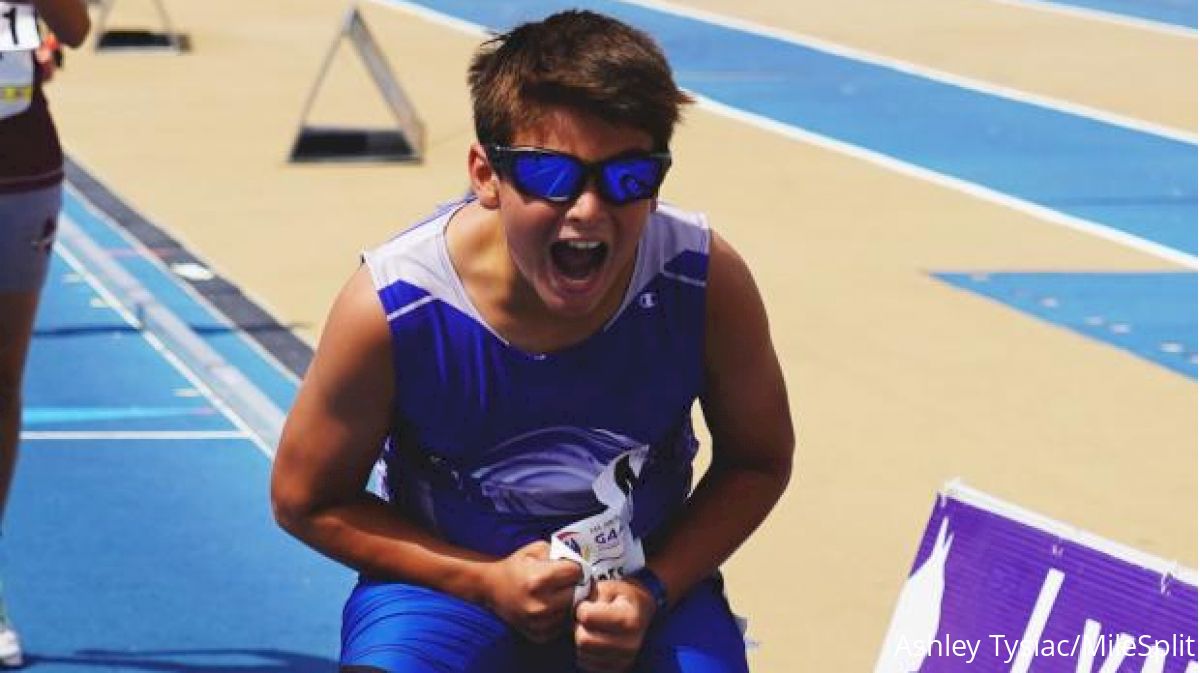 Recap written by Ashley Tysiac, Olivia Ekpone, Cory Mull and Mark Dwyer
GREENSBORO, N.C. -- The first day of action on the campus of North Carolina A&T saw the multi events and always-entertaining racewalk competitions take center stage.
And for 12-year-old racewalk athlete Nathaniel Samson, he wanted to kick off Junior Olympic competition the only way he knows how to -- by winning.
Samson captured his fourth straight Junior Olympic win in the 1,500m racewalk in 8:18.12, this year moving up to the 12-year-old age category, and did so in emphatic fashion.
The youngster from the Bronx, N.Y. made a mad dash to the finish over the course of the final 400m to capture the win and celebrated accordingly, flexing his muscles and letting out an excited yell.
But the four-peat did not come as a surprise to Samson -- it was a feat he confidently said he expected to achieve.
"It's nice to be undefeated," Samson said after the thrilling win. "I've won every year here."
The emphatic display of confidence and dominance from Samson certainly made for an entertaining way to begin the seven-day AAU Junior Olympic event.
13yo Girls Pentathlon: Natori Williams of Blue Bell, Pennsylvania, scored 2,760 points to grab the victory over Kenzie Crooke (Fishers, Ind.) and Leah Green. Crooke (Saint Clair Shores, Mich.) scored 2,652 points for second and Green was third with 2,561.
13yo Boys Pentathlon: Isaiah Bland, of Philadelphia, Pennsylvania, became a back-to-back champion in the event, scoring 2,475 points. Jackson Brooks (Athens, Ga.) and James Hawkins Jr. (Philadelphia, Pa.) finished second and third with 2,371 and 2,365 points, respectively.
14yo Girls Pentathlon: Behind strong performances in the 100mH and the high jump -- the two events that earned her the most points -- Sydney Harris of Odenton, MD earned the win on the first day of Junior Olympic competition with 3,341 points. Lailah Green (Rodenville, IL) finished in a close second with a point tally of 3,315.
14yo Boys Pentathlon: Graylen Houston (Sugar Land, TX) won the event in 2021 as a 13-year-old, and moving up an age group this year proved no different. Houston earned the pentathlon title behind a 3,245-point performance, with Encino, CA athlete Joshua Harel finishing second with 3,155 points.
9yo Girls 1,500m Racewalk: Tallulah Edwards of Leander, Texas crossed the finish in 9:48.62 to earn the win over Amelie Guzman and Kania Jackson. Guzman finished with a 10:30.03 and Jackson was third with a 10:59.09 respectively.
9yo Boys 1,500m Racewalk: Saiin Patel of North Wales, Pennsylvania, finished with one of the fastest times of the day. He won the event by nearly a minute, clocking a time of 8:40.08. Braylin Harris (Jacksonville, Fla.) and Ethan Beasley (DeSoto, Tx.) finished with times of 10:49.95 and 10:58.04 for second and third, respectively.
10yo Girls 1,500m Racewalk: Pennsylvania's Milan Keller (Chester, Pa.) finished the race in 9:08.43. The race's second- and third-place finishers, Taylor Bullock (Mattapan, Ma.) and Ehrhyen Jackson (Suitland, Md.), clocked times of 10:01.32 and 10:03.18, respectively.
10yo Boys 1,500m Racewalk: The top three boys finished under 10 minutes here. Gage Smith (Columbia, Mo.) of the Blue Thunder Track Club earned the win in 9:29.66. Maryland's Darius Dunlap Elki (Severn, Md.) finished as the runner up in 9:40.46 and Preston Schweikert (Columbia, Mo.) was third with an official time of 9:46.09.
11yo Girls 1,500m Racewalk: The overall winner, Kayleia Lindsey (Elgin, Ill.), dominated here, earning a winning time of 9:11.53. Meanwhile, Isabella Chu (Phoenixville, Pa.) crossed the finish line in 9:54.81 and Roxanne Rivera (Victorville, Ca.) finished the race in 10:01.80 for second and third.
11yo Boys 1,500m Racewalk: It came down to the final steps, but it was Alexzandro Vaughan (Columbia, Pa.) who won the title in 9:32.92. Jayden Sumbry (Decatur, Ga.) was second in 0:43.03. Tennessee's Thatcher Haynes (Munford, Tn.) finished third in 9:43.68.
12yo Girls 1,500m Racewalk: In one of the most exciting races of the day, Shyna Patel (North Wales, Pa.) won in a time of 8:52.17 -- but that was after a DQ went to the first finisher, Cianna-Terese McKenzie. Officially, Patel was the only girl to break nine minutes. Taylor Gross (Irmo, S.C.) finished as the runner-up with a 9:27.36 and Reagan Brogden (Boerne, Tx.) was third with a time of 10:14.65.
12yo Boys 1,500m Racewalk: It was a gutsy race for Nathaniel Samson (Bronx, N.Y.), who made a move with 250m left in the race, taking control of the race from Josh Fink (Aledo, Tx.) to hold on to the victory. Samson won the title in 8:18.12 and Fink was second with 8:22.11. Joseph Gillenwater of Gretna, Louisiana, was the third boy to break nine minutes with a 8:55.50.
STAT OF THE DAY
8:40.08
Saiin Patel's winning time in the 9yo boys 1,500m racewalk, making for one of the fastest times of the day across the 9yo, 10yo, 11yo and 12yo age categories.
QUOTE OF THE DAY
"It's nice to be undefeated ... I've won every year here."
Nathaniel Samson of the Bronx, N.Y.