2022 AAU Junior Olympic Games
AAU JO Games Day Five Recap: Gutsy Races Steal The Show
AAU JO Games Day Five Recap: Gutsy Races Steal The Show
A recap of the fifth day of action at the 2022 AAU Junior Olympic Games.
Aug 4, 2022
by Olivia Ekpone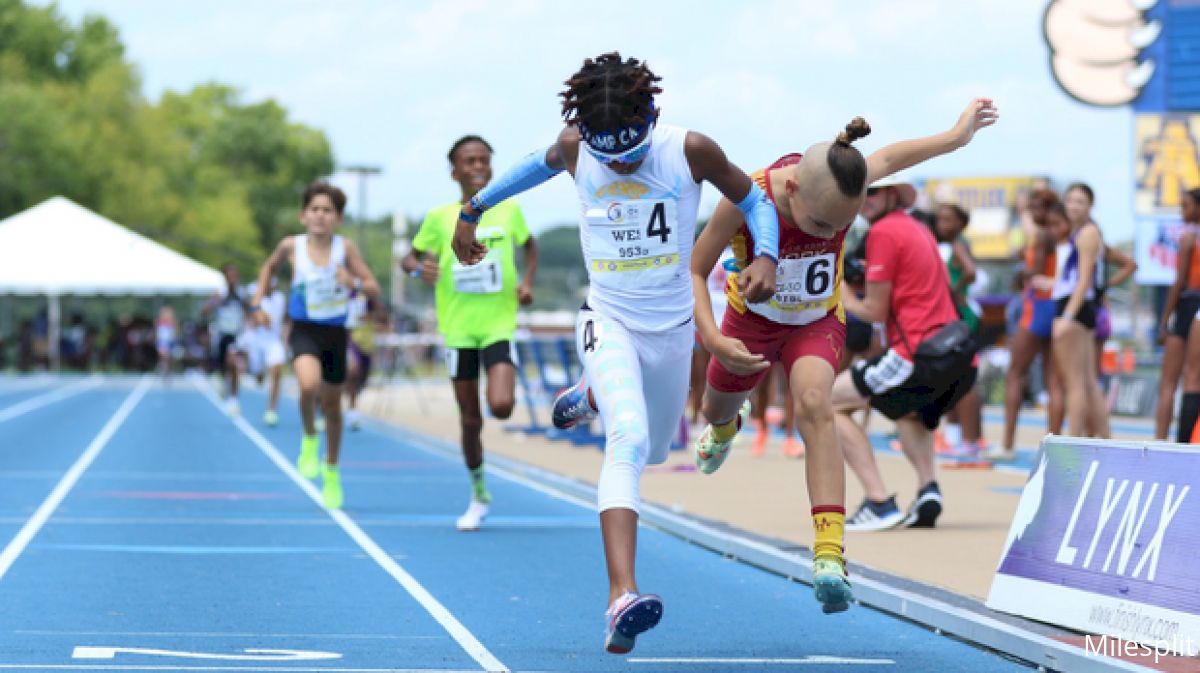 Recap written by Ashley Tysiac and Olivia Ekpone
GREENSBORO, N.C. -- There's no question that the 17-18yo women's 800m final was pinpointed by many as a top event to watch going into AAU Junior Olympic Games.
When you have one of the most electrifying AAU athletes to ever round the track in Cha'iel Johnson (Miami, Fla.) and the defending 800m age group champion Lauren Tolbert (Belmont, N.C.) going head-to-head in the same final, that makes for a matchup worthy of notable hype and attention.
Tolbert knew that ahead of the anticipated showdown with Johnson.
More specifically, she said she knew would need to develop a plan of attack to uphold her 2021 title against one of the fastest 800m runners in AAU history.
She had a rather simple race plan formulated as she stepped up to the line on Wednesday afternoon -- stick with Johnson, and kick at the end.
There was also the national record of 2:07.04 to keep in mind, something Tolbert aimed to break if she could run her race according to formula.
A seasoned Tolbert followed to that plan to a T.
The second-fastest 800m runner in North Carolina high school history didn't panic when she and Johnson ran stride-for-stride through 400m -- and right around 59 seconds. With 300m to go she knew it was time to move, so she began pulling away.
Tolbert slowly inched ahead of Johnson around the final curve before running a gutsy last 100m. She stared ahead at the clock on the video board to the cheers of the crowd willing her to the finish.
The time '2:08.05' flashed up on the screen, a finishing time for Tolbert that made for quite a dominant win over Johnson.
She took to the awards stage minutes later with an excited grin on her face as she received her second-ever AAU Junior Olympic gold medal and matching championship hat.
How could she not smile? The monumental race made for a bittersweet moment for the recent Highland Tech (N.C.) grad, as it marked her final time competing in front of thousands of athletes and spectators as an AAU racer.
A national record would have been nice to come away with -- or potentially a new North Carolina high school state record that she has chased throughout the outdoor season -- but ending her prep track and field career on top as a back-to-back champion made the experience all the more cherished.
Days before the 800m final, Tolbert took a trip down memory lane to reflect on her AAU career, browsing through old archived videos of her running at her first AAU Junior Olympics as a middle schooler.
In 2015, Tolbert placed 20th in the 800m prelims at the Junior Olympic Games. Seven years later, she gets to celebrate being a two-time champion in the same event.
That makes for quite the storybook ending in the eyes of Tolbert.
"Now, I'm number one and I just made a national title," Tolbert said. "I'm just happy."
Other athletes won elusive titles and broke records in exhilarating fashion. Scroll below to see more content covering the most exciting moments of day five action.
Related Links:
Day 4 recap: Athletes shine in 1,500m
Day 3 recap: More records fall
Day 2 recap: We have our first record
Day 1 recap: Racewalkers take center stage
15-16yo Girls 2,000m Steeplechase: Evanna Jacobsen (Midlothian, Tex.) finished eighth in the event in 2021, but she ran a nearly 10-second PR in the 2,000m steeplechase on Wednesday morning to earn her first national title in 7:22.05. Second and third place runners Avery Fronrath (North Palm Beach, Fla.) and Mariah Belmont (Macomb, Mich.) finished within a just a couple seconds of each other, with Fronrath clocking 7:32.19 and Belmont crossing the line in 7:33.34.
17-18yo Women's 2,000m Steeplechase: Kennedie Rhein (Owasso, Okla.) not only ran a new personal best of 7:23.32, but earned the event title in the process just ahead of Abigail Beville (South Hamilton, Ma.), who finished behind Rhein in 7:27.57. Nicole Dauberman (Shrewsbury, Pa.) also ran a sizeable all-time best to place third in 7:36.09.
15-16yo Boys 2,000m Steeplechase: Doubling back from his win in the 1,500m on Tuesday, Luke Anderson of Salido, Texas added yet another AAU title to his 2022 haul, running 6:13.40 for the 2,000m steeplechase win. RXC teammates Josue Huitron and Diego Ramirez rounded out the top three as Huitron ran 6:29.86 for second and Ramirez finished third in 6:39.95.
17-18yo Men's 2,000m Steeplechase: Beau Waldrop of Lumberton, Texas took control of the race after the first lap and raced his way to an AAU title in 6:32.77. Just off of Waldrop for the majority of the race was Blake Deterding, who ran 6:36.47 for second, and Dion Arriaga of Laredo clocked 6:42.50 to earn third place.
8yo Girls 800m: Abigail Riley (Mount Vernon, N.Y.) sprinted to the lead and held off a late push from Amber Cummings (Logantown, Ga.) to win the youngest division in 2:41.51. Cummings clocked 2:41.98 for second thanks to her strong push to the finish over the final 100m, and Kyra Carmenar (Wichita Falls, Tex.) also ran a sub-2:50 time of 2:45.63 to finish third.
8yo Boys 800m: In a tight foot race to the finish line, Kingston Boston (Chester, Pa.) surged ahead of Braxton Webb (Jacksonville, Fla.) down the homestretch to win in 2:37.78. Webb held on to a second place finish in 2:40.38, and Malachi Moore (San Antonio, Tex.) finished hard through the line to narrowly earn bronze with a time of 2:43.28.
9yo Girls 800m: The defending silver medalist from 2021 came out victorious this year as Jada Boydstun (San Antonio, Tex.) clocked 2:30.99 to earn the coveted win. Xoie Youngblood (San Antonio, Tex.) ran stride-for-stride with Boydstun going into the final turn before Boydstun began to pull away, but Youngblood still closed strongly to finish second in 2:33.88. Tamai King (Jacksonville, Fla.) also closed well to clock 2:35.82 for third in the competitive field.
9yo Boys 800m: Cyprian Reid (Fort Myers, Fla.), last year's 8yo champion, won yet again as he moved up to the next age group, leading from start to finish and clocking a 2:27.33 winning time. Pj Foxx (Nashville, Tenn.) made a strong push over the final 300m to earn his first AAU silver medal in 2:30.87, and Logan Alsobrook (Memphis, Tenn.) separated from the chase pack over the last meters to take the bronze in 2:34.21.
10yo Girls 800m: Out of nowhere with 200m to go, Gabrielle Wright (Newllano, La.) slingshot around leader Melodi Ashford (Chester, Pa.) and ran her way to victory in 2:26.88. Rather even 400m splits of 1:13.38 and 1:13.50 made for quite the seasoned race from the young Wright. Ashford held on for second with her time of 2:31.27, and Alexis Harris (Chester, Va.) surged into the top three on the last homestretch to finished third in 2:33.48.
10yo Boys 800m: Gunner Hammett (Williamsburg, Va.) laid down the hammer with 400m to go and never looked back, as the 9yo runner-up from last year dominated and ran his way to a national title in 2:17.08 -- just 0.64 seconds short of the age group AAU record. Andrew Taylor (Grayson, Ga.) also went out hard with Hammett and moved up a place over the last lap to earn second in 2:24.05 right ahead of Max Patterson (Athens, AL) in third.
11yo Girls 800m: Madisyn Scott of Georgetown, Texas took the field through 400m in 1:07 and never let up on the gas as she crossed the finish in 2:24.05. Abigail Clue from Jamaica, N.Y. and Isabella Daily crept up on Scott over the final 200m and finished 2-3 in 2:24.88 and 2:24.92, respectfully. Each of the top three finishers ran significantly faster than their posted seeds entering Junior Olympic competition to make for quite the entertaining race.
11yo Boys 800m: In a tightly-contested race that saw top age group talents battling back-and-forth over the course of the two laps, it was top-seeded David West (Baton Rouge, La.) who found another gear to catch Victor Jaimez-Solorio (Apple Valley, Ca.) for a photo-finish moment, clocking 2:16.91 to Jaimez-Solorio's 2:16.98. Pentathlon and high jump winner Jonathan Johnson (Fairburn, Ga.) also fought his way up into the lead pack to finish third in 2:18.66, and 3,000m champion Patricio Pardo (Bethesda, Md.) worked his way up from the back of the field to take fourth in 2:19.09.
12yo Girls 800m: A conservative first lap made for a sprint to the finish among all competitors in the field, and leader Aaliyah Lane (Marrero, La.) held on to win in 2:19.64 ahead of a charging Hazel Vowell (Richmond, Tex.) with a 2:20.00 finishing time for second place. Also surging to the finish came Janae Coleman (Detroit, Mich.) chasing after Vowell, and she crossed the line less than a tenth of a second behind Vowell in 2:20.09 for third.
12yo Boys 800m: Gideon Newton set a blistering pace through the first 300m, but with 200m to go, Marcus Love crept up on the shoulder of Newton in the lead to put himself in title contention. Despite the challenge from Love, Newton held on to win in 2:09.93, and Lucas Amador made a move over the last homestretch to earn second 2:12.13 ahead of Love.
13yo Girls 800m: A huge negative split from 1,500m champion Paige Sheppard propelled the Hillsborough, N.J. up-and-coming distance star to a dominant win in 2:12.14. 1,500m runner-up Annabelle Steckel earned yet another silver medal with a finishing time of 2:19.90, and Kylie Comas just missed going under 2:20 with a 2:20.45 third-place time.
13yo Boys 800m: Just as Sheppard did in the girls division before him, 1,500m champion Jackson Miller (St. Louis, Mo.) completed a successful middle distance double with a win in the 800m in 2:01.78. In the mix to the end was Kaleb Young (Philadelphia, Pa.), who ran 2:02.92 to take second place.
14yo Girls 800m: Elizabeth Brooks of Greater Houston Track Club hit another gear as she entered the bell lap, and no one could catch her as she sped her way through the line for first in 2:13.63. Michailyn Rose from Virginia Elite also surged to the finish on the final straightaway to sneak into second place in 2:14.34, and Zoe Dorsey kicked hard for a third-place time of 2:15.08.
14yo Boys 800m: Drew Johnson (Charlotte, N.C.) looked calm and collected as he slowly moved up from second to first over the final 300m to earn the win in 1:56.70, following up his 1,500m championship-winning race on Tuesday.
15-16yo Girls 800m: Defending champion Kylee King (Detroit, Mich.) successfully earned an 800m title for the second-straight year as she led from the break line to clock just north of 2:11.20. Both Caila Lyons (San Antonio, Tex.) and Quin Stovall (Philadelphia, Pa.) split a 63-second opening 400m en route to a 2-3 finish in 2:13.01 and 2:14.23.
15-16yo Boys 800m: Stefon Dodoo took the field through 400m in 55 seconds, and the Chalfont, Pennsylvania mid-distance star never gave up his lead to win in 1:53.60. Following closely on Dodoo's tail came Julian Carter II and Marcus Gaitan, with Carter finishing just ahead of Gaitan in 1:55.21 to Gaitan's 1:55.36.
17-18yo Women's 800m: In one of the most highly anticipated matchups of the Junior Olympics, 800m stars Lauren Tolbert and Cha'iel Johnson duked it out in a race that certainly lived up to the hype. Tolbert and Johnson ran stride-for-stride for the first 600m before Tolbert began surging ahead. Johnson couldn't follow the move from Tolbert, and the Duke signee raced her way to the line in 2:08.05, just off of the national record.
17-18yo Men's 800m: Tinoda Matsatsa came ever so close to breaking the national record of 1:49.78 that's stood for a decade, running 1:49.87 to win in exhilarating fashion nonetheless. Matsatsa led two other competitors under 1:52 for 800m -- Zephaniah Carico-McLennan in 1:50.94 and Keion Grieve in 1:51.26 -- as the group of three charged to the finish to cap off the entertaining final rounds of the event at the Junior Olympics.
12yo Girls Discus: Top-seeded Laila Jones (Clemmons, N.C.) won the title by over seven feet, recording a mark of 98-9 for the age group win. Leah Fisher (Richmond, Tex.) also joined Jones with a mark over 90 feet as she marked 92-7 to take second among the field.
11yo Boys High Jump: Both Jonathan Johnson (Fairburn, Ga.) and Miles Brown (East Lansing, Mich.) cleared the bar set at 4-9, but Johnson earned the advantage in the missed attempts tie-breaker and finished the event as the national champion. The next best clearance come from Legend White-Thomas (Lago Vista, TX) in third, jumping 4-7.
12yo Girls Long Jump: Kaidyn Holmes-Oliver from Converse, Texas finished in first just off the national record of 17-11.75, jumping 17-10.25 to make for the title win. The competition also featured another young athlete to surpass 17 feet -- Kylie Walden of Buford, Georgia with a mark of 17-5.25.
12yo Boys Long Jump: Marcus Love of Mint Hill, North Carolina leaped a massive PR of 18-2.25 to take the AAU title, surpassing his previous all-time mark by over a foot. Love came in seeded second, but his impressive second jump held through the duration of the competition to earn him the gold. Just short of 17 feet was Marvin Walker Jr from Deltona, Florida to take second with a mark of 16-10.
11yo Girls Shot Put: Discus champion Magdalena Kandt (Harrison Township, Pa.) continued her throwing dominance in the 11yo girls division, winning the shot put with a throw of 36-8.5. That also made for an impressive personal best by almost two feet as she came into the competition having never eclipsed 34-9. Silease James (Woodbridge, Va.) and Ilyssa Hickey (Giddings, Tex.) had a tight battle for second and third, but it was James who earned the silver medal with a 33-8.5 mark, followed by Hickey's best throw of the day of 33-5.25.
15-16yo Boys Shot Put: Cameron Morrison (Leander, Tex.) impressively surpassed his all-time shot put best of 52-10 by over a foot, marking 53-11.75 to make for a championship-winning performance. Arkansas Class 6A state shot put runner-up Devyn Steingisser threw 53-1.5 for second, and Bryce Ruland (Waterford, Wis.) recorded a new personal best of 51-9 to finish third.
13yo Boys Javelin: The event featured the fourth national record of the 2022 AAU Junior Olympics as Noble Williams (Boyce, La.) narrowly reset the age group record by an inch with his winning mark of 153-11. Walker Ferguson (Taylors, S.C.) and Matthew Hill (Daphne, Ala.) also earned top-three podium finishes with their marks of 141-3 and 135-4.
14yo Girls Pole Vault: Adair Carlin (Atlanta, Ga.) posted a new personal best of 10-11.75 to win the pole vault competition on Wednesday morning. Isabella Spears (Santa Rosa Beach, FL) and Bailey Howard (Winchester, Ky.) each cleared the bar set at 10-6, but Spears earned second place by default based on number of missed attempts.
9yo Girls High Jump: Four athletes -- Eden Madison (Germantown, Md.), Makinley Ray (Spring, TX), Anna Ingram (Blythewood, S.C.) and Rene Wilson (Teaneck, N.J.) -- cleared 3-11.25, but Madison had fewer misses, which earned her the gold medal. Ray, Ingram and Wilson rounded out the top four in that order, respectively.
15-16yo Girls Shot Put: It came down to less than an inch separating Emily Easton (Boerne, Tex.) and Abrianna Parks (Greer, S.C.) at the top of the leaderboard, and it was Easton's mark of 39-3.25 that won the AAU event championship. Parks' second-place throw of 39-2.5 put her ahead of Sophia Grinstead (Spring Branch, Tex.) in third with a mark of 38-11.75.
11yo Boys Shot Put: Cardell Beck (Middle River, Md.) came into the competition seeded third, but that didn't stop him from chasing after the win. Beck exceeded his seed mark with a throw of 39-8.75 to earn win the event ahead of second-seeded Machi Joe (Titusville, Fla.), who threw 39-5.75 to equal his seed position.
14yo Boys Discus: K'Lyn Curtis (Lees Summitt, Mo.) followed up his shot put win on Tuesday with a win in the discus to make for a successful throw double, recording 171-11. Jordan Pinones (Adkins, Tex.), the younger brother of 17-18 men's shot put champion Michael Pinones, added to the family's 2022 Junior Olympic medal haul by earning silver with a mark of 151-2, and Jack Torrance (Baton Rouge, La.) had his best throw on the first attempt to place third with a 144-3 throw.
15-16yo Girls Triple Jump: As the only competitor to hit a mark north of 40 feet, Iyanna Webb of San Antonio won with a jump of 40-0.5 on her third leap from the board. Glenn Allen, Virginia jumper Devyn Parham just missed out on hitting the 40-foot measurement with a second-place jump of 39-9.75, and Sydney Krause earned a bronze medal in her home state with her best jump of 39-5.
15-16yo Boys Triple Jump: At his first AAU Junior Olympics, Jayden Thrower (Baytown, Tex.) came away with an age group title, jumping 47-11.25 on his second-to-last trip down the runway for first place. Fellow Texan Xavier Drumgoole (Round Rock, Tex.) also jumped over 47 feet with a second-place mark of47-7.25, and Joseph Anderson (St. Louis, Mo.) marked 45-9.25 to earn bronze.
17-18yo Boys High Jump: Hayden Smith narrowly missed out on reaching 7-0, but the Rimersburg, PA athlete's 6-10.75 still made for an impressive high jump title win in the oldest age division. Herman Batiste of Jackson, Louisiana set a new personal best of 6-8.75 to earn an AAU silver medal, and Nicholas Grullon from Cedar Hill, Texas cleared the 6-6.75 bar with ease to take third.
13yo Girls Shot Put: Bethany Preusse (Thorndale, Tex.) finished third in the javelin competition on Tuesday, but she earned redemption on Wednesday in the shot put where she won with a best throw of 45-7.25. Following Preusse in second and third came Brielle Lawson (Richmond, Tex.) and Lorelai Zielinski (Wiliamsburg, Mich.) as the two middle schoolers recorded marks of 44-0.5 and 43-6.
17-18yo Boys Shot Put: Michael Pinones (Adkins, Tex.) bombed a personal best throw of 67-6 on his final attempt to win the Junior Olympic title over David Wilson III (Hurst, Tex.) with a second-place mark of 62-6.75. Also joining Pinones and Wilson in the 60-foot club was Kenneth Burgess (Spring, Tex.), who threw 60-2.5 to finish in bronze medal position.
12yo Girls Turbo Javelin: Krista Hansen from Deltona, FL threw 94-0 on her second-to-last heave to take the turbo javelin win over Richmond, Texas' Leah Fisher. Another Texas athlete joined Fisher on the top three podium spots -- Julissa Burciaga of Abilene -- with her 92-7 mark.
15-16yo Girls Pole Vault: Both Hannah Grace (Wilmington, N.C.) and Addison Richey (Carencro, La.) found themselves sitting in first place after clearing 12-5.5 and failing to clear 12-11.5. Since Grace had fewer missed clearances, she earned the individual crown and Richey took the silver medal. In third place, Mya Strahm (Edwards, Ill.) nearly reached the 12-foot mark with her best height of 11-11.75.
14yo Girls Triple Jump: Mikayla Shavers (Orange Park, Fla.) jumped 38-10.25 on her last trip down the runway to win the event on Wednesday evening. Ehi Aigbomian (Millington, Tenn.) and Charve Gibson (Fayette, Miss.) placed second and third with marks of 37-8.5 and 36-5, rounding out the top medal places.
14yo Boys Triple Jump: Joshua Harel made the trip all the way from Ecino, California and will head back home as an AAU champion, winning the triple jump with a mark of 43-7. Khalen Pinkard of Carrollton, Georgia finished just off his seed mark to win silver in 42-4.25, and Shawn Church Jr. from Virginia Beach recorded a massive PR by over two feet to capture bronze with a 41-9.75 mark.
15-16yo Boys Discus: With a throw of 180-7 on his fifth attempt, Bryce Ruland commandingly won the event, as no one else in the competition hit a measurement over 160 feet. Ruland aside, a close dual between Aiden Harris Hill and Teegan Simmons saw Harris earn second by just five inches with a throw of 152-10. Simmon's third-place throw measured in at 152-5, not too far off of Harris.
17-18yo Women's Shot Put: Kamryn Cadle sat in third place going into the final throw, but perhaps a burst of confidence fueled her to a massive last attempt that measured 43-8.5 to put her in first place ahead of leader at the time Janiya Cesar. Cesar would hold onto second position thanks to her strong third round throw of 42-2.75, and Keonna Otis also had an impressive third throw of 41.5.25 that made for third place.
13yo Boys Shot Put: With a field-best 45-9.25 mark, Bryan Bradley Jr. (Lincoln, Ne.) solidly won the AAU shot put title. But the battle for second and third proved quite intriguing as only three-quarters of an inch separated Griffin Johnson (Beloit, Kans.) in second place and Wayne Shanks (Cypress, Tex.) in third to round out the top podium finishers.
14yo Girls High Jump: Khari Webb (Memphis, Tenn.) jumped 5-5 for the AAU title ahead of three athletes who all cleared 5-3 -- D'Anna Cotton (Burlington, NC), Aliviah Ball (Grainfield, Kans.) and Zoe Bringmann (Bentonville, Ark.). Cotton, Ball and Bringmann finished 2-3-4 in that order, determined by missed attempts at clearing the bar.
14yo Boys Javelin: Joshua Harel won not one, but two individual crowns on Wednesday, following up his triple jump win earlier in the day with a 149-9 throw in the javelin to take first place. Aden Rhiver finished just a foot short of Harel's winning mark with a 148-9 for second, and Xavier Perkins threw well over 146 feet to measure 146-8 for third.
17-18yo Women's Triple Jump: Current US No. 2 Tamiah Washington jumped just off of her current season best to take the triple jump title in the oldest age division with her mark of 41-5.75. Kayla Pinkard, ranked seventh in the nation going into the competition, further improved upon her US No. 7 mark as she jumped 41-2.5 to take the silver medal at the Junior Olympics.
17-18yo Men's Triple Jump: With his best jump of 48-2 coming on the final attempt, Exavion Harris moved from fifth to first to earn an AAU title in surprising fashion. Joshua Graham jumped 47-8.5 in the third round, which held for second place after Harris' monster jump to conclude his competition.
13yo Girls High Jump: 5-3 proved the highest bar cleared in the competition, and it was a height both Bailey Hensgens and Dmya Newton both jumped. It was Hensgens who earned the title-winning advantage based on missed attempts over Newton in second.
12yo Girls Shot Put: By just two inches, Laila Jones earned the event championship as she threw 41-10, just beating out Arisa Bisofa's mark of 41-8 that helped her take second place. Kristyona Harris fell a couple feet short of the 40-foot mark, but her 38-4 best from the competition was more than enough for her to earn the bronze medal.
12yo Boys Shot Put: The win came by a large margin of over two feet for Trace Calhoun as the 12-year-old threw 468-6.75 to grab the event title. Michael James Jr. was next in line with his second-place measurement of 46-4, with Elijah Moore having a strong showing of 45-2.5 to put him into third.
14yo Girls Discus: Postponed.
STAT OF THE DAY
2
Number of AAU national records broken by Kendrick Jones Jr. (Temple, TX) through the first five days of Junior Olympic action. Jones set new 14y boys group records in the triple jump (23-3.25) on day three and 200m (21.25) in the semifinal rounds on day five.
MVP OF THE DAY
Tinoda Matsatsa (Boyds, MD)
Won the 17-18 men's 800m in 1:49.87, just 0.09 seconds off of the decade-old national record of 1:49.78.
QUOTE OF THE DAY
"Man, leading up to this, it wasn't really a struggle, but it was different. My dad had me get an altitude mask to train my lungs. I think that really did help because in the finals, I was not tired at all."
Jayden Thrower (Baytown, TX) on how he prepared for the 15-16yo boys triple jump leading into the AAU Junior Olympics.