2022 AAU Junior Olympic Games
AAU JO Games Day 6 Recap: Whitaker Sets World 14yo PV Record
AAU JO Games Day 6 Recap: Whitaker Sets World 14yo PV Record
A recap of the sixth day of action at the 2022 AAU Junior Olympic Games.
Aug 5, 2022
by Ashley Tysiac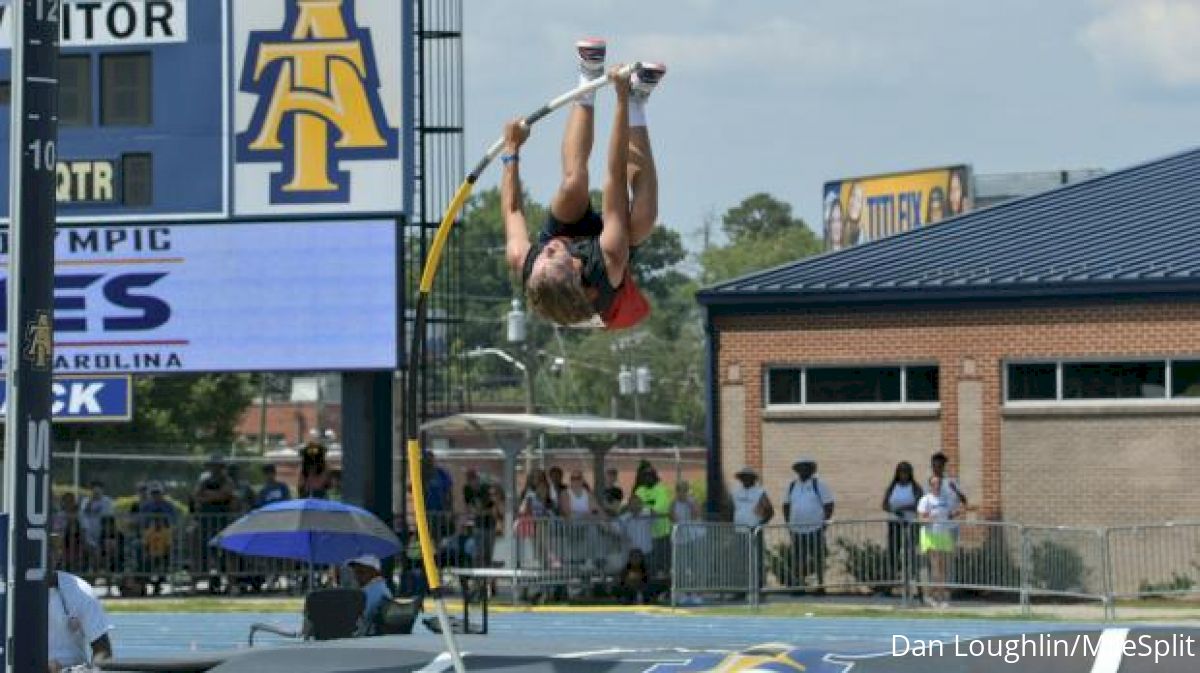 Recap written by Ashley Tysiac
GREENSBORO, N.C. -- Eyes panned over to the pole vault runway along the backstretch at Truist Stadium as 14-year-old Isaiah Whitaker set his sights on chasing history during Thursday's action at the AAU Junior Olympics.
The Bloomington, Illinois incoming high school freshman may have been 14 years old -- and competing up in the 15-16yo age division -- but Whitaker took to the pole vault competition looking to surpass both the AAU age group record and the world pole vault record for 14-year-olds.
Onlooking spectators certainly took notice as the bar continually increased to monstrous heights. The first cheers came as Whitaker broke the 15-16yo boys AAU national record with an easy 15-7 clearance.
But he didn't stop there.
He moved the bar up to 16-2, ready to chase not only a national all-time best but a world record for 14-year-olds.
Fans clapped emphatically as Whitaker took off on his first trip down the runway to clear the bar set north of 16-feet.
He only needed one attempt. Whitaker soared up and over the bar with room to spare en route to grabbing that elusive age group world best. The high schooler landed on the mat and proceeded to celebrate.
"Me and my coach, we were looking for that record before this," Whitaker said.
As he moves on to the high school level, Whitaker said the historic moment at the Junior Olympics will serve as a boost of confidence as he hopes to chase even bigger heights.
"The feeling of falling back on the mat after clearing 16-2, it was awesome," Whitaker said. "Nothing like it in the world."
Scroll below to view more content from day six of the AAU Junior Olympic Games.
Related Links:
Day 5 recap: Gutsy races steal the show
Day 4 recap: Athletes shine in 1,500m
Day 3 recap: More records fall
Day 2 recap: We have our first record
Day 1 recap: Racewalkers take center stage
8yo Girls 1,500m: The first final of the morning saw a rematch between 800m gold and silver medalists Abigail Riley (Mount Vernon, N.Y.) and Amber Cummings (Loganville, Ga.), and the race played out in entertaining back-and-forth fashion. Both broke away from the field early and ran side-by-side for the duration of the race before a wild chase to the finish. First, it was Cummings who started to pull ahead. Then, Riley fought back. The young athletes dipped at the finish, and it was Riley who won her second individual title of the week with a time of 5:20.81 ahead of Cummings' 5:20.89. Riley's finishing time also put her just two seconds behind the age group AAU record of 5:18.44 set in 2016.
8yo Boys 1,500m: With 600m to go in the race, Cameron Flores Chester Cheetahs (Chester, Pa.) took off and never looked back, flying toward the finish for the AAU crown in 5:24.11. Jeremiah Codrington (Mount Vernon, N.Y.) ran alone in second place for most of the race, and he crossed the finish in the same position in 5:29.71. Charging hard to the line for the bronze medal came Malachi Moore (San Antonio, Tex.) in 5:32.51.
9yo Girls 1,500m: Xoie Youngblood (San Antonio, Tex.) finished second in the 800m on Wednesday and doubled back to take the 1,500m title, running 5:12.52 for the win, in large part thanks to a rather quick 1:18.97 final 400m split. The 800m age group winner Jada Boydstun (San Antonio, Tex.) fell just short of adding another title to her 2022 Junior Olympic haul with her second place time of 5:13.63, and Tamai King (Jacksonville, Fla.) just missed out on running sub-5:20 as she clocked 5:20.23 for third.
9yo Boys 1,500m: Like in the 8yo divisions earlier in the morning, the 9yo boys division featured another dual between the age group 800m top finishers -- gold medalist Cyprian Reid (Fort Myers, Fla.) and second-place finisher PJ Foxx (Nashville, TN). Reid finished as runner-up in the 1,500m at last year's Junior Olympics, but he came out victorious in 2022 with a winning time of 5:01.73, adding onto his 800m win from Wednesday. Foxx kicked to the finish to earn another runner-up placement in 5:05.11, and Logan Alsobrook (Memphis, Tenn.) snuck up on the two leaders in the final 200m to run 5:07.08 for third.
10yo Girls 1,500m: Adayaleise Trumpower (Mansfield, OH) made her definitive move with two laps to go, surging into the lead to take the win in by over 25 seconds in 4:56.62, mere seconds off of the national record of 4:54.59. Melodi Ashford (Chester, Pa.) led for the first half of the race before Trumpower took over, and she would hold on for second in 5:19.51 just ahead of Liz Brasil's (Cedar Park, Tex.) third-place time of 5:22.36.
10yo Boys 1,500m: He entered the bell lap needing a 1:11 final 400m split to break the national age group record, and Jimmy Ray (Gaffney, S.C.) went after it. Ray ultimately fell just short with his final time of 4:51.94, but he still earned an elusive AAU title with his impressive race. Also chasing after that record over the final lap was Willie McKenney (Fort Lauderdale, Fla.), who made a late push down the homestretch to finish second in 4:53.96.
11yo Girls 1,500m: 800m champion Madisyn Scott (Georgetown, Tex.) successfully completed the Junior Olympic middle distance double by winning the 1,500m in 5:01.11 in a back-and-forth competition with Isabella Daily (Havertown, Pa.). A kick from Scott with half a lap to go proved definitive in her hunt for the title, but Daily still finished second in an impressive 5:06.75.
11yo Boys 1,500m: It was a rematch of the 3,000m dual earlier in the meet between Patricio Pardo (Bethesda, Md.) and Victor Jaimez-Solorio (Apple Valley, Ca.), but this time around, Jaimez-Solorio earned redemption after placing second to Pardo at the longer distance. The two sprinted to the line after running stride-for-stride for most of the race, but a well-timed surge right before the line from Jaimez-Solorio earned him the title in his specialty event in 4:44.38. That made for Jaimez-Solorio's first title of the meet, going along with his two second-place finishes in the 3,000m and 800m. Pardo's time of 4:44.91 earned him the silver to make for a rather successful Junior Olympic campaign that includes the 3,000m title, 1,500m runner-up and fourth in the 800m.
12yo Girls 1,500m: Hazel Vowell (Richmond, Tex.) came out victorious as the distance double champion for the 12yo division, backing up her 3,000m win from earlier in the week with a 4:53.21 time in the 1,500m to win yet another title. Julisa Derry (May Landing, N.J.) also had an impressive showing as she took second place in 4:57.88.
12yo Boys 1,500m: Lucas Amador (Chesterfield, Mo.) opened up a huge lead with 600m to go and never ceased the lead as he raced for gold in 4:32.42 to follow up his 800m silver medal performance on Wednesday. Coming through behind Amador was Jacob Newman (Westlake, Oh.), who had a strong closing lap to comfortably cruise through the line in second place in 4:40.20.
11yo Girls 80mH: Mylan Clay (Harrisburg, N.C.) in the middle of the track took off out of the blocks and easily earned the win in 13.02. Following behind came Kamryn McClellan (Rosharon, Tex.) with a time of 13.34 for third and Jhena Palmer (Clarksburg, MD) in second in 13.69.
11yo Boys 80mH: Chance Fresch (Austin, Tex.) clocked an impressive time of 13.07 to command the race and take the AAU short hurdle title. Also running through the line not too far off the mark were Michael McKenzie (Baton Rouge, La.) in 13.15 and Maison Riddick (Greensboro, N.C.) in 13.28.
12yo Girls 80mH: Brittany Douglas (Columbus, Oh.) clocked 11.93 for the win thanks to an impressive surge over the final three hurdles. Douglas was the only hurdler in the field to dip under 12 seconds, but Eleanor Kazanjian (Portland, Tex.) came close with her second-place time of 12.08, and Ava Fanchi (Tampa, Fla.) snuck up for third in 12.23.
12yo Boys 80mH: Running 12.05 to finish 0.16 seconds ahead of the next fastest competitor, Aiden Opore (Suwanee, Ga.) impressively earned himself an age group AAU title in the short hurdles. The race for second and third developed into a much closer competition as Marvens Pierrelus (Riverview, Fla.) earned the advantage in 12.21 ahead of Kamauriyen Bush (Charlotte, N.C.) in 12.27.
13yo Girls 100mH: 14.37 into a headwind earned Adrianna Haynes (Warner Robins, Ga.) not just the age group championship, but a new national record in the event. Lalia Ukawuba (Naperville, IL) and Kaili Payne (Mebane, N.C.) also ran times under 15 seconds for second and third, with Ukawuba clocking 14.72 and Payne running 14.85.
14yo Girls 100mH: Kyra Swart of Tallahassee, FL ran 14.12 -- a significant 0.38 second personal best -- into a significant -2.4 headwind to complete the 100mH-200mH sweep at the Junior Olympics. Top-seeded Sydney Harris from Odenton, Maryland ran 14.43 for second place.
13yo Boys 100mH: James Hawkins (Philadelphia, Pa.) shot out of the blocks like a rocket, going to the front of the field early and leading the entire way en route to a 14.09 championship win. Running 14.73, Clemson Cj Harrod (Wesley Chapel, Fla.) barely took second over Amari Scott (Decatur, Ga.) in third in 14.78.
14yo Boys 100mH: Zacchaeus Brocks (Novi, Mich.) looked smooth throughout each stage of the race as he hurdled his way to victory in 13.34. Second- and third-place runners Joshua-Kai Smith (Woodbridge, Va.) and Jay'Vier Kerr (Cleveland, Oh.) crossed the line in 13.57 and 13.80.
15-16yo Girls 100mH: Makeriah Harris of Baton Rouge, Louisiana defended her title from 2021 with a 13.82 finish time, just barely edging out young hurdle star Shakayla Lavender who ran step-for-step with the AAU champion until she ever so slightly clipped the last hurdle. Despite the mishap, Lavender held on for second in 13.97, followed by 400mH champion Morgan Roundtree in third in 14.37.
17-18yo Women's 100mH: Out in lane six, Skyye Lee (St. Louis, Mo.) held onto a small lead built in the early phases of the race to clock a winning time of 13.69. Surging over the latter hurdles came Genesis Dixon (St. Louis, Mo.), who also ran under 14 seconds in 13.92 for second place.
15-16yo Boys 110mH: Rocking the speed sunglasses in lane five, Jabari Armstrong (Tampa, Fla.) ran his way to a title in 14.37 ahead of Vederek Matthews (Zachary, La.), who clocked a second-place time of 14.52. Just a tenth of a second behind Matthews was Bradley Franklin (Maylene, Al.) to earn the bronze medal in 14.62.
17-18 Men's 110mH: In a photo-finish race, Jason Holmes-Williamson (Baltimore, Md.) improved upon his US No. 8 time, running 13.59 to win the event just ahead of Abdoul Sy-Savane (Stone Mountain, Ga.), who finished just a hundredth of a second behind in 13.60. Following the leading duo came Holmes-Wiliamson's Ralph Durant Academy (MD) teammate Thomas Smith IV (Windsor Mill, Md.) with his third-place time of 13.77.
14yo Girls Discus: The competition set to take place on Wednesday evening was postponed until Thursday morning, but that didn't phase champion J'Nia Simpson (Tampa, Fla.). Fellow Texas athletes Jayden Kimble (Humble, Tex.) and Logann Edwards (Houston, Tex.) finished 2-3 with marks of 118-08 and 111-06.
13yo Girls Long Jump: Only half of an inch determined first and second place, but Valynsia Calhoun's (Milledgeville, Ga.) 17-2 jump proved the best of the competition to win the AAU long jump crown. Amirah Crabbe's (Philadelphia, Pa.) 17-1.5 mark made for a strong second place, and Triniti Desince (Portsmouth, Va.) leaped 16-11.5 in the third round to claim her bronze medal.
13yo Boys Long Jump: The dominant winning jump of 19-8.75 came in the fourth round from Jamarin Simmons (Tallahassee, Fla.) as no other athlete in the field surpassed the 19-foot measurement. Kevin Copeland's (Sharpsburg, Ga.) best jump of the competition of 18-7.25 garnered the silver medal, and Christopher Rouse (Richmond, Va.) leaped 18-4.25 on his first trip down the runway to take third.
17-18yo Men's Discus: He finished third in the shot put competition, but Kenneth Burgess (Spring, Tex.) bounced back to claim gold in the discus with a throw of 176-1. For second, Andrew Huff (Houston, Tex.) threw 174-3 in the third round, and Wednesday's shot put champion Michael Pinones (Adkins, Tex.) adds a bronze medal to his collection thanks to a mark of 173-7 in the competition.
15-16yo Girls Javelin: Addison Throckmorton (Columbia, Mo.) entered as the top seed in the field and lived up to expectations, throwing 133-4 to win the javelin event. A 125-7 mark from Riley Youens (La Grange, Tex.) in the first round held through the entire competition for second, and Amelia Pantojas (Humble, Tex.) came close to eclipsing 120 feet with her third-place throw of 119-1.
9yo Boys Turbo Javelin: Brayden Welton and Kyrie Miller each threw over 90 feet, but Welton's 90-10 edged out Miller's best mark of 90-3 to sort out the order of the top two podium spots. Ralph Ferguson threw 82-3 to open up his competition, and that first round throw helped him capture the third place medal.
17-18yo Women's High Jump: Alana Simon (Baton Rouge, La.) cleared 5-5 on her second attempt to win the competition ahead Callia Harris (Hollywood, Fl.), Olivia Theisen (Milwaukee, WI) and Kamille Cunningham (Columbia, S.C.) in a three-way tie for second. Harris, Theisen and Cunningham all cleared the bar set at 5-3, and it's rather noteworthy that Theisen's second place mark came out of the first flight as opposed to the fourth and final section that featured the other top finishers.
15-16yo Boys Pole Vault: Competing up as a 14-year-old, Isaiah Whitaker (Bloomington, Ill.) made more than just AAU age group history. His winning clearance of 16-2 not only smashed the previous national record of 15-9.50, but broke the world 14-year-old record to make for one of the best performance's of the Junior Olympics thus far.
12yo Girls High Jump: Isabella Alvarez's 5-1 clearance made for the only mark north of 5-0 in the competition and propelled her to the AAU title win. Kristyona Harris, Ciana Brown and Jordan Whittaker all jumped a height of 4-11, but the young high jumpers earned 2-3-4 in that order on the basis of missed attempts.
15-16yo Girls Long Jump: Kori Randle almost hit 20 feet to take the win in the long jump, marking 19-9.5 en route to the title. Alyssa Jones and Iyanna Webb each hit 18-11.25 and 18-1075, respectively, to finish 2-3.
15-16yo Boys Long Jump: From Tallahassee, FL, Micahi Danzy won by just three-quarters of an inch over James Young (Converse, TX), as both athletes hit the 23-foot mark in the competition. Danzy's 23-0.75 put him ahead of Young in second with a 23-0 mark, followed by Clayton Gary (Bowie, MD) in third, who just fell short of 23 feet with a 22-9.75 bronze medal measurement.
12yo Boys Discus: Michael James Jr. (Woodbridge, VA) took the win by just six inches over Saviean Wilson (Red Oak, TX), throwing 125-1 on his third attempt. Wilson came so close to besting James in the final round with his throw of 124-7, but the huge mark nonetheless still bumped him up into second place ahead of Trace Calhoun (Deer Park, TX)
14yo Girls Javelin: Amber Bowling (Needville, Tex.) bested her personal record by over four feet, throwing 127-3 to win the AAU Junior Olympic title among 14-year-olds. For the silver and bronze medals, Olivia Barr (Arlington, Va.) and Jayden Kimble (Humble, Tex.) threw marks of 123-9 and 115-5, respectively, to earn the remaining top spots on the podium.
9yo Girls Turbo Javelin: Aubree Dunigan (Olathe, Kan.) didn't just break the national age group record in the turbo javelin -- she obliterated it. With a winning mark of 94-11, Dunigan beat the previous record of 86-9 by over eight feet to make for an impressive performance from the 9-year-old. Third-seeded Savannah Davis performed better than her seed position to place second with a 77-10.75 mark.
10yo Boys High Jump: George Johnson III (Odessa, Fla.) claimed the AAU title behind his field-best clearance of 4-9. Jahmaikel McKenzie (Leander, Tex.) fell just a couple inches short of Johnson with his second-place height of 4-7, followed by Aedyn Etheridge (Olathe, Kan.) in third with a 4-5 clearance.
STAT OF THE DAY
4
Number of 1,500m titles Victor Jaimez-Solorio (Apple Valley, CA) has won at the AAU Junior Olympics in the past four years, adding the 11yo boys division championship to his resume on Thursday.
MVP OF THE DAY
Isaiah Whitaker (Bloomington, IL)
Set the 14-year-old boys world record in the pole vault, as well as an AAU national record competing up in the 15-16yo division, with his 16-2 clearance to win the event.
QUOTE OF THE DAY
"I put in more work than my brother does. That's why I'm winning and he's not."
Brittany Douglas, winner of the 12yo girls 80mH, on how hard she trains in comparison to her brother.