2022 Berlin Marathon
What Does Eliud Kipchoge Have In Store For Berlin Marathon?
What Does Eliud Kipchoge Have In Store For Berlin Marathon?
Eliud Kipchoge will toe the line at the Berlin Marathon—the site of his world record— with the expectation of putting on another masterclass.
Sep 20, 2022
by Kevin Sully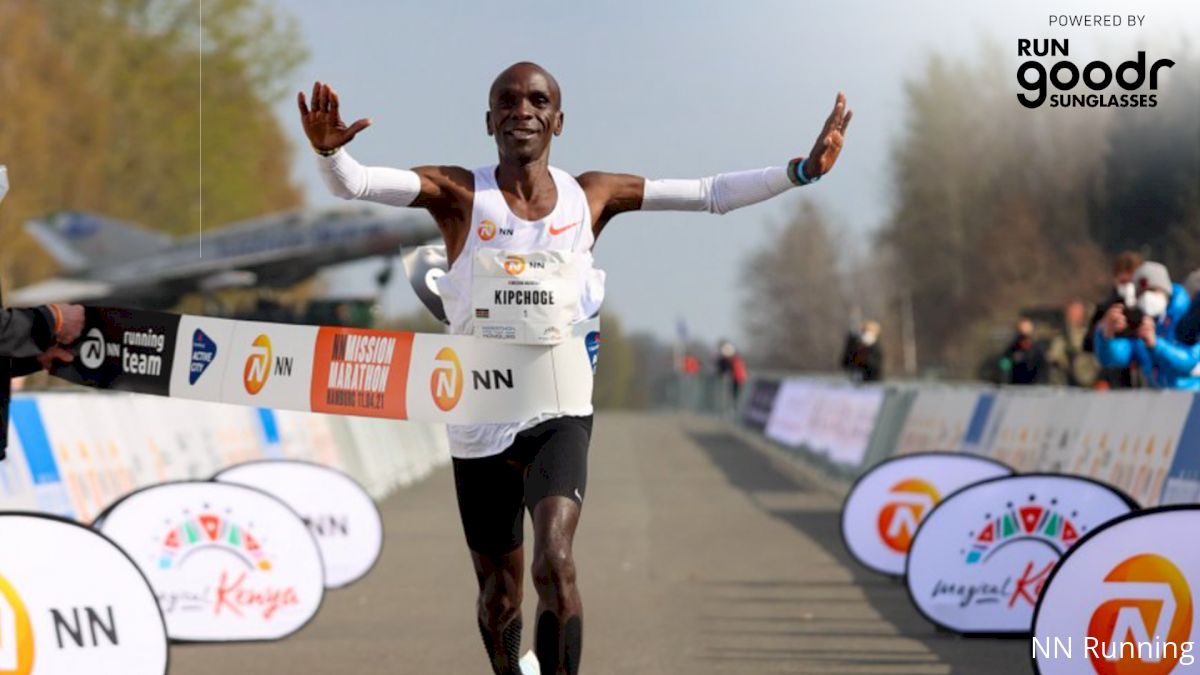 Eliud Kipchoge will toe the line at the Berlin Marathon on Sunday—the site of his world record— with the expectation of putting on another masterclass in distance running.
Kipchoge has been without an equal in his marathon career, not in the current era and not throughout history. His success in Berlin mirrors his dominance as a whole. He's run four times in the capital of Germany. He lost in his first attempt in 2013. After that he won in 2015, 2017 and 2018. The latter he ran in a still-standing world record of 2:01:39.
Watch the 2022 Berlin Marathon Live On FloTrack
In total, Kipchoge has raced 16 marathons in his career (18 if you count his two time trials that produced times of 2:00:25 and 1:59:40), and lost only twice. Once, in the nascent stage of his marathon career in Berlin. The second came in 2020, a strange 8th place finish at the London Marathon.
At the time, there existed a possibility, however slight, that Kipchoge's London performance signaled a decline after seven years of utter domination. But that went quickly by the wayside. Kipchoge has won all three marathons since that day in London, including a defense of his Olympic title and a resounding run of 2:02:40 at the Tokyo Marathon this March. That time was the third best of his career (excluding the two time trials) and made us all realize that we don't actually know where we reside in the lifecycle that is Kipchoge's career.
Certainly we aren't at the beginning (or else save us all) but we may be a ways from the end. Anybody who has watched his career, particularly his second act in the marathon, knows that it can't continue forever, but also can't imagine it ever being over.
Kipchoge's so comprehensively checked-off items on his running bucket list—records, medals, win streaks, mythical barriers—that running fans have to reach for what could possibly be next.
There's a definite appetite to see him race in New York and Boston, a sentiment that Kipchoge has shared when asked. Over the past year, where he chooses to run his next race has garnered more attention that how fast he can run. Perhaps that's because there's a belief that his marks won't budge, not at 37-years-old and not when they look like they could hold up for many years.
His times from the two time trials are safe. Forget the numbers 1:59 and 2:00 themselves, it seems unlikely another company will dole out the money to have the second man break two hours in marathon. Kipchoge's 2:01:39 was unexpectedly threatened in the 2019 Berlin Marathon by Kenenisa Bekele who ran just two seconds slower. Bekele, himself a generational talent, is now in the twilight of career though and the next person to chase that mark hasn't announced themselves.
For Sunday, Kipchoge has only said that "I'm thinking of running a very good race." Very good for Kipchoge is of course VERY GOOD. He proved in the spring that he hasn't slipped at all. Berlin is obviously very fast and the experience of his three victories (and one runner-up) means everything has to be on the table.
Competition in the Kipchoge era has usually meant the ultimate race for second. But he will meet one man in Berlin who has given him a honest race in the past.
Guye Adola led Kipchoge in the final two miles at the 2017 Berlin Marathon. Kipchoge finally asserted himself and Adola finished 14 seconds behind Kipchoge in what has to be considered one of the greatest moral victory of all-time. Adola's time that day, 2:03:46, is still his personal best and he has struggled with consistency the last five years.
Last year in Berlin he found his form again. Adola ran 2:05:45 to get the win, his first of his career. Sunday he will get another shot at Kipchoge in an attempt to defend his title.
The men's field features three other men with personal bests under 2:06—Ghirmay Ghebreslassie, Dejene Debela and Mark Korir. Ghebreslassie has the best credentials of the three and he appears to be recapturing the form that took him to major marathon victories in 2015 and 2016. After winning the 2015 World Championships and 2016 New York City Marathon, Ghebreslassie had a string of underperformance and DNFS. But earlier this year he ran 2:05:34 to take third at the Seville Marathon.