2022 Berlin Marathon
Can Keira D'Amato Make More History In Berlin?
Can Keira D'Amato Make More History In Berlin?
On Sunday at the Berlin Marathon, Keira D'Amato has the opportunity to take another step forward in her improbable success story.
Sep 22, 2022
by Kevin Sully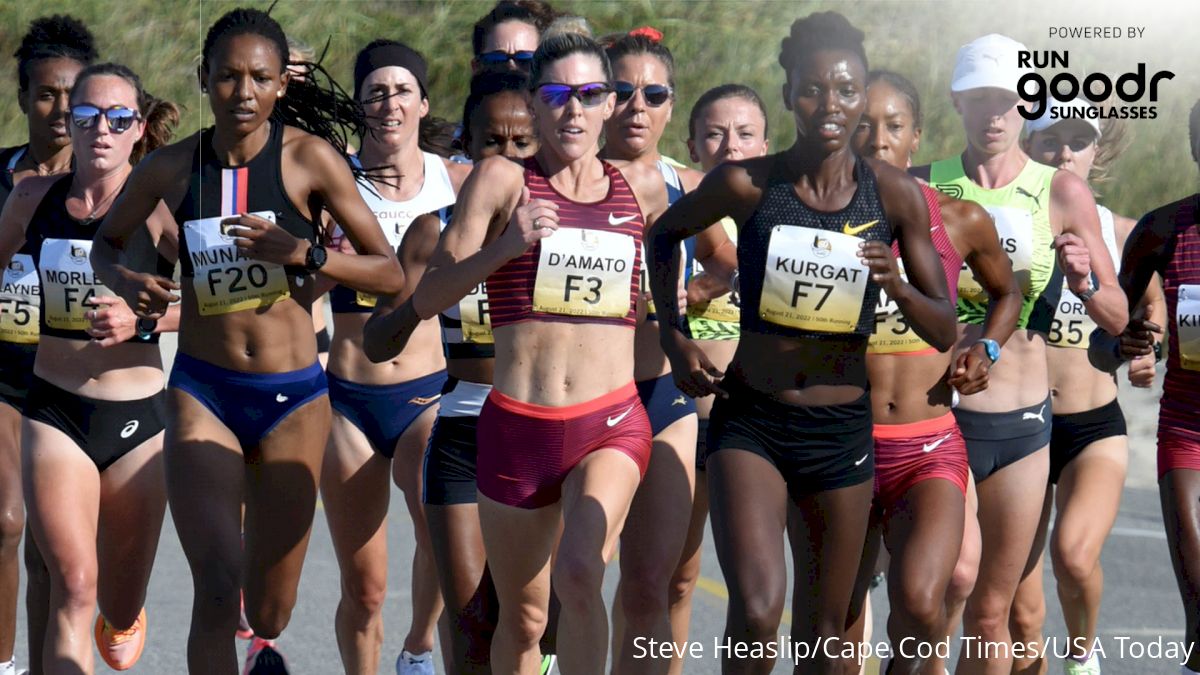 On Sunday, Keira D'Amato has the opportunity to take another step forward in her improbable success story. The 37-year-old American, who was away from high-level running for nearly a decade, could become the first American woman in history to win the Berlin Marathon. Since she returned to elite running, D'Amato has rapidly moved up the ranks—from outside contender to American record holder.
In retrospect, Berlin was the site of the first clue that D'Amato's comeback might actually amount to something significant. In 2019, she ran 2:34:55 and placed 17th. It's a long way from where she is today, but it marked a significant improvement from where she was in the early stages of her return after not competing from 2009-2016.
After that race in Berlin, the improvement curve has been steep. First at shorter distances like the 5000m and 10,000m, then in the marathon. The defining moment (or the defining moment so far) came in January's Houston Marathon when she broke the American record, winning in 2:19:12.
Watch the 2022 Berlin Marathon Live On FloTrack
Now, she has a chance to go even further—not just improving on her record run on Berlin's fast course, but by winning a major marathon. Yes an American woman hasn't won in Berlin, but there's been few winners in any major marathon from the United States.
Since 2000, only Deena Kastor, Shalane Flanagan and Desiree Linden have won a World Marathon Majors race (Kastor's career partially predated the WMM title so for the purposes of this stat we are using Berlin, Tokyo, Chicago, London, New York, Boston, World Championships and Olympics). There's been plenty of podium finishes, but only those three have pulled out a victory.
D'Amato is a favorite to become the fourth on Sunday. This summer she's was called in as a last minute alternate for the World Championships after Molly Seidel had to withdrawal. The short build-up impacted D'Amato, but she still acquitted herself well-placing eighth in 2:23:34. Her tune-up race for Berlin when about as well as possible when she won the US 20K Championships in 1:04:29. The opportunity is there for D'Amato, both for the fast time and the major marathon victory.
While no other woman in the field has a personal best under 2:20, there are several runners with quite a bit of experience. Guteni Shone Imana has the next fastest personal best in the field, a 2:20:11 from Dubaii in 2020. She's run 17 marathons in her career, but this will be her first World Marathon Major.
Maurine Chepkemoi has run well in her last two marathons, winning the Enschede Marathon in 2:21:10 in 2022 and placing second in Amsterdam in 2021 with a time of 2:20:18.
Worknesh Edesa also ran under 2:21 when she placed sixth in 2020 at the lightning fast Valenica Marathon in 2:20:24. She has major marathon experience after taking seventh in Boston in 2021. Sisay Tola is coming off a career best performance. In February at the Seville Marathon, Gola ran 2:20:50 to place second. Vivian Chepkirui, the only other woman who has run sub 2:21 in the field, has raced just two marathons, both in Vienna. Both were wins, including a victory in 2:20:59 this April.
D'Amato's best competition may come from someone making their debut. Rosemary Wanjiru will test herself in a marathon for the first time after putting out several fantastic performances at shorter distances. Wanjiru has a lifetime best of 1:05:34 in the half marathon and placed 10th at the World Half Marathon Championships in 2020. She placed fourth in the 10,000m at the 2019 World Athletics Championships and has a road 10K personal best of 29:50.