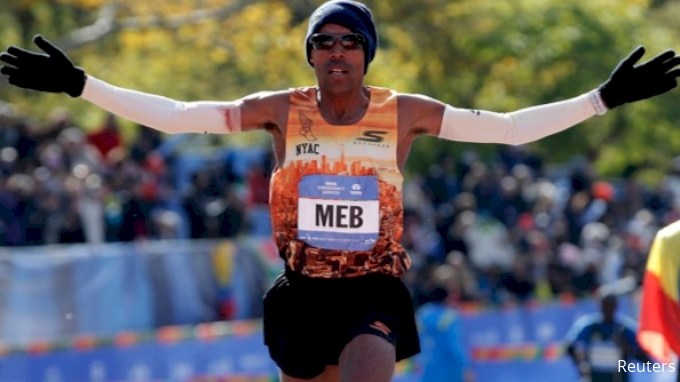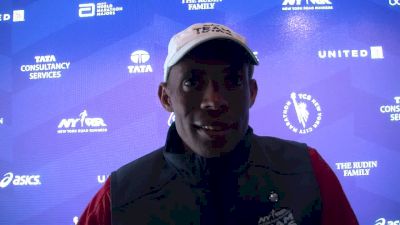 Meb Keflezighi gave Molly Huddle advice for her NYC Marathon debut
Nov 3, 2016
​Transcript by ASAP Sports

Q. You're not racing this year, but you're here supporting the race?
MEB KEFLEZIGHI: It's great to be back always in the New York City Marathon. I'm honored here as the Grand Marshal and honored on the New York Road Runners night of champions tomorrow night. I'm going to meet up with my sponsors, and ambassador for Team for Kids, which is part of my heart, and working with the Meb Foundation to encourage and empower youths. To be here in the city always inspires me. I want to be here and do good things.

Q. Obviously, this city is extremely special to you. Eight Top Ten finishes, a win in 2009. I guess just talk about how special New York is to you.
MEB KEFLEZIGHI: New York is pretty special to me. It's a home away from home. I came here and did the 8K, won the 8K here. I won the inaugural half marathon. I did my first marathon here. Then to win the marathon in 2009, first American in 27 years, was a big deal. I didn't go to Beijing because of injury, but I couldn't wait four years for my dream to become a reality. I made my won Olympic in 2009 in the New York City Marathon, and it was a magical moment for me.

Q. This year Molly Huddle is obviously making her debut, and she said she got some advice from you at the White House when you guys went as the Olympic team.
MEB KEFLEZIGHI: Yeah.

Q. What did you tell her?
MEB KEFLEZIGHI: Well, I just tried to share my information. Talking about training and how to stay motivated. What I tell her is this is your kind of course. Just be patient, stay healthy, and put in the miles. Do it smart and be 90 percent healthy and not overdo it. I just told her what the weather is going to be a few weeks ago. I told her what I know and where I made mistakes so she doesn't have to make the same mistakes.

I'm so excited for her because she's done amazing things. 5K, 10K, half marathon. I've been personally waiting to see what she's going to do. I've taken a personal interest in her. She can run with anybody, I think, middle of the pack or at the front. She's a natural, and I'll be interested to see how she does.

Q. What do you think she's capable of? Time-wise, place-wise.
MEB KEFLEZIGHI: When you come to the New York City Marathon, you don't worry about time. You just try to compete. I was so excited when Shalane came in second on her debut. It's been a while since someone has won on their debut. Now Molly on her debut, I wouldn't be surprised if she can pull it off. She can be competitive out there. No matter what she does, it's going to be exciting. Myself and many other people are excited to see what she's going to do. I think she's going to do really well. She's healthy, and she's been training.

Q. What do you think about the men's field this year?
MEB KEFLEZIGHI: The men's field is pretty strong. It's not as strong as the women's field, but at the same time, it's very exciting to see the Americans that are there. It's a very good field on the American side. Dathan's been running really well. It kind of reminds me of 2008 in the Olympics, and he looked like he belonged at the Olympics with the leaders and compete on the world stage. I'm excited for him. I hope he does really well. And all the Americans. It's just he seems to be hot right now with the 10K that he ran and the green north half marathon. I'm excited for him as well .

Q. The great north run, in particular, I guess I talked to him after, and he was really surprised that he was able to come that close to his half marathon time.
MEB KEFLEZIGHI: It comes when you least expect it. Sometimes you surprise yourself when you least expect it. You thought it wasn't going to happen. This was my fourth marathon. It's not about -- when you've invested 15 years, 20 years of your life, you just have to invest in training really well and staying healthy. I think that's what he did. To run that one hour and get a bronze medal. 2:07 already he had done, and now he's got to go for the title.

Q. Predict your winners for the men's race and women's race. Who would you pick?
MEB KEFLEZIGHI: Racing is racing. I can't pick that person. It's hard to pick one single person. I don't know the trainers. Like Dathan ran phenomenal. He finished that race in the Olympics games. And Lelisa. Other people are competitors. At the same time, if they tell me the training, marathon is about how are you going to do? You have to know the training and the details. I don't know any of it. It's hard for me to pick the man and woman. I hope they do well, and may the best man and woman win on Sunday. That's what I try to do when I'm competing.

Q. How does it feel to be the Grand Marshal of the marathon this year?
MEB KEFLEZIGHI: It's great to be back in New York as the Grand Marshal and ambassador for Team for Kids. Looking forward to being a Grand Marshal. I never got that honor before. This is my third year as a team ambassador for Team for Kids. I wanted to run the marathon. But now it's my turn -- maybe they're trying to recruit me one more time, I don't know.

Q. Do you ever want to run this again?
MEB KEFLEZIGHI: Would I like to run the New York City Marathon? Absolutely, I'd love to do it. It's exciting for me. I have great memories here. Eight out of ten times, I've been in the top ten. I always enjoy the challenge. The people, the crowd -- this is an amazing city.

Q. Now that you're kind of the team captain for kids, how do you enjoy doing that with the kids here in New York?
MEB KEFLEZIGHI: Being an ambassador for Team for Kids is awesome. I started my foundation and raise money for the New York Road Runners Team for Kids. It's awesome to share with them, whether it's diet or exercise or stretching or things like that, it's fun. They want to know. It's a great foundation for healthy living and trying to be active.

Q. Any future plans to run New York again or New York City half or any of these other races? What's kind of your next race? Is I know you're not going to retire quite yet.
MEB KEFLEZIGHI: I'm going to retire hopefully soon, but I'm trying to do 26 marathons. I've done 24 of them. I want to do 26 competitive marathons. Trying to figure out the details for which ones I want to do. So I'm just excited -- I'm on mile 24. I've got two more miles to go. Trying to figure out what pace to go at it.

Q. How have you been enjoying all this post-Olympic celebration? I saw in Georgetown then at the White House. What else has been going on?
MEB KEFLEZIGHI: It's been great to be able to celebrate after Rio. I've been doing a lot of appearances. I haven't had a vacation yet by any means. I'm just enjoying my kids, going to school. A lot of appearances and traveling a lot. I've been following runners for the first time in a long time, and I love interacting them and trying to encourage them.