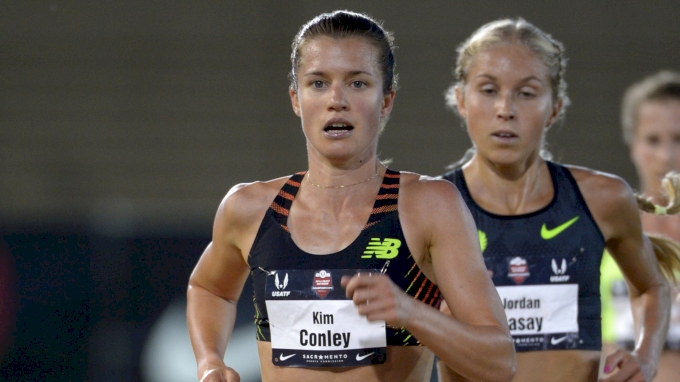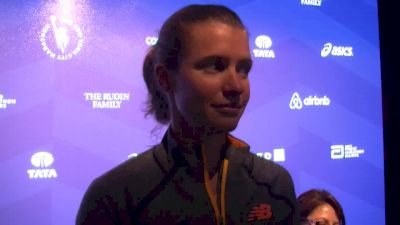 Kim Conley says marathon has been years in the making
Nov 3, 2016
Transcript by ASAP Sports

Q. A couple days before your marathon debut. How are you feeling going into this week?
KIM CONLEY: I'm feeling really good. I absolutely love the training. So I'm excited. The race is an unknown for me. Longer than I've ever run before. I'm just excited to see what's in store and see where this kind of leads into the future.

Q. You were here in September. You ran the Bronx ten-miler. What did you think about all the intricacies of the course.
KIM CONLEY: That was a great opportunity for me to come to New York. I ran everything but the first eight miles of the course. Gathered a lot of intel that I took home and tried to find places at home to run that kind of simulated the texture of the course.

It's a great course. I don't feel like there's any place where you can really settle. You have to be alert throughout. I think that's a good course for me. I'm excited to go and stay really engaged and see what happens in the last 10K.

Q. What's been your toughest workout gearing up for this?
KIM CONLEY: That's a good question. I would say I did a half marathon steady state at a marathon pace, trying to really lock into like a marathon rhythm, and that was hard. Actually, the workout, it was like two weeks later, that went way better was at Fartlek where I ended up going way better at the same average pace.

I hope that means kind of a course where you don't lock into a rhythm the whole time may be a little better suited to me. We'll see.

Q. Some of the runners from a very early age, they say I know I'm destined for the marathon. Was that you? At what point did you know that you really wanted to tackle a marathon?
KIM CONLEY: I hesitate to fully answer that until I've raced. I know that the race is going to be a new ball game. The marathon has been something that I've been planning on for years, since before I made the Olympic team, since before I had New Balance as a sponsor, kind of early in my career, I was eyeing the marathon as something I really wanted to do.

It's actually because I started to have more success on the track that I pushed off the debut, and it hasn't happened until now in 2016.

Things like fueling on long runs, I've been doing that for the last six years. It's just kind of part of the training that I'm already doing, and I really thrive on strength-based training anyway. I've always been kind of focused on my track goals, but were a long-term goal of making my marathon debut.

Q. Has there been any specific advice that you've really taken to heart? Oftentimes debut runners say anybody and everybody is giving them advice leading up to the race.
KIM CONELY: That's true. I think it helped to pick the brains of some other professional marathoners. Amy Hastings is a good friend of mine. It was comforting to know that I could just text her any time I was having a doubt about anything. She was really nice about it, saying like it's okay to be nervous. You just trust the work you've been doing. Everything I've been doing is good. That's really helpful.

And I think -- I would say kind of the most important thing for me has been figuring out what's going to work for me. Because there's a lot more information out there on how to train for a marathon compared to the track really, maybe because more masses participate in marathons, there was a little bit -- it was easier to kind of look and see what other people were doing. What I realized at a certain point is that isn't necessarily the right path. It's going to be part of the process for me, as I complete this marathon and then look ahead to future buildup, it's going to be about learning what the right path for me is.

Q. How do you balance -- you obviously competed on the track this summer in Rio. How did you balance training for the track and then doing this? Talk about the training balance there.
KIM CONLEY: My training is typically strength based anyway for a track season. I'd done a 20-mile long run in May, which wasn't longer than I would normally do. It was as long as I would go. I've never done more than 20 miles before the marathon buildup. So I kind of had that foundation in me during the track season. Otherwise, I was completely focused on the track and going to Rio, obviously.

Then once I got home from Rio, then we just switched gears into marathon training, and I had a lot of weeks to feel comfortable with that amount of time.

Q. What would you be most happy with on Sunday?
KIM CONLEY: I would hope to be under 2:30. A lot of it has to do with conditions and how the race plays out. I watched a lot of previous New York footage, and there are years where it just goes out really slowly.

So we'll just see. I'm certainly not going to force a pace at all. I'm going to just kind of like ride the race and see how that goes. But, yeah, like I said up on stage, I really just want to finish well and have a good experience and feel excited about it.