2023 TCS London Marathon
Sifan Hassan To Make Marathon Debut In London
Sifan Hassan To Make Marathon Debut In London
Sifan Hassan, the double Olympic champion who has made a career out of her bold racing plans and remarkable range, will run the 2023 London Marathon.
Feb 2, 2023
by FloTrack Staff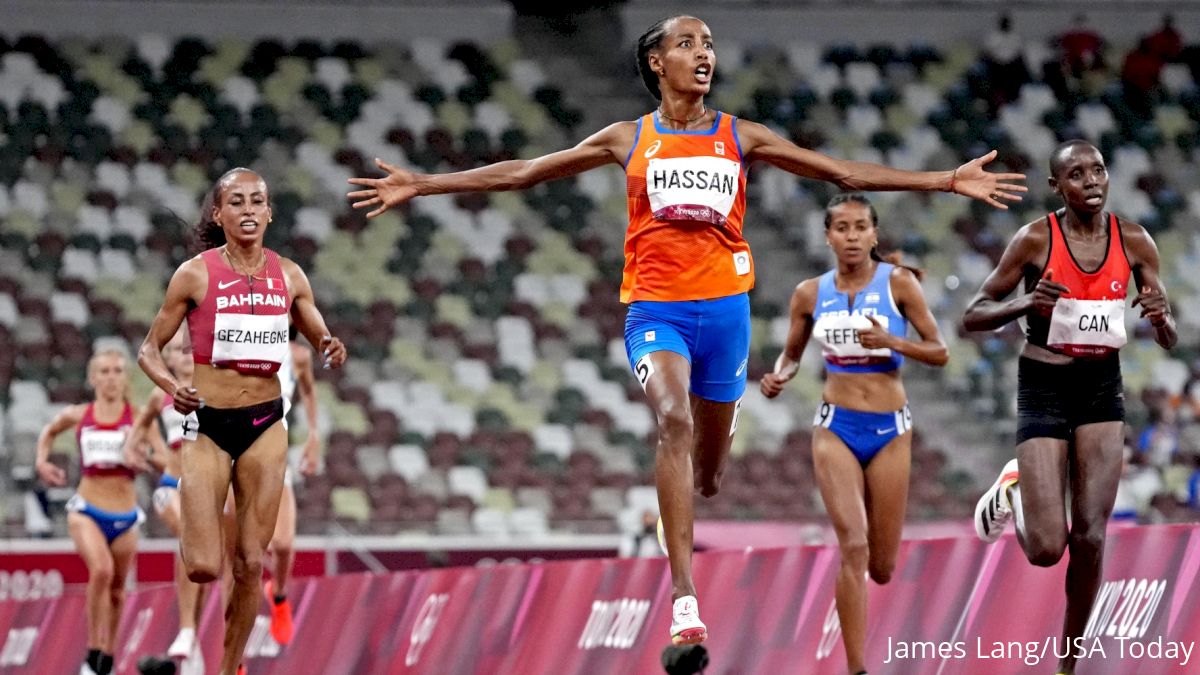 Sifan Hassan will put her legendary range to the test when she makes her marathon debut in London on April 23rd. Hassan has won global titles in the 1500m, 5000m and 10,000m and has already proven her world class ability in the distances from the 800m (1:56) to the half marathon (1:05:15).
At the Tokyo Olympics, she attempted a historic 1500m, 5000m, and 10,000m triple and came away with gold medals in the 5000m and 10,000m and a bronze medal in the 1500m. In 2019, Hassan became the first athlete in history to win the 1500m and 10,000m at the same World Athletics Championships.
"Excited to announce I will test myself over the marathon distance at the @londonmarathon this year!" Hassan posted on Instagram.
"It doesn't mean I move to the road, I will continue my career on the track. However, I want to see what I can do on the marathon distance, to make future decisions. We'll see if I will finish the distance or if the distance will finish me."
But the London Marathon will be a new challenge for Hassan, both in terms of the distance and the quality of competitors that will share the start line with her. The field includes five women who have run under 2:18 and five other who have bettered 2:19.
WATCH THE 2023 TCS LONDON MARATHON LIVE ON FLOTRACK
Here's a list of some of the top entrants for the 2023 London Marathon:
Brigid Kosgei, Kenya: 2:14:04, world record holder; 2019/2020 London Marathon champion, 2022 Tokyo Marathon champion
Tigist Assefa, Ethiopia: 2:15:37; 2022 Berlin Marathon champion
Peres Jepchirchir, Kenya: 2:17:16; 2022 Boston Marathon Champion, Tokyo Olympic Marathon champion, 2021 New York City Marathon champion
Almaz Ayana, Ethiopia: 2:17:20; 2022 Amsterdam Marathon champion, 2016 Olympic champion in 10,000m
Yalemzerf Yehualaw, Ethiopia: 2:17:23; 2022 London Marathon champion, #2 all-time in half marathon
Genzebe Dibaba, Ethiopia: 2:18:05; world record holder in 1500m, 2015 world champion in 1500m, second in 2022 Amsterdam Marathon
Sutume Asefa Kebede, Ethiopia: 2:18:12; eighth in 2022 London Marathon
Judith Jeptum Korir, Kenya: 2:18:20; Silver medal at 2022 World Championships, fourth in 2022 London Marathon
Emily Sisson, USA: 2:18:29; American record holder in marathon and half marathon
Alemu Megertu, Ethiopia: 2:18:32; third in 2022 London Marathon
Keira D'Amato, USA: 2:19:12; #2 US all-time
Eilish McColgan, GBR: debut in marathon, 2022 Commonwealth Games champion (10,000)