2023 DI NCAA Outdoor Championships
Last Throw Heroics Give Jordan Geist Of Arizona NCAA Outdoor Shot Put Title
Last Throw Heroics Give Jordan Geist Of Arizona NCAA Outdoor Shot Put Title
Jordan Geist of Arizona bounced back from a third-place finish in the hammer to win the men's shot put title on his final throw at the NCAA Championships.
Jun 8, 2023
by Joe Battaglia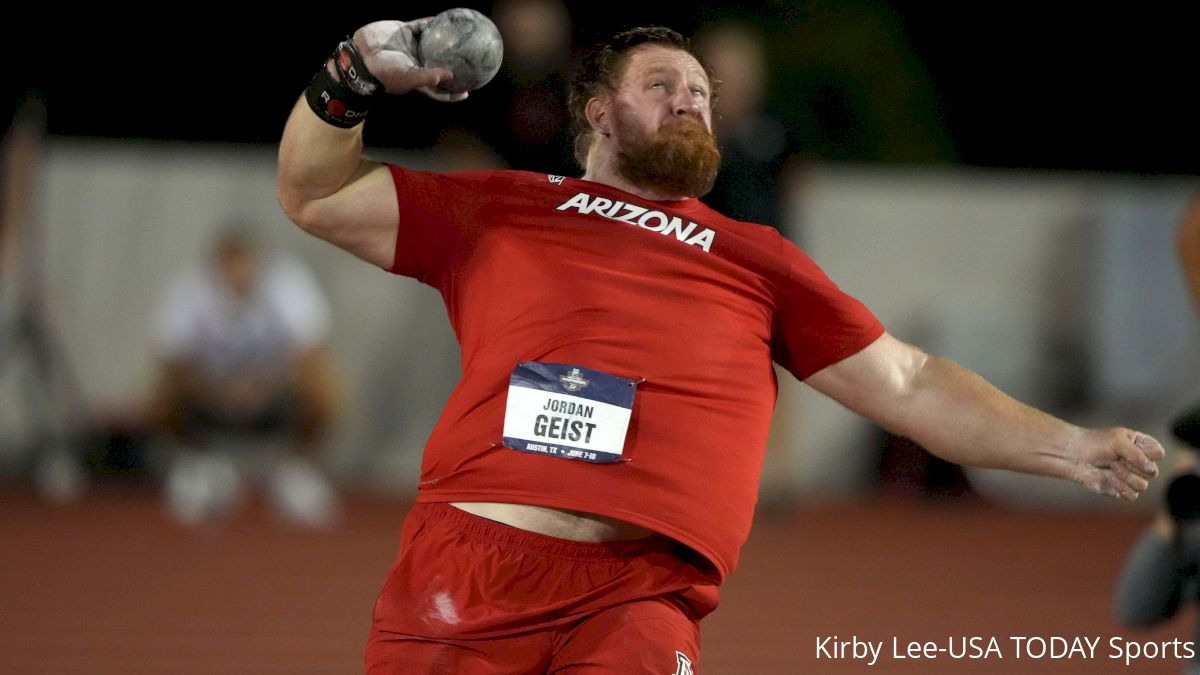 AUSTIN -- In his first event of the day, Jordan Geist was unable to improve on his early leading throw in the hammer and surrendered the lead.
The Arizona senior flipped the script in the men's shot put, launching the orb 21.06m/69-1.25 on his final throw to capture his first NCAA Outdoor Track & Field championship at Mike A. Myers Stadium.
The victory enabled Geist, who wound up third in the men's hammer earlier, to add an outdoor shot put title to the indoor crown he won in March.
"You know what you're working on every day," Geist said. "So it's just about doing that during the meet with the adrenaline flowing and just trying to execute when it matters."
Subscribe FloTrack For More NCAA Track and Field coverage
2023 NCAA Track & Field Championships Live Updates
𝐉𝐎𝐑𝐃𝐀𝐍. 𝐆𝐄𝐈𝐒𝐓. #NCAATF x @ArizonaTrack pic.twitter.com/BKA4MAuFZb

— NCAA Track & Field (@NCAATrackField) June 8, 2023
Geist sat in second place behind Nebraska's Max Otterdahl (20.52m/67-4) heading into the finals having thrown 20.42m/67-0 in the third round. And just like the hammer throw played out, a new leader emerged in Round 4 when eventual runner-up Turner Washington of Arizona State, the 2021 NCAA champion, uncorked his best throw of the day, 21.04m/69-0.5.
Geist threw 20.70m/67-11 on his fourth throw to remain in second place, but fouled his fifth throw and made no further gains on Washington. But down to the final throw of his career, the Pennsylvania product stepped into the circle and made it count.
"Pretty slow start in the competition, but I was able to build throughout, and on the last one, finally get one that was decent enough to take the lead," Geist said. "It feels great."
Geist said that attempting a throws double on a warm Texas day -- the temperature hit 90 degrees during the competition -- was something that he had plenty of preparation for training and competing regularly in Arizona.
"Yes, we did a lot of preparation for that," he said. "We did many double sessions in the day. We can't prepare for the humidity, but we have plenty heat in Tucson."
In the final round, Fred Moudani Likibi of Cincinnati let fly with a throw of 20.54m/67-4.75 to slide just ahead of Otterdahl for the bronze finish.