2023 DI NCAA Outdoor Championships
Stephanie Ratcliffe Wins Women's Hammer, Gives Harvard Sweep At NCAA Champs
Stephanie Ratcliffe Wins Women's Hammer, Gives Harvard Sweep At NCAA Champs
Harvard's Stephanie Ratcliffe won the women's hammer a day after teammate Kenneth Ikeji took the men's crown at the NCAA Outdoor Track & Field Championships
Jun 9, 2023
by Joe Battaglia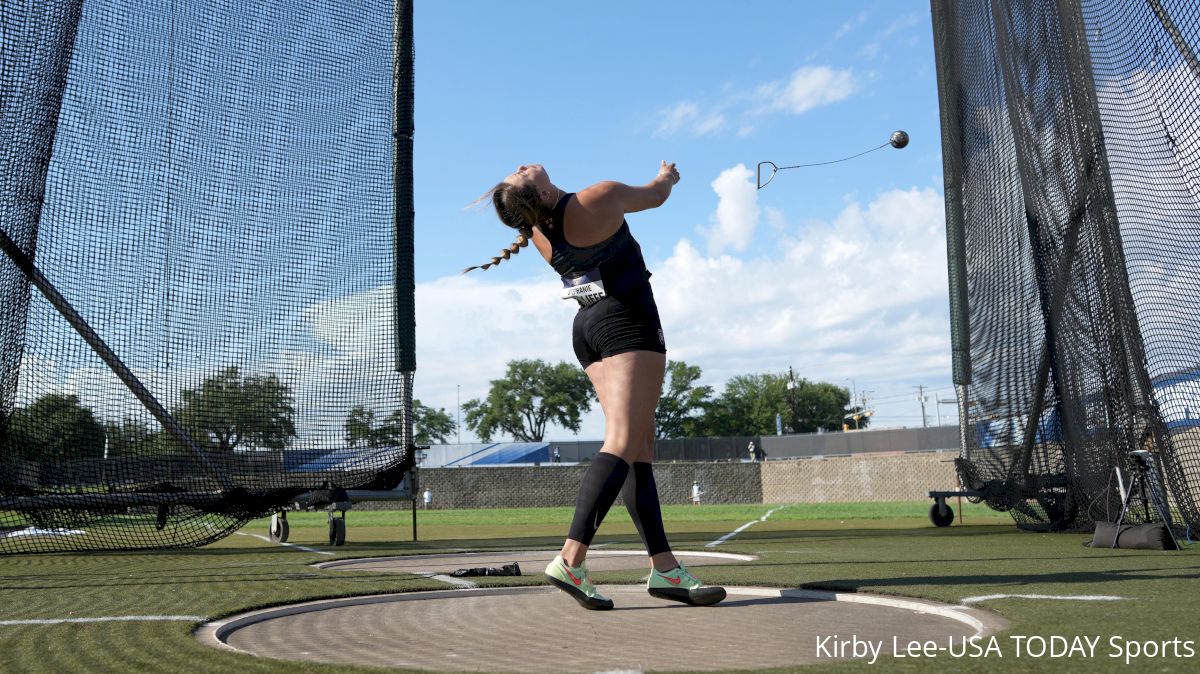 AUSTIN -- Just call Harvard Hammer U.
Stephanie Ratcliffe muscled out the leading throw of 73.63m/241-7 in the first round, establishing a new personal-best and collegiate leader to win her school's second title in the event in as many days at the NCAA Outdoor Track & Field Championships at Mike A. Myers Stadium.
On Wednesday, Kenneth Ikeji won the men's hammer throw title on his final throw.
It's hammer time in Cambridge for Kenneth Ikeji and Stephanie Ratcliffe 🏆

A men's and women's sweep for @HarvardTFXC #NCAATF pic.twitter.com/nZjB302Gxx

— NCAA Track & Field (@NCAATrackField) June 9, 2023
"It felt really good," Ratcliffe said of her winning throw. "Honestly, my goal is just to get a decent throw that'll make it to the finals. That's usually my strategy. So, it's exciting to be able to get it really far on that first throw, and I did a pretty good job of not getting too excited. I just tried to stay calm and try to push up."
Ratcliffe become Harvard's fourth NCAA women's champion, joining Meredith Rainey in the 800m (1989), Brenda Taylor in the 400m hurdles (2001) and Dora Gyorffy in the high jump (2001).
Subscribe FloTrack For More NCAA Track and Field coverage
2023 NCAA Track & Field Championships Live Updates
Stephanie Ratcliffe tossed a 73.63m (241-7) PR on her first throw of the hammer competition to become the first individual champion of 2023 on the Women's side!

💻 ESPN+ #NCAATF x @HarvardTFXC pic.twitter.com/kYcZYJEwXr

— NCAA Track & Field (@NCAATrackField) June 9, 2023
That Ratcliffe wound up on top in this competition was not totally unexpected. The sophomore entered the meet having turned in a record-setting performance at the NCAA East Preliminary, where she set new Harvard and Ivy League records by three meters with her throw of 73.11m/239-10, a mark which also set an Australian National record and the facility record. She completed her season undefeated.
"I think it's really exciting, especially since I haven't had that much experience with hammer throwing back home in Australia," Ratcliffe said. "There are only like a few high-level meets, so it's really exciting to get to have more opportunities to compete against higher quality athletes. I guess when the standard rises, I rise to the occasion, and that's the most exciting part. So, I was very excited for this week just have other athletes watch me and just see what I can do."
She has now improved on both of those marks and also now ranks as the fifth-best thrower on the collegiate all-time list.
All of the top marks among the top four finishers were logged in the first round.
Madi Malone of Auburn threw 72.37m/237-5 to finish second. She was the closest to inching closer to Ratcliffe in the later rounds, equalling her opening mark on her final throw.
Madi 🥺🥺

💻 ESPN+#NCAATF x @AuburnTFXC pic.twitter.com/6hVG44AsG6

— NCAA Track & Field (@NCAATrackField) June 9, 2023
Anna Purchase of Cal finished third at 71.47m/234-5 while Emma Robbins of Kansas State took fourth at 69.89m/229-3.