2023 World Athletics Championships
2023 World Athletics Championships Medal Count
2023 World Athletics Championships Medal Count
2023 World Athletics Championship Medal Count. See the final medal count from Budapest, where over 2,000 world-class athletes competed for gold.
Aug 28, 2023
by Alexis Vasquez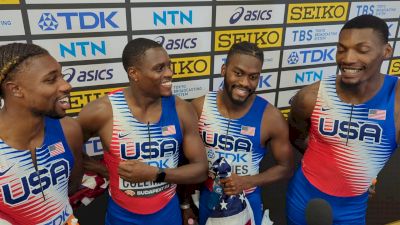 The World Athletics Championships ran from Aug. 19-27, and informally served as a preview for the 2024 Paris Olympic Games.
More than 2,000 of the world's best athletes competed in Budapest, Hungary. In 49 track and field events, medals were awarded to the best performers. Team USA finished the championship with an overall count of 29 medals which gave them 277 points for their team.
World Track And Field Championships 2023 Schedule
How To Watch The World Athletics Championships
How Many Medals Did Team USA Win At The 2023 World Athletic Championships?
Track stars like Sha'Carri Richardson and Noah Lyles helped Team USA add to their overall gold medal count.
Team USA also broke records, like former University of Iowa thrower, Laulauga Tausaga, who became the United State's first women's discus gold medalist winner.
With the conclusion of the thrilling championships, the United States dominated the competition, finishing with 12 gold medals, 8 silver, and 9 bronze. Team USA brought home 29 medals.
What Was The Final Medal Count At The World Athletics Championships?
Gold:
USA: 12
Canada: 4
Spain: 4
Jamaica: 3
Great Britain: 2
Ethiopia: 2
Italy: 1
Kenya: 3
Norway: 2
Netherlands: 2
Australia: 1
Sweden: 2
Greece: 1
Japan: 1
Burkina Faso: 1
Dominican Republic: 1
Morocco: 1
India: 1
Serbia: 1
Uganda: 2
Venezuela: 1
Silver:
USA: 8
Canada: 2
Spain: 1
Jamaica: 5
Great Britain: 3
Ethiopia: 4
Poland: 2
Netherlands: 1
Puerto Rico: 1
Slovenia: 1
Italy: 2
Cuba: 1
Ukraine: 1
Kenya: 3
Columbia: 1
Ecuador: 1
British Virgin Island: 1
Peru: 1
Philippines: 1
Norway: 1
Australia: 2
Sweden: 1
Botswana: 1
Bronze:
USA: 9
Jamaica: 4
Great Britain: 5
China: 2
Barbados: 1
Ethiopia: 3
Italy: 1
Netherlands: 2
Kenya: 4
Norway: 1
Czech Republic: 2
Finland: 1
Grenada: 1
Hungary: 1
Lithuania: 1
Qatar: 1
Romania: 1
Australia: 3
Cuba: 2
Ukraine: 1
Botswana: 1
Brazil: 1
Greece: 1
Japan: 1
Morocco: 1