Josh Kerr, Jemma Reekie Make For Scottish Sweep At Fifth Avenue Mile
Josh Kerr, Jemma Reekie Make For Scottish Sweep At Fifth Avenue Mile
For the 3rd consecutive year athletes from Scotland, Josh Kerr and Jemma Reekie, won the men's and women's professional divisions of the Fifth Avenue Mile.
Sep 10, 2023
by David Monti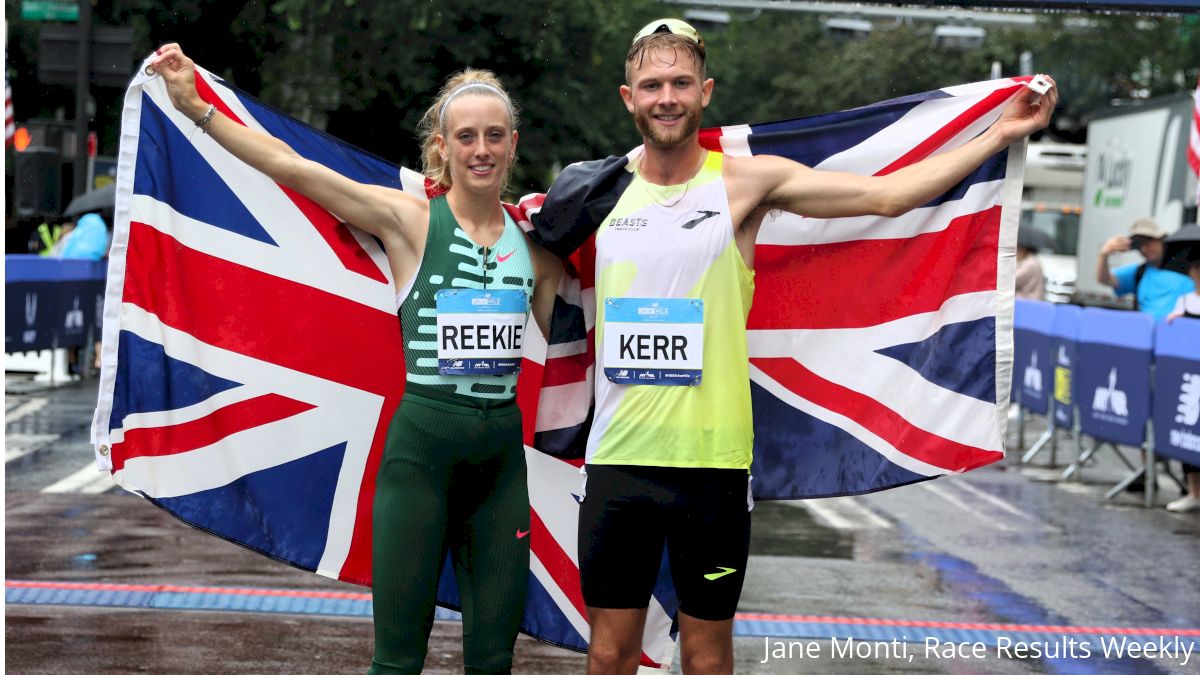 NEW YORK -- For the third consecutive year athletes from Scotland won the men's and women's professional divisions of the New Balance Fifth Avenue Mile, held here for the 42nd time. On the men's side reigning World Athletics 1500m champion Josh Kerr closed his dream 2023 season with a convincing two-second victory, running the fastest winning time at this event in 28 years: 3:47.9. Reekie, who finished fifth in the recent World Athletics Championships 800m, won for the second time in three years in a more tactical race, clocking 4:19.4. Both winners splashed their way to victory as the race was held on a wet roadway after several heavy downpours.
KERR OVERPOWERS FIELD
Kerr, 25, who represents the Brooks Beasts Track Club, made it clear before the race that he had unfinished business on Fifth Avenue. In last year's race, he slipped and fell on the wet roadway at the start and only finished tenth. Today he got away cleanly and positioned himself near the front right away. He said that he and Beasts teammate Henry Wynne --who finished tenth-- were outfitted with the right Brooks racing shoes for maximum grip in the wet.
"We were just sticking to the road all the way through," Kerr told reporters with his shoes hanging around his neck.
As a steady rain came down, the race began to take shape. Amon Kemboi of Puma Elite Running made a little burst at the mid-point to collect the $1000 prime, but immediately eased up (he would finish 11th). The main field stayed together with Kerr at the front along with fellow Briton George Mills --running the race for the first time-- and American veteran Johnny Gregorek. Kerr, who decided not to continue to the Wanda Diamond League final next weekend in Eugene, admitted that he came to today's race mentally and physically tired after the media whirlwind which followed his victory in Budapest where he beat Norway's Jakob Ingebrigtsen.
"It's been a lot every day," Kerr explained. "Obviously, very new to me to win a major (title). So, it's been a lot of media every day and it's been, like, mentally draining and tiring. You know, I committed to this race and I really wanted to do it, and I'm just mentally very tired."
Still, he had plenty of physical energy in the tank today. When Mills pushed after the three-quarter mile mark, Kerr responded with authority. Although he looked back a few times, he easily left the other 18 men in his wake to take his first Fifth Avenue win, his fourth victory of the year from 800m to 3000m.
"It's a very different effort to run a mile down the street (in) flats versus running around the oval in spikes," Kerr said. "I've got to give respect to how the body's feeling and I was able to come out on top today."
Mills, 24, who ran a 3:49.64 mile in Pfungstadt, Germany, just four days ago, ran an excellent race, especially for a Fifth Avenue rookie. He stayed near the lead with his eye on Kerr, but just didn't have the same top-end speed as the world champion. He got second in 3:49.9, a time which would have won this race on 33 previous occasions since it was founded in 1981. Mills was satisfied, but wanted more.
"I didn't get it right," Mills told reporters. "You can only say you got it right if you won. Josh was the only one who got it right today. It was good fun, nice to be here."
Third place went to steeplechaser Geordie Beamish of New Zealand who finished fifth at the World Athletics Championships. Hen ran 3:50-flat to edge Vincent Ciattei, the top American, by three tenths of a second.
"I'm happy with it," said Beamish, who represents the On Athletics Club in Boulder, Colo. "Josh is on another level. He really got the best of us over that last 400 meters."
Frenchman Azeddine Habz rounded out the top-5 in 3:50.5. Sitting on the pavement and leaning against a metal barrier after the race, Habz was the picture of exhaustion.
"C'est difficile," he told Race Results Weekly, his chest still heaving.
REEKIE TIMES HER FINISH PERFECTLY
Reekie, who won here in 2021, used her experience with the race's up and down course to her best advantage. She didn't waste any energy today.
"It's really important to know this course, I think, running in a straight line," Reekie told Race Results Weekly. "I even did a session the other day in a straight line to practice for this."
Kaela Edwards, third at July's USATF Championships in the 800m, was the first to leave the main group just before the halfway mark. But like Kemboi in the men's race, she was only after the $1000 prime.
"I'm definitely not the most prepared for the mile right now," Edwards said. "So this is fun. I knew it would be a fun thing to get that halfway bonus. Got to have a little fun at some point this season."
The race quickly got serious after that. Reekie, USA 1500m champion Nikki Hiltz, Briton's Melissa Courtney-Bryant, and Australia's Jessica Hull were all near the front in the second half. Hiltz, who finished second here last year, was keen to get on the podium again, but she ended up fourth today behind Courtney-Bryant, 4:20.6 to 4:20.7.
"It sucks getting fourth," Hiltz told reporters while still managing to laugh. The USA mile record holder continued: "It happened right on the line. I gave it everything. It was hard, it was wet, it was kind of cold."
Reekie didn't have the same kind of explosive finish as Kerr, but she had a good enough gap to not worry about being passed in the end. Ireland's Sarah Healy came up directly behind her but fell short by six tenths of a second in 4:20.0.
"I really wanted to come here and win again," said Reekie, who plans to continue her season at the Wanda Diamond League final in Eugene next weekend. "We got that done."
Healy, who is only 22, was excited with her runner-up performance. However, like George Mills in the men's race, she felt that she misjudged the race just a little bit.
"I think, maybe, I thought it was 100 meters further than it was," Healy admitted, wrapped in an Irish flag. "Now I'm thinking I should have waited another ten seconds to really kick. I really enjoyed it, but I was nervous about getting it right."
Courtesy of Race Results Weekly