2023 Berlin Marathon
Supershoe-Wearing Tigist Assefa Amazes In Brilliant Marathon Performance
Supershoe-Wearing Tigist Assefa Amazes In Brilliant Marathon Performance
The 26-year-old Ethiopian upstaged Eliud Kipchoge with her astounding finishing time of 2:11.53, which was a new world record.
Sep 24, 2023
by David Monti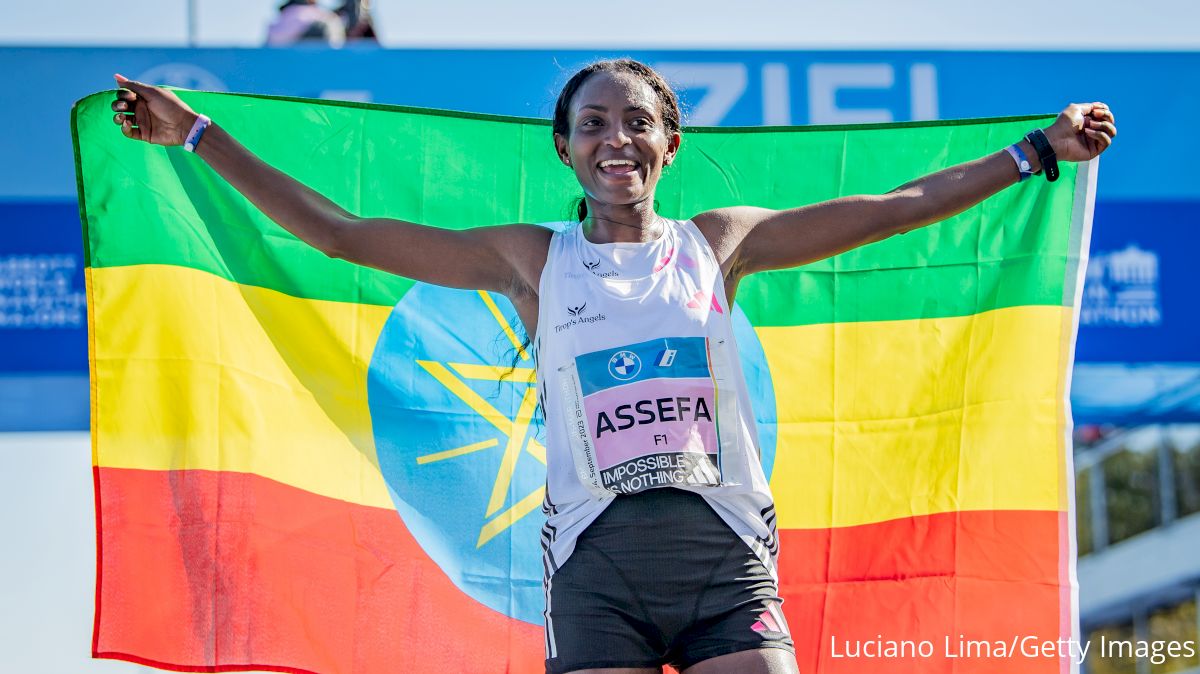 Story by David Monti of Race Results Weekly
- - -
It is a rare moment when Eliud Kipchoge wins a marathon in a fast time but it's not the top story line.
Such was the case at the BMW Berlin Marathon on Sunday where -- although Kipchoge won the race for a record fifth time in 2:02:42 -- the Kenyan superstar was upstaged by Ethiopia's Tigist Assefa, who ran a shocking 2:11.53 world record in the women's division.
The former Olympic 800m runner Assefa, who was the race's defending champion, smashed Brigid Kosgei's World Athletics-ratified record of 2:14:04 by an astounding two minutes and 11 seconds.
Moreover, Assefa executed a brilliant negative split. She covered the first half in an already-fast 1:06:20, then came back in the second half in a blazing 1:05.33.
"In the first half I saved some energy for the second part," she said on Sunday. "I trained for this race for six months. Now I think I will be nominated for the Olympic Games."
Her 10K splits help demonstrate the speed that was on display today. Her four 10 kilometer segments, before the final 2.195 kilometers to the finish line, were 31:45, 31:08, 31:19 and 31:02, all marks which would win most 10K runs outright.
"MIND BLOWING, INSANE," tweeted long time Kenyan athletics journalist Michelle Katami. "CRAZILY INSANE."
To run her record today, Assefa wore a super-light -- and super-expensive -- pair of adidas Adizero Adios Pro Evo 1 racing shoes that currently sell for $500 on the open market.
The World Athletics-compliant shoes weigh-in at just 138 grams (4.9 ounces) each. The company said the shoe is 40-percent lighter than any other racing "supershoe" that it has created and it retails for $500 in the United States.
Assefa worked with the company on developing the shoe.
"This is the lightest racing shoe I have ever worn and the feeling of running in them is an incredible experience – like nothing I've felt before," Assefa said in a statement provided by adidas on September 14. "They enable me to put my full focus on the race, which is exactly what you want as an athlete. I feel ready to defend my title in Berlin and can't wait to lace up at the start line in these."
Kenya's Sheila Chepkirui took second in 2:17:49, which was 20 seconds off of her personal best, and Tanzania's Magdalena Shauri got third in a national record time of 2:18.41.
As for the 38-year-old Kipchoge, he took a swing at fast time, clocking 1:00:22 for the first half.
But he slowed in the second half and had to settle for "just" the win. Kenya's Vincent Kipkemoi got second in 2:03:13 in his marathon debut and third went to Ethiopia's Tadese Takele in 2:03:24.
"I missed the world record, but I am now the record winner in Berlin," Kipchoge said afterward. "That is also something special."
Nine men ran sub-2:05, the most ever in a single marathon.
No American man achieved the 2024 Olympic Games qualifying mark of 2:08:10, meaning that the United States doesn't have a single qualifier.
The fastest was Teshome Mekonen, a former Ethiopian, who clocked 2:10:16 for 24th place.
Scott Fauble dropped out after 30 kilometers with a reported stomach issue. Trying for an Olympic qualifying mark, he ran the first half in 1:03:46.