2023 TCS New York City Marathon
Beadlescomb, Rodenfels Win USATF 5K Titles At Abbott Dash To The Finish
Beadlescomb, Rodenfels Win USATF 5K Titles At Abbott Dash To The Finish
At the USATF Road 5K Championships, Annie Rofendel and Morgan Beadlescomb claimed the USATF Road 5K titles in New York City.
Nov 4, 2023
by David Monti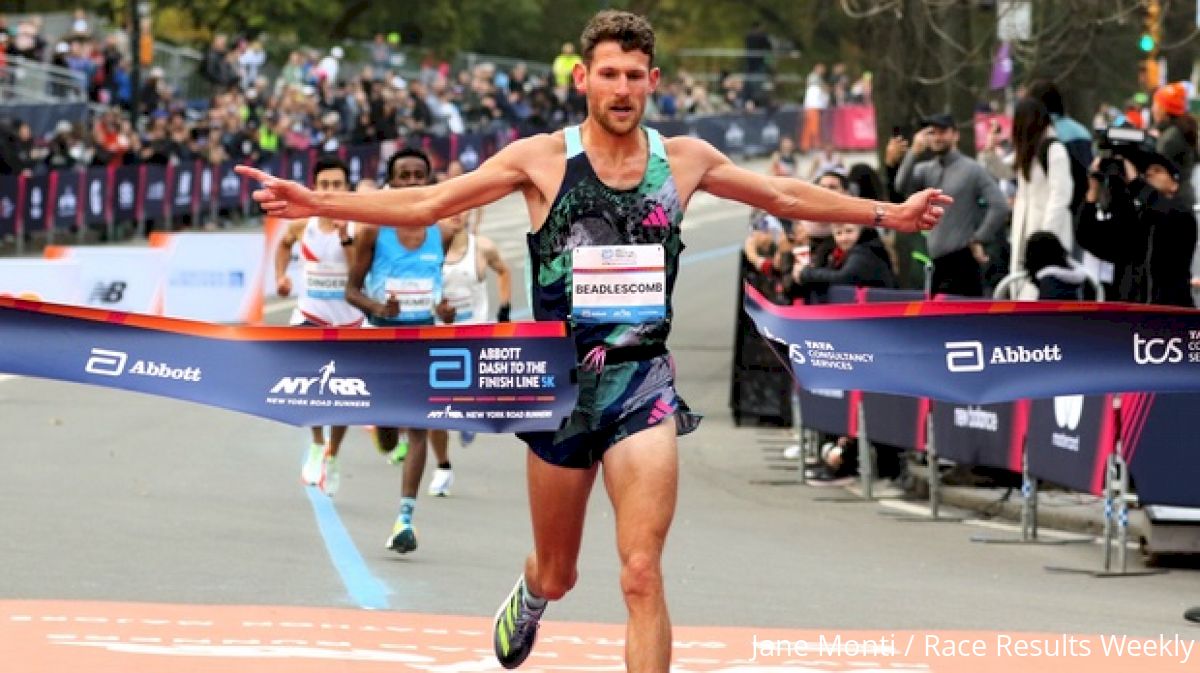 NEW YORK (04-Nov) -- Running perfectly executed races, Morgan Beadlescomb and Annie Rodenfels won the USATF 5-kilometer road running titles here this morning at the 11th Abbott Dash to the Finish Line 5-K in 13:44.0 and 15:21.7, respectively. For Beadlescomb, 25, and Rodenfels, 27, today's victories represented their first-ever national titles and their largest-ever prize money payouts: $12,000 each.

"Now I can pay for my wedding," joked Rodenfels, who got married just last month.

Today's races, where the men and women ran in separate sections, started in front of the United Nations on First Avenue on a comfortably cold and crisp morning. The men took off first, and only about three minutes into the competition Beadlescomb faced an unexpected obstacle on his way to victory: a bus had strayed into an intersection as the lead back was running west across East 42nd Street.

"It's New York, I guess; I don't know," Beadlescomb told reporters when asked about the wayward bus which came uncomfortably close to the athletes. "That's the only explanation I have. I didn't see where the people at the light were, who was blocking traffic."

At that stage Beadlescomb --who is sponsored by adidas and trains with the Very Nice Track Club-- was at the lead of a pack of perhaps 20 athletes. Also at the front were Ahmed Muhumed (HOKA NAZ Elite), Willy Fink (Under Armour), Tai Dinger, Dan Schaffer (ZAP Endurance), Woody Kincaid (Nike) and Zach Panning (Hansons-Brooks). The pace wasn't particularly fast at that point and Beadlescomb knew he needed to save something for the last two kilometers where Central Park's hills would test his legs and his opponents. He was ready after a training stint in Flagstaff, Ariz., where he said he had been "trying new things."

"So, you know, hitting the hills has been good," he told reporters about his high-altitude workouts. He continued: "Coming into New York I knew those hills were going to pay off."

The course turns north into Central Park at about the 3-kilometer mark and gradually goes uphill. About a dozen men were still in contention, and after turning left to go back downhill on the parks' famous loop road --used by thousands of joggers every day-- the pace heated up. Once he hit the bottom of the hill at the south end of the park, Beadlescomb still had Schaffer and Muhumed with him, but coming into the final 800 meters only Muhumed --his roommate in Flagstaff-- was still a threat.

"He's my roommate," Beadlescomb said. "Me and Ahmed have been hanging out the last month. It's been a lot of fun, really good energy."

But coming up the final 400-meter uphill section to the finish line, the two athletes had to put their recent friendship aside. Launching their final sprints, Beadlescomb just had better strength today up that hill, slipping away from Muhumed to win by 2.2 seconds.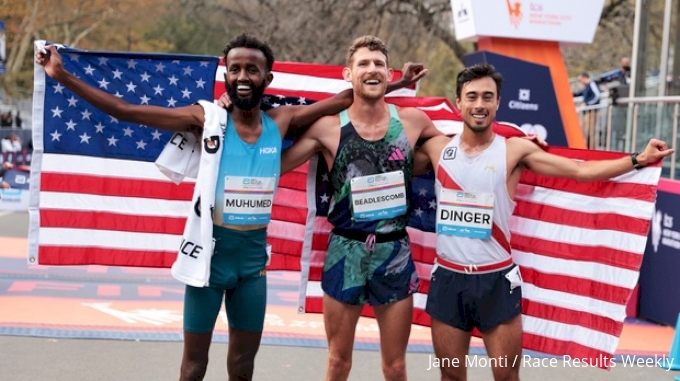 "I wanted to win," Muhumed told Race Results Weekly. "I'm still kind of in the build-up phase; we really didn't taper before here." He continued: "I kind of left most of the field except my roommate right now, Morgan Beadlescomb, who's been really all about this race and building for this race. I'm happy for him."

Third place went to Dinger (13:46.6), Schaffer got fourth (13:46.9), and steeplechaser Brian Barraza rounded out the top-5 (13:47.9). Reigning USATF 10,000m champion Woody Kincaid finished sixth in 13:48.6, a good start to his winter season.

"It's a national championship and I came to perform," the always thoughtful Kincaid told reporters. "I didn't run as well as I would like to. All things considered, I'm starting my season. This is the very beginning."

Rodenfels --who trains with the Boston Athletic Association High Performance Team and is sponsored by adidas-- used a more cautious strategy. When two-time reigning champion Weini Kelati (Under Armour/Dark Sky Distance) shot to the front right from the gun, Rodenfels stayed slightly back. She also didn't surge to catch marathoner Keira D'Amato (Nike) when she went ahead of the field and built up a 20-meter lead in the third kilometer. Instead, she waited for the uphill in the park where she and Kelati caught D'Amato and the real racing began.

"I've been working on trying to race differently and put myself in it sooner," Rodenfels told Race Results Weekly. "Make a move sooner instead of leaving it to a kick. My coach (Irish Olympian Mark Carroll) said, if you're there at two miles you'll win. I was like, yeah, whatever."

On the downhill on the park's loop road Rodenfels ran in the center of the course and upped her pace. As she passed the famous Central Park Carousel on her right, her lead grew with every stride. Going into the final kilometer she had the race well under control.

"I was there at two miles and I'm like, maybe I should go now," Rodenfels recounted. "So I just took it and kind of hoped they were also as tired as I was but not going to hang on. So that's what happened."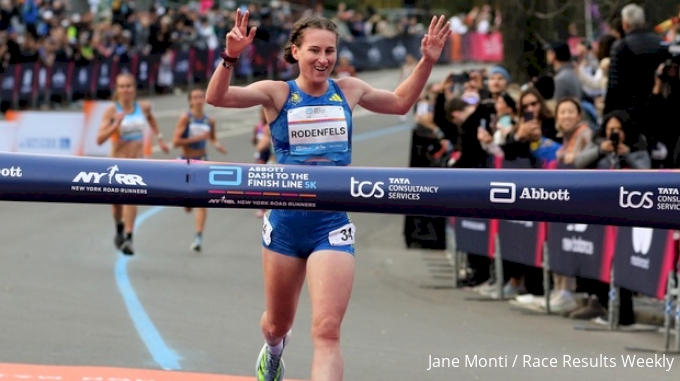 Surprisingly, neither Kelati nor D'Amato finished on the podium. A group was stalking them from behind including Rachel Smith (HOKA One One) and Bethany Hasz (adidas/BAA HP). They passed both Kelati and D'Amato in the final kilometer to finish second and third, respectively in 15:25.5 and 15:26.5.

"I wanted to take a more conservative approach to this race just because I knew that the park hills were going to be tough," said Smith, who only recently returned to racing after maternity leave. "It's kind of my first real race in two years, so I didn't exactly know where we were at even though fitness and workouts were pointing towards a good direction. I took a more of a conservative approach but wished I had started my kick a little bit earlier."

For Hasz, who trains with Rodenfels, today's race represented her best result so far as a pro after competing for the University of Minnesota in the NCAA ranks.

"It was a fun one," said a clearly delighted Hasz whose twin sister, Megan, finished 13th. "I haven't done too many road races so this was my best performance on the roads. I'm just kind of learning with each race and trying to have fun with it."

D'Amato, who said she did a long run just a few days ago and was running on tired legs, finished fourth in 15:27.8. She's in the early phase of her build-up for the USA Olympic Team Trials Marathon in February.

"I was strong, but I just wasn't that peppy at the end," she told Race Results Weekly.

Kelati, who owns the course record of 15:16 from last year, was disappointed with her fourth place finish in 15:29.7.

"I usually feel pretty good from the beginning in this course, but today, somehow, it didn't feel right," Kelati said. "I was like, maybe I need to back off. So I backed off a little bit and until halfway my body wasn't warm enough, somehow. I tried my best; that's all I can do."

Today's event also hosted the USATF Youth 5-K Championships which were won by Patrick Noonan, 15, of Haverhill, Mass., in 15:53, and Zariel Macchia, 17, of Shirley, N.Y., in 17:27. Macchia dominated her race.

"It went well today," said Macchia, who finished 19th at last February's World Athletics Cross Country Championships in the U20 division. "To run through the marathon finish and be, like, in this whole atmosphere is a pretty cool experience."

A total of 10,128 runners finished across all sections of the race today. Over 50,000 runners will use the same finish line at tomorrow's TCS New York City Marathon.