2023 Valencia Marathon
Despite Mud, Joshua Cheptegei Continues Prep For Valencia Marathon Debut
Despite Mud, Joshua Cheptegei Continues Prep For Valencia Marathon Debut
Joshua Cheptegei is running 140 to 160 kilometers a week in preparation for his marathon debut in Valencia on December 3, through relentless mud in Uganda.
Nov 14, 2023
by David Monti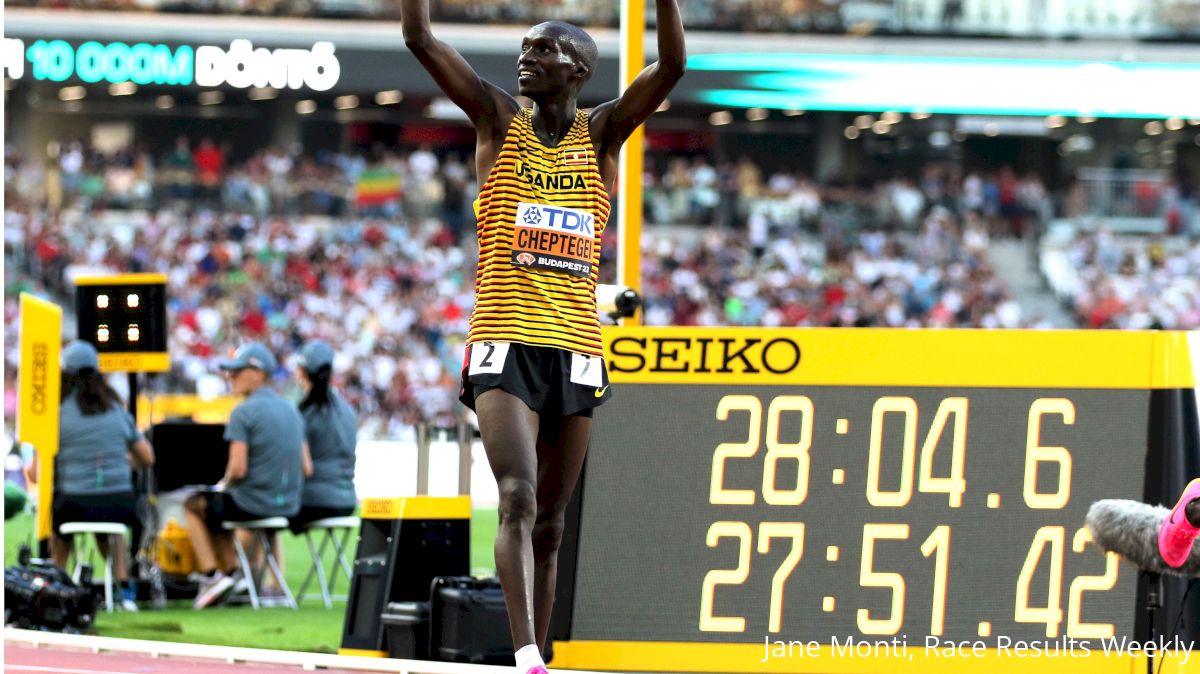 At his training camp in Kapchorwa, Uganda, about 33 kilometers west of the Kenya border, Joshua Cheptegei is running 140 to 160 kilometers a week in preparation for his marathon debut in Valencia on December 3. A disciplined athlete with a usually sunny demeanor, the 27 year-old Ugandan is facing a challenge beyond tired legs, fatigue, and sore muscles: relentless mud.
"Normally we are used to go to the forest for these runs," Cheptegei told reporters on a conference call today which was delayed by a power outage. Speaking on a shaky phone line he continued: "We cannot do that because it's getting muddy, not better. It's still horrible, it's still chilly. But, we've done most of the work. It should be OK."
Cheptegei, who won the World Athletics 10,000m title in both 2022 and 2023 and is the world record holder for the distance (26:11.00), can expect dry and sunny conditions for the Maratón Valencia Trinidad Alfonso two weeks from Sunday. He chose to debut there because of both his relationship with the city, where he set two world records, and because of the favorable date. Consulting with his coach Addy Ruiter and his management team at Global Sports Communications, Valencia made the most sense, he said, because it allowed him adequate recovery time both after the 2023 track season and before his 2024 track preparations begin. He also just feels good running there.
"Valencia is the 'City of Running,'" Cheptegei said, repeating the tagline used by the marathon's organizers. "When I thought of the marathon I spoke to my team... and you know what? It had to be Valencia because of the history of running there." He continued: "When I went to Valencia in 2019 when I set the world record on the roads (for 10-K), and in 2020 during COVID I set the world record on the track. For me, that brings up the excitement and expectations. It can give you a good motivation, at least."
When asked about his goals for his first marathon, Cheptegei said he was trying to keep it simple. It's a new event for him and he's got a lot to learn.
"I'm not actually looking to run fast the first time," he said. He added: "For me, I want to learn. The best for me is to see myself being on the podium, whether I run 2:03 or 2:04. I don't know what will take me to the podium. For me what is important is to enjoy the race and see what happens after 35 kilometers."
Cheptegei gets at least some of his training advice from two Olympic Marathon champions, Kenya's Eliud Kipchoge and Uganda's Stephen Kiprotich. He said these men were two of his "pillars" in athletics. He was only 15 years-old when Kiprotich was the upset gold medalist at the 2012 Olympic Marathon in London. Cheptegei, who was on summer holidays from school, remembers watching the race on television.
"I remember so much," he said. "I was actually in high school." He continued: "It affected me positively. One day I want to become world champion and be a national hero like him."
Kiprotich advised Cheptegei to remain on the track and not jump to the marathon too soon, he said. The marathon in December would give Cheptegei a new and exciting goal in the near term, and help prepare him for the Paris 2024 Olympics where he hopes to upgrade his 10,000m silver medal from Tokyo to gold. He might also try to defend his 5000m title, but he has not decided yet whether he should double.
"Stephen told me to stay longer on the track, focus on the marathon, then come back to the track again," Cheptegei said. "Stephen has been one of the guiding pillars. He gave me the green light."
In addition to logging long days on his feet, Cheptegei is trying to master some of the marathon's technical challenges. For instance, he is learning as much as he can about hydration, a critical factor in marathon success. His previous training didn't involve so many long runs, something he considered "tiresome" in the past but which is now "part of life."
"First and foremost, because of the marathon what I really lack is especially (knowledge) about hydration," he said. "You really need to learn how to hydrate."
He is also being careful about his choice of shoes. He plans to use one of Nike's Vaporfly models, a shoe he is comfortable with, instead of the more radical Alphafly series.
"For me about the shoe, normally I like to run in a shoe I'm comfortable with," he explained. "For me, I'm still looking to run in the Vaporflys. He continued: "I'm more familiar with the Vaporflys. I still need more time to learn the Alphaflys."
Cheptegei confirmed that he is committed to the track for 2024 and the Paris Olympics are his highest priority. As excited as he is about his marathon debut, he seemed equally excited to return to the track.
"It's a new adventure that I'm really looking forward to," he said of the marathon. He continued: "I still want to go back in Paris and win the 10,000m."