2023 NCAA DIII XC Championships
NCAA Division 3 Cross Country Championships 2023 Results
NCAA Division 3 Cross Country Championships 2023 Results
Here are the NCAA Division III Cross Country Championship results.
Nov 18, 2023
by Joe Harrington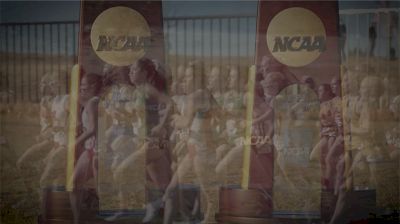 Wisconsin-La Cross senior Ethan Gregg won the 2023 men's NCAA Division III Cross Country Championship at Big Spring High School in Carlisle, Pennsylvania
Gregg won the championship race with a time of 24 minutes and 2.4 seconds. He beat out second-place finisher Christian Patzka for the title.
Pomona-Pitzer won the team championship with a score of 158, narrowly edging out Wisconsin La Cross by one point.
Fiona Smith Of St. Benedict Wins NCAA Division 3 Cross Country Championship
Fiona Smith ran a sub 20 minute race to win the NCAA Division III National Championship. She finished with a time of 19:54.1.
Smith beat Natalie Bitetti of Claremont-Mudd-Scripps by more than a minute.
Carleton won the team race.
Watch Live
NCAA Division 3 Cross Country Championship 2023 Results: Men's Race
Ethan Gregg (Wis.-La Crosse) - 24:02.4
Christian Patzka (Wis.-Whitewater) - 24:20.7
Max Svienty (North Central (Ill.)) - 24:23.1
James Settles (Colorado College) - 24:30.2
Cory Kennedy (RPI) - 24:32.0
John Lucey (Williams) - 24:35.2
Caleb Silver (Central College) - 24:35.8
Vince Simonetti (RPI) - 24:39.6
Lucas Florsheim (Pomona-Pitzer) - 24:40.1
Derek Fearon (Pomona-Pitzer) - 24:40.3
Gunner Schlender (Wis.-Whitewater) - 24:41.5
Christopher Collet (Wartburg) - 24:41.8
Ivan Appleton (Tufts) - 24:42.6
Frank Csorba (Lynchburg) - 24:43.1
Andrew Guimond (North Central (Ill.)) - 24:43.3
Bradshaw Lathbury (Berry) - 24:44.0
Braden Nicholson (North Central (Ill.)) - 24:45.4
Isaac Wegner (Wis.-La Crosse) - 24:45.6
Enrique Salazar (Manchester) - 24:46.1
Nikhil Denatale (Williams) - 24:46.5
Peter Weiss (George Fox) - 24:48.4
Nathan Tassey (Roger Williams) - 24:49.3
Sam Acquaviva (MIT) - 24:52.9
Noah Jorgenson (Central College) - 24:53.6
Cameron Hatler (Pomona-Pitzer) - 24:54.0
Will Kelly (St. Olaf) - 24:55.8
Colin Kirkpatrick (Pomona-Pitzer) - 24:56.5
Dylan May (Southern Virginia) - 24:58.1
Emmanuel Leblond (Johns Hopkins) - 24:58.5
Lowell Hensgen (MIT) - 24:58.9
Ned Farrington (Bates) - 25:02.3
Nicholas Lyndaker (St. Lawrence) - 25:03.8
Simon Heys (Wilmington (Ohio)) - 25:04.4
Lars Dewall (St. Scholastica) - 25:04.6
Peter Larochelle (Haverford) - 25:04.8
Calvin Boone (St. Scholastica) - 25:05.3
Ryan Champa (John Carroll) - 25:07.1
Cullen Capuano (Washington U.) - 25:09.5
Mason Shea (Wis.-Eau Claire) - 25:09.5
Eric Jackson (UC Santa Cruz) - 25:09.8
Vedang Lad (MIT) - 25:10.9
Sam Llaneza (Lynchburg) - 25:11.5
Brooks Peters (Bowdoin) - 25:12.4
Ziggy Goddard (Middlebury) - 25:12.5
Ryan Tobin (NYU) - 25:13.2
Ryan Stracke (Pacific Lutheran) - 25:14.1
Colin McLaughlin (Carnegie Mellon) - 25:15.7
Sam Schmitz (Wartburg) - 25:16.5
Jeff Joseph (Mount Union) - 25:17.0
Kevin Turlington (St. Olaf) - 25:17.7
NCAA Division 3 Cross Country Championship 2023 Men's Team results
Pomona-Pitzer - 158
Wis.-La Crosse - 159
North Central (Ill.) - 169
Williams - 212
Wartburg - 232
Carnegie Mellon - 252
RPI - 267
MIT - 274
Lynchburg - 286
Wis.-Whitewater - 301
George Fox - 304
Claremont-Mudd-Scripps - 338
St. Olaf - 338
Johns Hopkins - 391
Central College - 407
NYU - 424
Washington U. - 440
Amherst - 487
Middlebury - 493
John Carroll - 498
Wis.-Stout - 510
Emory - 536
Calvin - 538
Tufts - 560
Mount Union - 594
Colorado College - 597
Haverford - 599
Carleton - 611
Loras - 675
Washington and Lee - 681
U. of Chicago - 701
SUNY Geneseo - 788
NCAA Division 3 Cross Country Championship 2023 Results: Women's Race
Fiona Smith - St. Benedict - 472 - 19:54.1
Natalie Bitetti - Claremont-Mudd-Scripps - 559 - 20:57.4
Penelope Greene - SUNY Geneseo - 706 - 20:59.3
Grace Hadley - WPI - 805 - 21:00.1
Carolyn Shult - Wis.-Eau Claire - 789 - 21:04.3
Sara Stephenson - Johns Hopkins - 644 - 21:13.5
Maddie Kelly - U. of Chicago - 728 - 21:17.4
Brigid Hanley - Emory - 609 - 21:18.0
Grace Richardson - NYU - 681 - 21:18.8
Audrey Maclean - Middlebury - 655 - 21:20.1
Riley Capuano - Claremont-Mudd-Scripps - 560 - 21:20.2
Caroline McMartin - Central College - 556 - 21:20.8
Evelyn Battleson-Gunkel - U. of Chicago - 723 - 21:21.4
Hannah Preisser - Carleton - 537 - 21:22.5
Morgan Uhlhorn - NYU - 682 - 21:22.9
Phoebe Ward - Carleton - 539 - 21:24.3
Riley Buese - Lewis & Clark - 448 - 21:25.0
Lauren Iagnemma - Case Western - 428 - 21:25.6
Elisabeth Camic - U. of Chicago - 724 - 21:27.1
Allison Sibold - St. Lawrence - 690 - 21:27.5
Shaelyn Hostager - Wartburg - 757 - 21:29.1
Elizabeth Csikai - Emory - 606 - 21:29.5
McKayla Felton - Wis.-Stout - 489 - 21:30.9
Rachel Hirschkind - SUNY Geneseo - 708 - 21:32.2
Kayla Aalpoel - George Fox - 616 - 21:33.7
Rebecca Markham - Hope - 631 - 21:36.0
Elle Marsyla - Claremont-Mudd-Scripps - 563 - 21:36.7
Alexandra Blake - Washington U. - 762 - 21:37.1
Deyanneira Colon Maldonado - Aurora - 423 - 21:37.5
Megan Johnson - Central College - 555 - 21:39.1
Meghan Owens - Centre - 431 - 21:40.5
Genna Girard - Williams - 777 - 21:40.9
Sarah Conant - Johns Hopkins - 638 - 21:44.6
Kate Sanderson - MIT - 671 - 21:45.0
Aubrie Fisher - Wartburg - 756 - 21:45.2
Paige Phillips - Coast Guard - 573 - 21:45.3
Vivian Kane - NYU - 679 - 21:45.8
Addy Parrott - Central College - 557 - 21:49.9
Annika Carlson - Chapman - 432 - 21:50.0
Kayla Werner - Lynchburg - 652 - 21:52.6
Helen Cross - Carleton - 531 - 21:56.9
Mackenzie Young - Bridgewater (Va.) - 426 - 21:57.7
Claire Semerod - Coast Guard - 574 - 21:58.0
Kendall Accetta - Colorado College - 577 - 21:59.0
Allison Dell - Lynchburg - 646 - 21:59.2
Aliya Larsen - Carleton - 535 - 21:59.3
Kate Cochran - NYU - 674 - 22:02.9
Lexi Fernandez - MIT - 665 - 22:03.2
Megan Francoeur - Oneonta - 457 - 22:03.6
Sarah James - Lynchburg - 649 - 22:04.0
NCAA Division 3 Cross Country Championship 2023 Women's Team Results:
Carleton - 151
NYU - 154
U. of Chicago - 156
Claremont-Mudd-Scripps - 158
SUNY Geneseo - 205
Williams - 245
Lynchburg - 257
Emory - 284
Central College - 292
Wis.-La Crosse - 347
MIT - 353
Johns Hopkins - 355
Washington U. - 366
Wartburg - 378
Wis.-Eau Claire - 387
St. Olaf - 443
Hope - 465
Amherst - 474
DePauw - 484
Middlebury - 485
Colorado College - 504
George Fox - 541
Vassar - 564
Calvin - 575
Coast Guard - 607
St. Lawrence - 618
WPI - 634
Connecticut College - 639
Bates - 648
Carnegie Mellon - 728
UC Santa Cruz - 735
TCNJ - 960
FloTrack Is Streaming Cross Country High School State Meets All November
November is also the month of high school cross country championship meets. Check the FloTrack schedule for a list of all the state championships streaming on FloTrack
Join the Cross Country Conversation on Social