Create a free account to unlock this article!
Get Started
Already a subscriber? Log In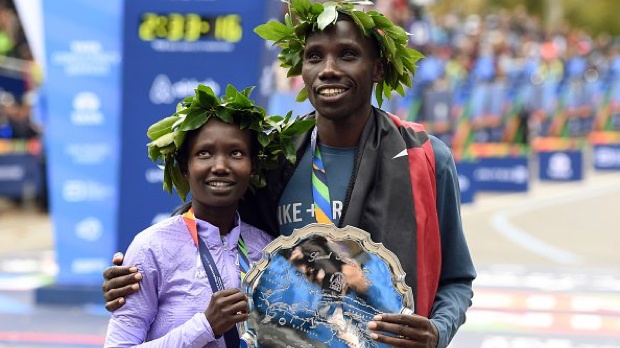 NEW YORK -- Some might view Mary Keitany's first two trips here as being fruitless.
In fact, they provided a bounty of lessons learned.
The 33-year-old Kenyan mother of two exorcised the demons of those two third-place finishes in winning her first title last fall. On Sunday, she proved that she indeed has this course understood and is as much master tactician as speedster.
Employing a patient race plan, Keitany bided her time before unleashing three furious surges that buried her competition and sparked an uncontested finish for her second consecutive women's title in 2:24:25 at the TCS New York City Marathon.
Aselefech Mergia of Ethiopia finished second in 2:25:32 while countrywoman Tigist Tufa rounded off the podium with a third-place finish in 2:25:50. Laura Thweatt was the
top American finisher
, crossing seventh in 2:28:33 in her marathon debut. American teen Alana Hadley was forced to drop out due to injury.
RESULTS:
Get all elite race results here
.
Keitany became the seventh runner to win back-to-back titles in this race, joining Americans Nina Kuscik (1972-73) and Miki Gorman (1976-77), Norway's Grete Weitz (1978-80 and 1982-86), Kenya's Tegla Loroupe (1994-95), Latvia's Jelena Prokupcuka (2005-06) and Great Britain's Paula Radcliffe (2007-08).
"What I can say is that I was very confident coming to the New York City Marathon," Keitany said. "I knew the field was very tough because we had the London champion and also the 2013 champion. But I understood the course. I know New York. Many times I've come to New York, and I know about the course. So I was very excited after crossing the finish line again being the fastest."
Like Keitany, Kenya's Stanley Biwott also waited to the latter stages of the men's race to assert himself. Having faltered in the clutch during his prior major marathons, the 29-year-old exploded for a 28:35 final 10K to capture his first World Marathon Majors victory in 2:10:34.
HISTORY:
Men's Champions | Women's Champions | Wheelchair Champions
Countryman Geoffrey Kamworor finished second in 2:10:48. Lelisa Desisa of Ethiopia, last year's runner-up, finished third in 2:12:10. Defending champion Wilson Kipsang took fourth in 2:12:45.
In his record 10th appearance, Meb Keflezighi finished seventh in 2:13:32, breaking the master's American record of 2:13:52 set in 2006 by Mbarek Hussein. The 40-year-old also took down the master's course record of 2:14:34 set by John Campbell in 1990.
It is the third straight year that Kenyan runners have won the men's and women's titles.
"My game plan today was I run to win the race," Biwott said. "I was confident and happy to be the winner of the day."
Keitany Crushes It
In 2011, Keitany appeared as though her plan was to win the race from the start. When her watch malfunctioned and she was unable to process the kilometer splits she and her coach, Gabriele Nicola, discussed beforehand in her head she ran by feel. At the halfway point, she was under world record pace. At 15 miles, she had a two-and-a-half minute lead. In Central Park, she was passed by two runners.
Prior to winning last fall, Keitany explained the watch malfuntion for the first time and, nevertheless, declared she had learned her lesson.
There is no denying that after these two victories.
READ MORE: How Keitany Went From Poor Farm Girl To Marathon Royalty
Keitany was content to tuck inside the lead pack for much of the early portion of the race, as runners like Portugal's Sara Moreira, France's Christelle Daunay and Kenya's Caroline Rotich did most of the work at the front.
"At the beginning, I did not go because I know the course in New York," Keitany said.
The tight pack dwindled only slightly to eight women when Keitany began dictating the flow of the race. Her first move came at the 30-kilometer water station, where she grabbed her bottle and surged, dropping Moreira, the long-time leader and 2014 race runner-up, as well as Rotich, the 2015 Boston Marathon champ, and debutants Sally Kipyego of Kenya and Thweatt.
"When I made my move around 30K, I said, 'Okay, let me just go, and if somebody is more strong, she can come and we can go,'" Keitany said. "I was ready to go with her, but fortunately they never got me."
Congratulations to your #TCSNYCMarathon Champion, Mary Keitany of Kenya, who finished the course in 2:24:25 pic.twitter.com/iIhz7hk7d0

— TCS NYC Marathon (@nycmarathon) November 1, 2015
Keitany surged again going over the Willis Avenue Bridge, covering the 21st mile in 5:14 to drop Rita Jeptoo of Kenya and Mergia . That left Keitany and Ethiopia's Tigist Tufa, who bested her in April's Virgin Money London Marathon, running side-by-side.
But that didn't last long as Keitany emphatically dropped her nemesis with a devastating 5:13 21st mile, which opened up a 19-second advantage and insured there would be no drama in Central Park such as Keitany experienced last year, when she outkicked countrywoman Jemima Sumgong in the final meters for a three-second victory, the closest in race history.
Another 5:16 mile gave Keitany a 46-second lead at 23 miles. That lead swelled to 1:08 over the 24th mile, leaving Keitany with little more than a triumphant gallop through Central Park. Mergia wound up passing the fading Tufa into a distant second place at 40K.
"For me, I had them come past me in 2011, because I started out too fast and two ladies came and passed me" Keitany said. "So I had to be patient today and wait. The 30K was the time for me to start my moves. It was okay."
Biwott Takes Control Late
The men's race unfolded strangely as no one seemed willing to take control of the race. The lead pack of 17 runners went through the first 11 miles in 56:20, putting them on pace for a pedestrian 2:14 finish.
Things seemed to finally began breaking up during a 4:47 12th mile which saw nine men fall off, leaving a pack of Biwott, Kamworor, Kipsang, Desisa, Keflezighi, Ethiopians Birhanu Dare and Yemane Tsegay, and Yuki Kawauchi of Japan.
But the group inexplicably slowed down again, allowing the nine dropped men to regain contact up front at like a yo-yo up a string at the half marathon point. Heading toward the Ed Koch Queensboro Bridge, Keflezighi and fellow American Craig Leon were 1-2. Keflezighi was still up near the front at miles 17 and 19 and with the modest pace and seeming reluctance of anyone to take charge, the race had shades of his historic Boston Marathon victory in 2014.
"When the pace is getting up there, you're waiting for somebody to make that move," Keflezighi said. "It did cross my mind (to make a move)."
READ MORE: Craig Leon: Meb's 'A Rock Star'
Kipsang asserted things during the 20th mile, pushing a 5:13 pace which dropped Keflezighi and five other runners off the pack, leaving just him, Kamworor, Biwott and Desisa in contention. Kamworor upped the ante with a blistering 4:24 ensuing mile, which left Kipsang crumbled and nine seconds out of contention.
"From the start, the pace was a bit slow, but when I decided to make a move, I knew I was feeling strong and I was feeling okay," Kamworor said. "I knew I could make it all the way to the finish. I tried my best to reach it, but that was the result that came out."
Kamworor, Biwott and Desisa continued side-by-side, clicking off 4:31 and 4:33 miles as they pressed down Fifth Avenue. At the 35-kilometer fluid station, Kamworor was unable to grab his bottle, which would eventually deplete his strength.
"It was unfortunate," he said. "I tried to get the bottle but I missed it. I said I could not go back to get it again, so I said let me go."
Just before the lead trio turned into Central Park, Biwott made a subtle, but devastating move, a 4:45 mile that dropped Desisa 20 seconds back, ending his title hopes. In Central Park, Biwott increased his cadence again, opening a four-second advantage on Kamworor. The world half-marathon and cross-country champion, valiantly tried to close the gap over the hills but was unable to ever catch up.
Congratulations to Stanley Biwott who finished the #TCSNYCMarathon course in 2:10:34 officially! pic.twitter.com/0JldoS8O9v

— TCS NYC Marathon (@nycmarathon) November 1, 2015
A casual glance over his left shoulder just after the 25-mile mark, revealed that Biwott added a second onto his lead approaching the exit of the park onto Central Park South.
"When I reached the park, I knew the course," Biwott said. "I had been here two years ago, so I knew reaching the park there was an uphill. I was able to push toward the uphill and to maintain high speed and looking forward to the finish line."
When Biwott, who finished fourth in London in April, rounded Columbus Circle and reentered the park, he gave a fist pump realizing that victory was within reach. He covered the 26th mile in 4:45 to build a 14-second advantage en route to his victory.
"During my previous London Marathon and New York Marathon, I was not able to run the last five kilometers at a consistent speed," Biwott conceded. "So for my preparation for this New York Marathon, I trained for 42 kilometers, not 35. I was able to do my endurance speed to finish with a strong speed without running slow at the end.
"During my training the last three months, I was able to change our program," Biwott added. "Gabriele Rosa introduced another program for me to be able to run a marathon without getting exhausted. Today, it helped me a lot and I believe in the program."
McFadden, Van Dyk Win Wheelchair Races
In the women's wheelchair race, American Tatyana McFadded opened up a one minute lead coming off the Verrazano Narrows Bridge and never looked back, winning her third straight title in 1:43:04, crushing the course record by seven minutes and 20 seconds.
The victory earned McFadden an unprecedented third consecutive grand slam as she has swept the World Marathon Majors races three years in a row, a 12-race winning streak.
"I knew it was going to be a fast day because, looking at the weather yesterday, there was going to be a tailwind for the first 20 miles," McFadden said. "I knew if I hit the first climb hard and take it down, if I'm the first one down that hill, then everything should be okay."
When runners find themselves outside of the lead pack and on their own in "No man's land," it often has a disadvantageous effect. But as we have seen in her streak of dominance -- she was at least a minute in front of her nearest competitor from the opening mile -- the solitude does little to slow McFadden.
"I just think about each mile, and I think about where the biggest climbs are and just where the wind direction is and just really trying to stay focused on that" she said. "A couple of times when the course got really rough, I was starting to lose a little bit mentally, saying, 'Oh my gosh, this is rough here.' But it's just about saying that I can do this and keep going and just racing with your heart."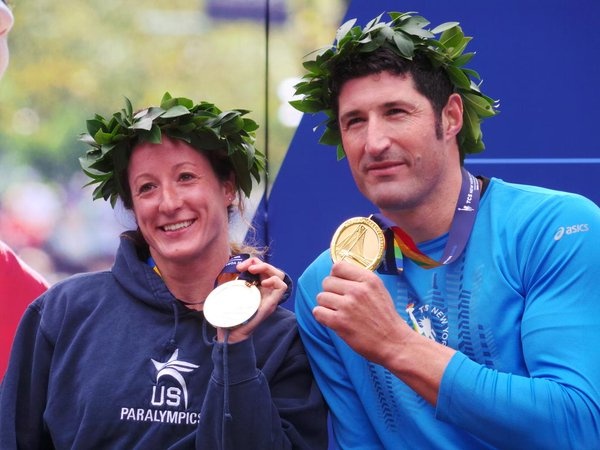 In the men's wheelchair race, Ernst Van Dyk of South Africa put his improved speedwork and new $35,000, Japanese-built racing chair to good use, outsprinting American Josh George, the world champion, in the final meters to win his second title by one second in 1:30:54.
"The last three months have been pretty intense," Van Dyk explained. "I've been working really hard and especially focused on my hills. That worked out. I also got a new chair that was made by Honda in Japan, which at the moment for me is a prototype. It's a one-piece carbon fiber chair. I think it handles the rough roads a little better, the way it absorbs the rough surface and vibration.
"So I felt a little bit more fresher at the end than I would normally be. I didnt feel so beat up. I think that contributed a little bit to the sprint. Josh George is the current world champion in the marathon. So to beat him in the sprint on a tough course like this, where it doesn't favor my body size, was great."
The race started off brilliantly but wound up taking a disastrous turn for defending men's wheelchair champion Kurt Fearnley of Australia. The early leader, was involved in a collission at the 15-kilometer mark and actually fell out of his chair. Although he was able to get back in and resume racing, he had fallen behind by a mile at that point. He wound up finishing fifth in 1:35:21.
"I didn't see what happened but heard it because he was right behind me," Van Dyk said. "It's the most terrifying sound that you can imagine when a body and aluminum and carbon fiber hits the road at high speed.
"We hit the same area that was not so great. I went into the air, and fortunately, I'm a heavy guy so I landed on three wheels again. Kurt is not so heavy, so I guess he went over. He had a pretty bad tumble. I think it was an amazing performance that after getting a flat tire in that crash, that he could still come back and finish in fifth place."