The track and field world isn't huge. But it's proven big enough for budding shoe companies to enter at a time when it feels like the shoe giants own it all.
Hoka One One was conceived by outdoor enthusiasts Jean-Luc Diard and Nico Mermoud. Deckers Outdoor Corporation, the company that owns Ugg Australia and Teva, among others, bought Hoka in 2012. The partnership has since rocketed Hoka to the forefront of track and field. They picked up a superstar in Olympic silver medalist Leo Manzano, who has since set personal bests in the shoe. They became the primary sponsor for the Flagstaff, Ariz.-based distance group NAZ Elite in 2014. And they were worn by professionals Kyle Merber and Nicole Tully in 2015. Merber was a member of the U.S. distance medley relay team at the 2015 IAAF World Relays that set a new world record. Tully was crowned the 2015 USATF 5K Champion in June and advanced to the final at the IAAF World Championships, the only American to do so.
Many brands have invested heavily in the sport of track and field; some have failed and some currently claim relevancy. With their brow-raising appearance, Hoka One One shoes may look unconventional, but their recent explosion into the sport proves they're not riding on the fringe.
A Need for Speed

At the time when it seemed like shoe companies were preaching "less is more," Hoka emerged with a maximum cushion training shoe. While they may look like they add height or weigh down the athletes, the science behind the shoe has made them stand out among the rest.
"We've always been very interested in gravity sports — going fast, feeling free," said Hoka Co-founder Nico Mermoud. "One of the things that was bothering us with running is that all of the downhill side of things were nowhere as exciting as the experience with cycling, surfing, skiing."
The idea behind Hoka One One came from a "need for speed" while going downhill, or in Mermoud's case, quite literally going downhill in the mountains, citing their office near the French Alps and their background in mountain running. Now they have created an oversize product that infuses lightweight technology. "At the time there was a big minimalist trend," Mermoud said. "It became controversial but at the same time a topic of conversation for sure."
The science has paid off. Since selling the company to Deckers in 2012, Hoka One One had $48 million in sales in 2014, a 350 percent increase from 2013 according to the
New York Times
.
Though the company may be famous for their largely cushioned appearance, Mermoud says product innovation will help them maintain their immense growth.
"It's about innovation, it's not design, it's not style," Mermoud said. "We want to push the boundaries forever. The last expansion with track and field and road is really going in this direction. It pushes us to innovate and create more shoes."
Elites Running Fast in an Unconventional Model

Shortly after earning the silver medal in the 1500m at the 2012 Olympic Games, Leo Manzano found himself without a sponsor for over a year. All of that changed in April of 2014 when Manzano joined the Hoka family. Since their partnership, Manzano was crowned the 2014 USATF 1500m Champion, set a new personal best in the infamous Monaco Diamond League 1500m (3:30.98), the fifth-fastest in American history. He also ran his second-fastest 800m ever, 1:45.24 this past June at the adidas Grand Prix. Manzano has not only been able to set PBs in the Hoka shoes, but also stay healthy.
"After a few weeks wearing them, the pain in my foot had gone down to the point where it was negligible or had virtually gone away," he said, citing past plantar fasciitis issues.
Merber, a former Columbia and University of Texas standout, echoed Manzano's sentiments.
"They've been able to keep me healthy," he said. "That's everything for an athlete — being able to get out the door every day."
Wearing his Hoka spikes in 2015, Merber became a World record-holder in the DMR, set PBs in the 800m (1:47.23), 1500m (3:34.54) and 3000m (7:52.95).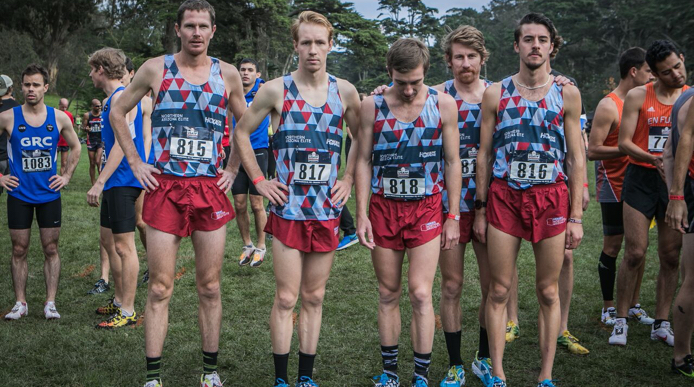 And it's not just individual athletes. In February 2014 Hoka became the primary sponsor of the Northern Arizona Elite training group in Flagstaff. Following shoe companies like Brooks (Hansons Brooks Original Distance Project, Brooks Beasts) and Nike (Nike Oregon Project, Bowerman Track Club), Hoka picked up an outstanding group of athletes in Arizona.
The group is coached by Ben Rosario and features veterans Ben and Stephanie Bruce, marathoners Matt Llano (2:12 PB), Scott Smith (2:14 PB), Kellyn Taylor and Lauren Kleppin (Both 2:28 PBs). They expanded the group this summer by adding new NCAA grads and multiple time All Americans Ryan Dohner, Scott Fauble and Craig Lutz to the team. Now comprised of 12 athletes, they're one of the highest regarded training groups in the U.S.
A Commitment to the Sport

Sports Agent Ray Flynn, who represents Hoka athletes Merber, Tully and 800m specialist Mike Rutt, among others, remembered a time when the LA Times/GTE Indoor Games used to be one of the premier track and field events of the year, and Sunkist and Jack in the Box used to have their hands in track and field, as well. In today's world, it seems almost unfathomable that these big time non-sport related companies were investing in track and field.
Even within the sport, Reebok used to have a full stable of athletes representing their brands including Olympic Champions and medalists Carolina Kluft, Steve Hooker and Nick Willis. Additionally, they used to own several premier track events like the Reebok Grand Prix and the Reebok Boston Indoor Games, events now owned by adidas and New Balance.
Part of Hoka's continued investment in the sport has been visible in the track events they've claimed with their name as the sponsor.
"I like the fact that they've gotten behind individual meets," Flynn said. He mentioned the Adrian Martinez Classic in Boston and the USATF Hoka One One Middle Distance Classic at Occidental College.
"It's nice to see in addition to sponsoring athletes. It shows a commitment," Flynn added.
That commitment was obvious for Merber, who in September put on the Hoka One One Long Island Mile. Merber served as the meet director of the inaugural event where fellow Hoka athlete David Torrence won in 3:53 and seven men broke 4:00.
Will the Investment Pay Off?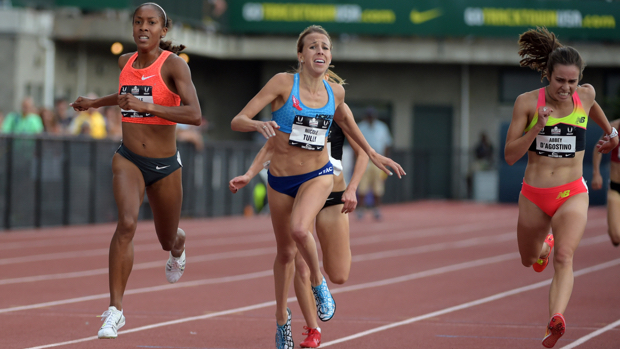 Shoe companies invest in athletes to help further their products and their business, and as Hoka's momentum builds, it's becoming very clear that they know exactly what they're doing, even if they are the new kids on the block.
"I think they have a good product and I know that people that have been working and representing that company have a running background, and that's always a plus," Flynn said.
Senior Innovation Manager for Hoka Chris Hillyer knows that continuous innovation will keep Hoka at the forefront of the running world. He wasn't shy to call their business "exploratory" and "curious" in regards to working with their athletes on developing the products to fit everyone's needs.
"People think, oh you just have a lot of big squishy foam between you and the ground," Hillyer said at the 2015 Running Event in Austin. "But we wanted to take that one step further and say, OK, how does this also turn into something that feels fast?"
While every brand will utilize innovation to keep up with the ever-changing times, Hoka One One's strategy is obvious. The trademark uber-cushioned trainers may be the first thing that pops into people's minds when they think of Hoka, but the personal bests being set in the racing flats and spikes are an end result of the brand's strategy to constantly innovate.
"It's really innovation driven," Mermoud said. "And combined with the athletes' validation that's what's going to keep us in the game of pushing boundaries."
Peter Mallett helped contribute to this report